Demented? Or Just Islamic? !God Is Great!
"We heard an explosion -- well, several explosions. So I went to see what was happening and I saw a man lying on the floor and another person, very agitated, who had a gun in one hand and a knife in the other."




"[The] very agitated man shouting several times 'Allahu Akbar'."




"At that moment he [the shooter] ran after me. Of course I left, I lost him and when I turned around he wasn't there anymore. I took an emergency door and saw the police arrive."




Christian Guibbert, supermarket shopper, Trebes, France





"[I] heard people shouting and a big boom. It was a gunshot. Then a second gunshot. After that, my colleagues came towards me saying: 'Come on Jacky, we need to leave, there's someone who's firing shots, he's shouting 'Allahu Akbar', and he's shot people and he's shooting at everything'."




"We have an emergency exit behind the butcher's stall and we ran away across the courtyard. We also helped people get out."




Jacky, supermarket employee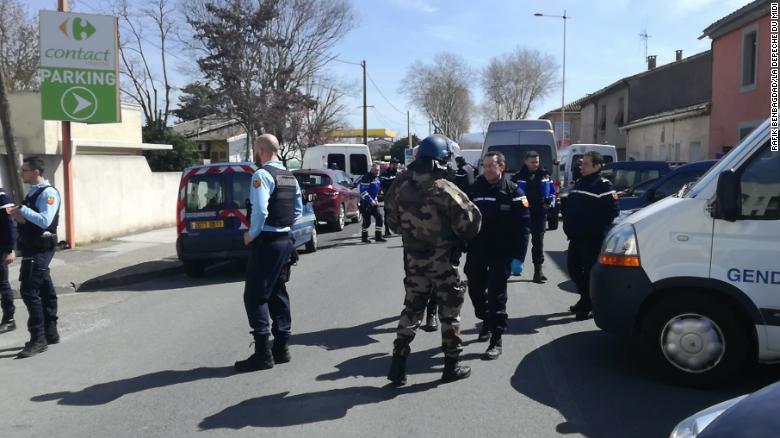 Still from video: CNN

Police respond to the hostage situation Friday in the southern French town of Trèbes.
France, with the largest contingent of Muslims in all of Europe -- an estimated six to eight million Muslims -- has experienced its share of Islamist terrorist attacks. Those viciously deadly attacks are the most volatile of the explosive events the international community becomes aware of through the prevalence of social media and newswires now swift to pick up and exploit shocking news coverage of Islamist religious dysfunction roiling Western societies.
From the establishment of those infamous ghettoes known as banlieues,
"no-go"
zones where non-Muslims are unwelcome and where disturbingly criminal behaviour and violence prevails to the extent that firemen, police and ambulances are attacked should they attempt to enter -- to the occasional very public 'protests' that take place from time to time with demands and assertions completely contrary to French values and virtues -- this is another European nation that is slowly being absorbed by Islam.
"Radical" Islam as some would prefer in an effort not to offend. Choosing to bypass what has become obvious to some, that what the infiltrated Muslim presence in every facet of life in Europe represents is a gradual jihad; the state of Islamic conquest that every faithful Muslim is required as a basic precept of their faith to engage in. Among those infiltrators is a significant percentage that views violent jihad as legitimate, and it is among the principal tenets of Islam. Another significant demographic within the Muslim community is willing and eager to conduct active, violent jihad.
In this latest drama that focused France on the looming malaise in their midst, a petty criminal known to police activated within himself the martyrdom-for-Islam complex in the service of Islamic State of Iraq and the Levant, to mount hours of carnage, killing three people and seriously wounding another 16. Among the wounded was a veteran police officer of immense courage who volunteered himself as a hostage in exchange for a woman being held by the terrorist.
Of Moroccan extraction, French citizen Redouane Lakdim set out to destroy the peacefulness of a southern France area yesterday. Hijacking a car, he killed one occupant, wounded the second and made his way from Carcassonne to nearby Trebers, to a supermarket, there shooting and killing a store employee and a customer. On his way to that destination he shot at four police officers who had been out jogging, hitting one in the shoulder. At the supermarket, this fervent follower of Islamic State took hostages when police arrived.
This was when Arnaud Beltrame, 46, a decorated military police officer who had previously served France in war zones with great distinction, offered to exchange himself for the sole woman the murderer was holding hostage. The standoff with police took place over a number of hours. At a juncture when police waiting for a break and listening to Lieutenant Colonel Beltrame's open cellphone for clues heard shots, they stormed the scene and a shoot-out occurred. Officer Beltrame was shot in the neck, the terrorist was shot to death.
Police later discovered two unexploded homemade bombs, a 7.65 mm pistol and a hunting knife possessed by the Islamist terrorist, while searching through the market after the attack.
Authorities knew of Radouane Lakdim's links to radical Salafist networks. They considered him, doubtless, only a petty crook and drug pusher. Without an iota of doubt there are many such like him, in the banlieues; thugs, criminals, gang members, drug traffickers. These are all lifestyle highlights that appear to disproportionately attract young Muslims wherever they settle. It should be considered by intelligence agents an easy transition from petty gangster to Islamist terrorist among Muslim youth on the basis of reality and experience.
But that kind of thought sequence, logical as it might seem has the odour of
"profiling"
, once a respected and useful tool for those in the business of security of populations. No longer; aggressive, righteous Muslim groups employing the very sensibilities of trust, accountability and acceptance that allowed them to infiltrate the West and which they have exploited to its full potential while resisting the normalcy of integration and acceptance of Western values, have instilled a sense of guilt through charges of
"Islamophobia"
, a most effective tool in the Muslim arsenal of disarming the non-Muslim community.
The values that have traditionally reflected the quality of French life, its history, society, politics, culture and justice system, is spurned by Islam which agitates forcefully for Islamic Shariah. And this is the kind of challenges that a man of the calibre of Lt.-Col.Arnaud Beltrame must interface with. He served in Iraq in 2005, and earned an award for bravery in 2007. He spent four years as a commander in the Republican Guard, providing security at the Élysée Palace for France's president.
He was knighted in 2012, inducted into France's prestigious Legion of Honor. In 2017 he was appointed deputy commander of the anti-terror police in the Aude region.And he assiduously prepared for the role that would conclude in his surrendering his life in the defence of France's democratic values when he led a simulated terror attack in December on a supermarket -- presaging the one in which he Friday gave his life.
Labels: Banlieues, Crisis Management, France, Immigration, Muslims, Terrorism