Electric Urban Transit
"This segment [of public transportation and fuel effluent] is approaching the tipping point."




"City governments all over the world are being taken to task over poor urban air quality. This pressure isn't going away, and electric bus sales are positioned to benefit."




Colin Mckerracher, head, advanced transport, Bloomberg LP, London





"Everyone was laughing at BYD for making a toy. And look now. Everyone has one."




"The first fleet of pure electric buses provided by BYD started operation in Shenzhen in 2011. Now, almost ten years later, in other cities the air quality has worsened while -- compared with those cities -- Shenzhen's is much better."




"The technology is ready. We are ready, we have our plants in China and Alexander Dennis in Scotland is geared up for TfL."




"Once we're given the word, we are ready to go."




Isbrand Ho, managing director in Europe, BYD Co., Shenzhen, China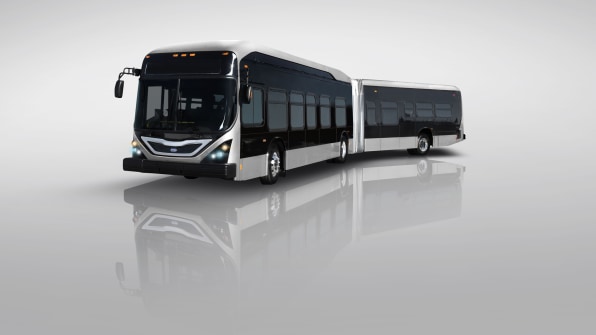 Photo: BYD Co.
China was in such a hurry to industrialize, to become the world's leading manufacturing base, to flood world markets with its products, to employ as many of its young men as possible, to haul its vast population base out of poverty, that its coal-fired furnaces and huge smokestacks located in all its metropolises, belched out particulate matter, creating stifling smog blocking out the sun, industrial chemical effluent released into rivers, lakes and streams, making for incredibly polluted environments on its way to success, it was hard to believe it would ever seriously contemplate cleaning up its act.
Now, however, it appears as though China's Communist-led government is serious indeed, and is becoming the world's leader in clean energy pioneering. Seven years ago the Chinese BYD Co. produced an early model of an electric bus and became a laughing stock internationally. Now, battery-powered motors in buses are taken seriously as a revolutionary solution to municipal transport. China is leading the world in trading the smog-belching diesels to those running on electricity and reducing its demand for fossil fuels.
In 2015 alone according to Berkley Earth, Chinese smog so impaired the health of the Chinese population that 1.5 million deaths resulted. Its growing urban population and energy demand led to the world's worst urban problems with pollution. The city of Shenzhen represented an example of a typical Chinese city whose industry was booming, with little consideration given to the environment, resulting from the notorious, sickening presence of smog. Which led the central government to select it for a pilot energy conservation program in 2009.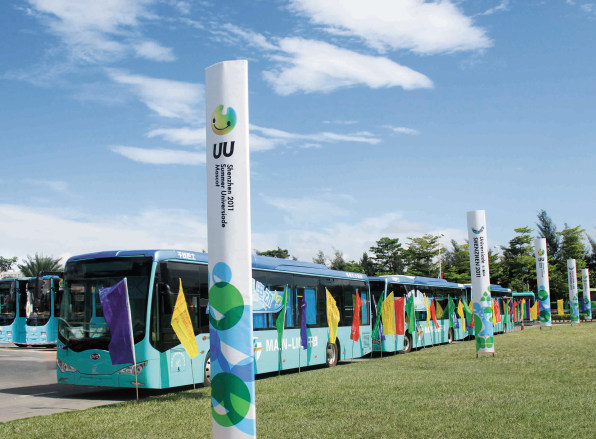 Photo: BYD Co.
There are few laggards in China; everyone is anxious to get the job done whatever that job happens to be, because China is always in a hurry to get things done. In two years' time the first of the electric buses came out of BYD's production line and by December all of its 16,359 buses were electric. BYD placed 14,000 electric vehicles in Shenzhen alone, of the 35,000 it has built to date with a capacity to build up to 15,000 annually, giving it 13 percent of the country's electric bus market.
Ten billion miles have been logged, according to BYD estimates, with a saving of 1.8 billion gallons of fuel. Now, Paris, London, Mexico City and Los Angeles are all committed among 13 authorities, to buying only zero-emission transports by 2025. Four routes in London at the present time are serviced by single-decker units in the city centre, powered by electricity. Plans are in the works to retrofit 5,000 old diesel buses to meet an emission-free standard by 2037.
Should London's entire fleet turn to electric, 430 barrels of diesel fuel a day for each of 1,000 buses turning electric will be displaced and U.K. diesel consumption will be reduced by 0.7 percent, compared to its current network drawing 1.5 million barrels of fuel yearly. In 2017 across the U.K. 344 electric and plug-in hybrid buses were operating. BYD is awaiting the opportunity to supply more of them, partnering with a Scottish bus-producer to provide batteries.
As for China, in 2017, it had close to 99 percent of 385,000 electric buses worldwide, accounting for 17 percent of the country's entire fleet. Cities in China add 9,500 electric buses every five weeks, representing the equivalent of London's entire working fleet. About 500 barrels a day of diesel fuel is displaced for every thousand battery-powered buses on the road. The volume of fuel buses taken off market may rise 37 percent to 279,000 barrels daily this year.
The extensive use of new energy buses not only protect the ecological environment of Luohe City, but also meet the requirements of building a national health city and a civilized city, but also can effectively reduce the cost of vehicles,' Gao Jizhou, director of Transportation Bureau of Luohe City
Clean Technica
Labels: China, Electric Vehicles, Environment, Smog, Technology