The United Nations to the Rescue
Syrian ambassador Hussam Edin Aala, left, with Vladimir Gratchev, representative of Michael Møller, Secretary-General of the UN Conference on Disarmament, Geneva, Sept. 3, 2014.
GENEVA, April 9, 2018 – Despite accusations that it perpetrated yet another deadly chemical weapons attack on Saturday, Syria will next month chair the United Nations disarmament forum that produced the treaty banning chemical weapons, sparking calls by an independent monitoring group for the U.S., the EU, and UN chief Antonio Guterres to strongly protest, and for

their ambassadors

to walk out of the conference during the four weeks of the Syrian presidency.
"The Assad regime's documented use of chemical weapons remains the most serious violation of the Chemical Weapons Convention in the treaty's twenty-year history. We urge the UN to understand that at a time when Syria is gassing its own men, women, and children to death, to see Syria heading the world body that is supposed to protect these victims will simply shock the conscience of humanity."

"A country that flagrantly violates the chemical weapons convention, and which was

reported to

the UN Security Council by the International Atomic Energy Agency for its covert construction of a nuclear reactor and

found in breach

of the Nonproliferation Treaty, should be barred from any formal positions in UN bodies dealing with the such vital matters as biological, chemical and nuclear weapons disarmament."
"The Assad regime simply cannot be a credible chair of this or any other United Nations body. Syria's use of deadly chemical weapons and its illegal pursuit of nuclear weapons, in breach of its disarmament obligations, run counter to the objectives and fundamental principles of the Conference on Disarmament itself. Syria's chairmanship will only undermine the integrity of both the disarmament framework and of the United Nations, and no country should support that."




Hillel Neuer, Executive Director, UN Watch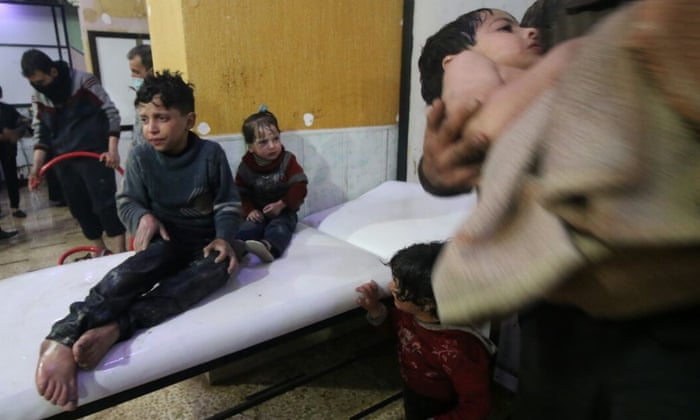 Affected children wait to receive medical treatment after a poisonous gas attack.
Photograph: Fadi Abdullah/Anadolu/Getty Images
It is nothing short of surreal. Once again Syrian doctors and those desperately expending themselves to rescue Syrian Sunnis from the blighted attacks of their Shiite government found dozens of dead in Douma in eastern Ghouta, not far from Damascus after yet another chemical weapons assault. The Syrian-American Medical Society based in Washington reported 40, perhaps more people killed, with over 500

"brought to local medical centres with symptoms indicative of exposure to a chemical agent".
The Syria Civil Defense first responders described patients with symptoms of respiratory distress, many foaming at the mouth, emitting a

"chlorine-like odour"

. Unfortunate, shrugs the Syrian regime, but nothing to do with them. And they have the support of the Russian Foreign Ministry, that such absurd claims that Syrian troops were responsible have no basis in reality. The allegations are

"designed to shield the terrorists ... who reject a political settlement"

, stated the Russian Foreign Ministry.
It seems the American State Department isn't buying that casual brush-off of responsibility, that the "disturbing" and "horrifying" event requires an

"immediate response by the international community"

. So far, the only member of that international community, the one that is forever the recipient of criticism for its attempts to secure its borders and defend itself from Islamist terror, is the only member that bothered to respond by sending a message that such flagrant disregard for innocent human life will not be tolerated.
The initial attack appears to have targeted a hospital, according to reports from rescue workers. The chemicals spread to residential areas where bodies were later discovered inside family homes or slumped in stairwells, noses and mouths emitting foam. Field clinics desperately attempting to give aid to affected people experiencing breathing problems recalled other chemical weapons attacks in Syria, including the nerve agent sarin where a year ago a hundred people were killed in Khan Sheikhoun.
More than a thousand people were killed in 2013 in eastern Ghouta in yet another sarin attack, the event that saw then-president Barack Obama muse about military action against the Syrian government crossing "red lines". A threat easily set aside when Vladimir Putin persuaded him it would make more sense to remove all chemical weapons from Syria. It is yet to be seen whether the current president Donald J. Trump has plans to make good on his hinted response to this latest attack.
"We tried to send people to the area to rescue the injured, but even the rescue workers began suffocating"

, medical worker Mohamed Samer in Douma explained, while Syrian doctors and rescue workers showed images of men, women and children killed or wounded in the attack. According to a representative of the United Nations, Secretary General Antonio Guterres was

"particularly alarmed by allegations that chemical weapons have been used against civilian populations in Douma"

.
He added, unfortunately, that the United Nations was

"not in a position to verify these reports"

. But it was prepared, quite obviously, to rubber-stamp the Syrian representative chairmanship of the UN forum for disarmament that just happened to produce the treaty banning the use of chemical weapons. How very appropriate. If the world body could imagine itself flagrantly flaunting its purpose for existence in a more cynical utterly hypocritical manner, it is this alongside the Secretary General's sanctimony that exemplifies its utter worthlessness.
Other than as a willing aid to the human-rights defiant among its not quite illustrious membership. Irony of ironies, the
Conference of Disarmament which reports to the UN General Assembly, is described as

"the single multilateral disarmament negotiating forum of the international community"

. Ample evidence that the 65-country Conference is nothing but distorted window dressing for an international agency incapable of committing itself to its very own reason for existence; a bulwark against global human rights abuses.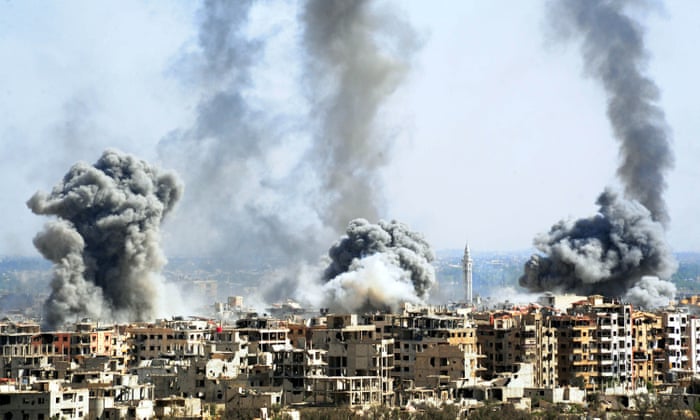 Smoke rises from shelled buildings in Douma on Saturday.
Photograph: Xinhua/Rex/Shutterstock
Labels: Atrocities, Barbarity, Chemical Weapons, Conflict, Human Rights, Syria, United Nations