Ostracizing Vladimir Putin
"I used today's opportunity to emphasize two things."




"The first is that it is still in Germany's interests to have good relations with Russia ... We remain open to dialogue."




Rudiger Freiherr von Fritsch, German Ambassador to Russia





"We can confirm that four Canadian diplomats have been declared persona non grata by the Russian government."




"The well-being of Global Affairs Canada employees is our priority. We will be making every effort to support those affected and their families with their return to Canada."




Adam Austen, press secretary, Foreign Minister Chrystia Freeland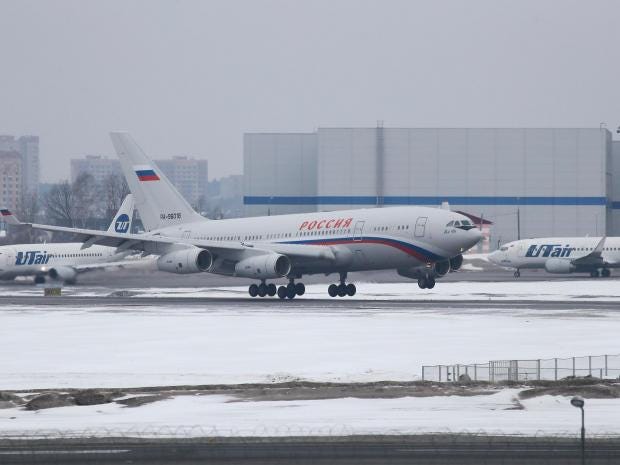 Russian diplomats arrive in Moscow on an Ilyushin Il-96 aircraft after being expelled from the US
Moscow's foreign affairs ministry was a busy place on Friday, issuing formal protests and expulsions of Western diplomats as envoys arrived one after the other for their walking papers. The day before Moscow had finally made the anticipated announcement that it planned to expel 60 American diplomats and would close the American Consulate in St.Petersburg. Precisely the number of Russian diplomats that Washington had given expulsion notice to, along with the announcement of the closure of the San Francisco Consulate.
Tit for their Tat.
First the German embassy disgorged its ambassador, followed by the French and Italian ambassadors, each spending a like amount of time hearing the disappointment and censure of the Russian ministry to their various nations' ill-natured and undiplomatic reactions to Britain's unsubstantiated charges that on March 4 a Russian agent sprayed nerve gas against a former Russian double agent and his daughter, in Salisbury, United Kingdom.
It's the West against Russia once again. Just because British Prime Minister Theresa May accuses Putin of nerve agent use in an attempted murder on British soil. After all, what can one expect from a hysterical woman? Her expulsion of 23 Russian diplomats gained Britain the return of a like number of its own, launching a me-too campaign to discredit Russia, with another twenty countries joining the fray, sending home 150 Russian intelligence officers -- posing as Russian diplomats.
On baseless charges that these diplomats -- really intelligence officers posing as diplomats -- on a directive from the Kremlin shielded their activities under diplomatic status for the purpose of undermining other nations' security, interfering in their democracy. Any applications introducing new proposed diplomatic staff to be denied, guaranteed no accreditation.
Credit Olga Maltseva/Agence France-Presse — Getty Images
Canada was careful to point out that the expulsions were not
"aimed at the Russian people, with whom Canada has long and fruitful ties. Canada remains committed to dialogue and cooperation with Russia on issues where we face common challenges"
, went the official assurance. Moscow's foreign service ministry may be in a state of flux and confusion, but not its president who has been re-elected to another six-year term.
And he does, after all, have his friends. The new Austrian chancellor Sebastian Kurz remains prepared to
"exchange experiences"
and
"send delegations to each other"
, as befits civilized nations. The Greek government of Alexis Tsipras remains Russia-friendly, as does the government of Viktor Orban's Hungary. Relations with France's Marine Le Pen appear secure. And despite the 60 expulsions, President Trump has not declared President Putin persona non grata.
"A joint statement has been issued by Britain, France, Germany and the U.S. calling on Russia to 'live up to its responsibilities', to 'uphold international peace and security'. Otherwise, no serious consequences. No serious additional sanctions on Russia. No major increases in European defense spending. No effort to wean Europe from its dependence on Russian energy. No boycott of the precious World cup."
Bret Stephens, op-ed columnist, The New York Times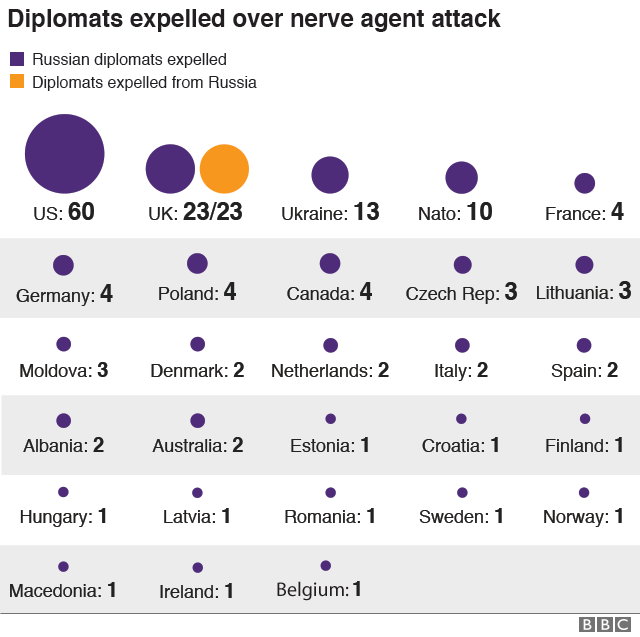 Labels: Britain, Canada, Diplomacy, Expulsions, France, Germany, Russia, United States