A Woman of Her Time
"I want you to know where I come from so you can tell where I am headed. I'm like thousands of women in South Africa who lost their men to cities and prisons ... I stand defiant, tall and strong."




"We had our textbooks, naturally written by white men, and they had their interpretation. Then [her father] would put the textbook aside and say: 'Now, this is what the book says, but the truth is: these white people invaded our country and stole the land from our grandfathers."




"There is an anger that wakes up in you when you are a child and it builds up and determines the political consciousness of the black man."




"We have no guns -- we have only stones, boxes of matches and petrol."




"Together, hand in hand, with our boxes of matches and our necklaces, we shall liberate this country."





Nomzamo Winifred Zanyiwe Madikizela, Soweto, South Africa





"Without condoning her misdemeanours, we must acknowledge that she is a victim, she is damaged and hurt."




"When someone is subjected to the kind of consistent persecution and harassment she suffered from the apartheid system, something is bound to snap. We understand that and will always be there for her."




Kgalema Motlanthe, then-ANC Secretary General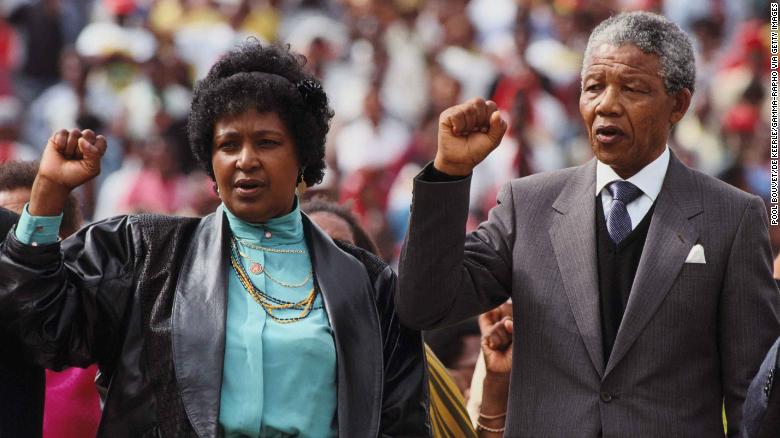 Winnie and Nelson Mandela in Soweto, South Africa in February 1990.
Winnie Mandela lived in 'interesting times', reflecting that old Chinese curse. She had no wish to live in 'interesting times', but they were imposed upon her, her family, her village, her people of South Africa by white-settler rule. She was born with a genetic inheritance of resilience, intelligence, determination and physical beauty. She was also married to one of the world's most renowned Black Africans who rebelled against apartheid in his country, suffered 27 years of imprisonment, and eventually became the country's first elected indigenous president.
Her name became synonymous with the black ghetto of Soweto during the years of resistance against white rule in a black nation. She returned to the black township located southwest of Johannesburg, but it was in Johannesburg that she died at age 81, a celebrated member of the African National Congress which had once disowned her as having disgraced them with her violent rhetoric and her involvement in a violent football group of thugs. The death of a 14-year-old boy was said to have been instigated by her.
For her part, she criticized the political party she once characterized as her "family". She was a fighter, and a fighter not only for black equality, but equality among blacks, railing against fraud, corruption and that after the fall of apartheid and the rule of the ANC in power, black South African poverty was never solved, housing was inadequate, and the elite looked after themselves exceedingly well. She chose never to herself live in the privileged enclaves, choosing instead to remain in Soweto.
She had worked toward a social-work degree from the Jan Hofmeyr School in Johannesburg, soon afterward meeting Nelson Mandela, and became part of the resistance movement that eventually led to present-day South Africa. In 1960 the attention of the world focused on the police killing of dozens of unarmed protesters, the Sharpeville Massacre. Nelson Mandela became a defendant in the Treason Trial of people involved in the evolution of the Freedom Charter, a blueprint for a future South African democracy.
Nelson Mandela had organized the group's defence, denying it had plotted a violent overthrow of the white government, was taken into custody and though found not guilty, was forced to go into hiding. During that time his wife Winnie was arrested, harassed and banned, unable to perform social contacts to keep herself involved a a time when she became the target of police informers. In 1969 she spent 18 months in solitary confinement, interrogated endlessly, forced to sit upright night and day without breaks.
"The whole experience is so terrible, because I had left little children at home in bed and I had no idea what had happened to them"
, she later explained. The food she was given was in unrinsed sanitary pail lids, covered often in bird droppings while she lived in a five-by-ten-foot concrete cell, sleeping on the floor. Eventually she was exiled to a shack in a remote town. In lock-step with her enforced isolation she became an international figure of interest.
Winnie Mandela and her two daughters, Zenara left, and Zindzi, at Cape Town airport in 1985.
At the same time, she began a daycare in Brandfort, the little town she was exiled to near Johannesburg, and she taught women there to plant vegetable gardens to feed their families. She also began drinking and had numerous extramarital relationships. And there was curiosity rising over international donations to her social welfare programs in the town; what happened to the money?
Returning to Soweto in 1984 she found gangs and police brutality, and she promoted "necklacing".
Suspected police informants were killed by placing a gasoline-soakjed tire around their body and lighting it afire. She was an ardent proponent of "necklacing". On New Year's, 1989, 14-year-old James Moeketsi Seipei
(Stompie)
suddenly disappeared. He had been living in Mandela's house and rumour had it that she had set her football gang to kill him. She was charged in connection with the boy's murder, and convicted of kidnapping and being an accessory to assault. Her sentence was suspended.
When her husband was finally freed after 27 years of imprisonment, Nelson Mandela, suing his wife for divorce said
"I was the loneliest man during the time I stayed with her"
. The divorce was granted. The Truth and Reconciliation Commission condemned her in 1998 for human rights violations when 30 witnesses gave evidence against her. Her followers remained faithful to the woman they called the
"Mother of the Nation"
.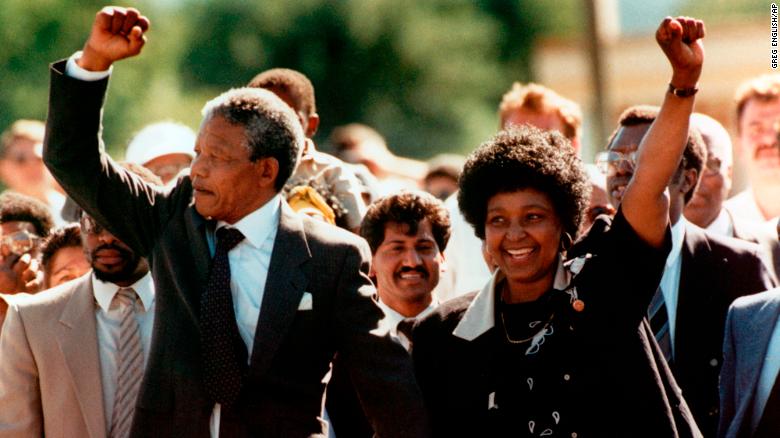 Nelson and Winnie Mandela raise clenched fists to supporters upon Nelson's release from jail in February 1990.
Labels: apartheid, South Africa, Winnie Mandela