Canada Opens its Doors to Refugees Selectively
"It is weird when you are hiding from an officer instead of someone from the Mafia, because you would expect to be hiding from the bad guys. Now, the bad guys are people who should be the good guys."




"I have to write down which name I used and which wig I was wearing when I meet people. This is what we have been doing day by day for almost six years."




"[Father, mother, brothers, uncles, cousins] all chose that life [Italian Mafia group Santa Corona Unita, Puglia]. I have maintained a distance for a long time."




"One of the first things I learned [as a Mafia child] was, when you hear someone shooting, just drop behind [parked] cars and run from car to car -- and never look behind you. And if you see something, pretend you didn't."




"He [cousin] lived his whole life following the Mafia code. He was going in and out of jail always."




"They kill people for very stupid things. If they think you know something or want to harm you, they don't double-think it."




"When you start to see people follow you and spit on the ground behind you when you walk, you realize that you don't need an attack or a threat to tell you they are after you. When you have kids, you cannot wait for them to harm someone."




"They showed up wearing bulletproof vests at our address with a big van, with our pictures, showing our pictures to our neighbours. They asked for us. We got scared and packed everything again and went into hiding. Again. From that day, no more school, no more anything. We don't go out as a family altogether anymore."




Alessandra Dimitri, 40, Toronto

(for their protection, names used are not their true names)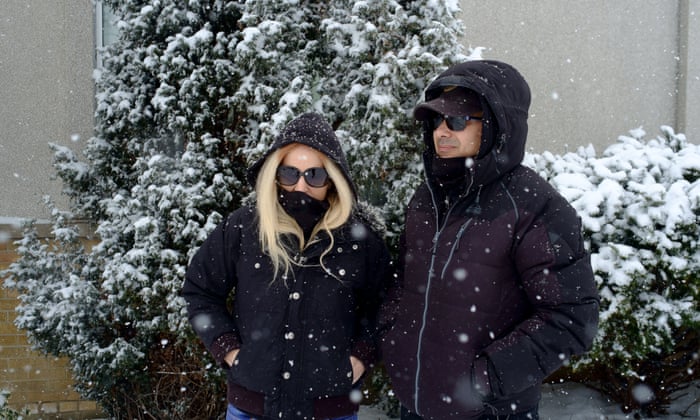 The Demitri family are set to be deported back to Italy, where they fear reprisals from the mafia.
Photograph: Leyland Cecco
"I needed a link to her family [as a civilian investigator working for police]. I always knew you were a good person and this was enough for me"
, the father of the family Fabrizio Demitri said in his wife's presence, describing his mission to secure employment with a private security company suspected of links with the Santa Corona Mafia group. And as part of that probe meant to take years, her family was being investigated by him.
"It has been a very sensitive issue in our relationship"
she says.
"Because he knew who I was but I didn't know who he was."
They were married and it was only then that the truth was revealed to her. They are married, they are a family, they are both in their 40s, they have had four children together through the length of their marriage. And because they both are wanted by the Mafia, her for deserting her origins and a danger to them because of her family links and what she knows, and him because it is now known that he had infiltrated them, gained their trust, and meant to help bring them to justice under Italian law.
They ended up in Canada when moving within southern Italy to live elsewhere anonymously failed to work out and their presence had been discovered, leaving them vulnerable and concerned over their children's safety. When they approached Italian police in Puglia where they lived, they were informed nothing could be done since there had been no attack carried out - yet. Besides which they were uncertain what brought the threat down upon them; her denying her roots or his undercover work.
His investigations had led to arrests leading to the mobsters he had associated with looking for leaks and eventually realizing he was the leak. Once it was discovered that he had infiltrated and worked with police he was threatened; his appeal for protection from authorities ignored. They fled a thousand kilometres away, taking shelter in a monastery near Turin in a farming community. Then came a situation where they needed to register an address for health care for one of their sick children, leading them to finally leave Italy in 2013.
They arrived in Canada and asked for refugee protection at Pearson International Airport in Toronto. They have since had two children born in Canada though in 2014 their refugee application was denied.
"I have no reason to doubt the claimants' evidence. The determinative issue in the matter is state protection"
, wrote the Immigration and Refugee Board, unconvinced that authorities in Italy are unable or not willing to protect them.
"The mafia had in excess of six months to harm the claimants and they did not. The documentary evidence establishes that the state protection is adequate"
, read the IRB decision. And then the couple launched appeals within the IRB, to the Federal Court of Canada, along with a humanitarian and compassionate appeal citing their two Canadian-born children to bolster their case, as well as their older two children born in Italy who have suffered from post-traumatic stress with their constant moves.
"The family currently does not have status in Canada"
, a spokesman for Immigration, Refugee and Citizenship Canada pointed out, confirming the procedural history of the case and that their humanitarian appeal had been denied since an adjudicator hadn't been convinced their case
"justified an exemption"
, and the Federal Court had declined to hear their appeal. How their case is any less deserving of acceptance than those of Syrians fleeing their country and finding haven abroad is a mystery.
Canada has a Minister of Immigration who was himself a refugee from Somalia. Ahmed Hussen and the Liberal government of Justin Trudeau see merit in inviting Muslim refugees to Canada to shelter them from the deadly atrocities that other Muslims inflict upon them, but the Yazidis, a vulnerable ethnic-religious minority needing protection are proffered meagre opportunities to start a new life in Canada. The rejected case of this Italian family, settled in Canada and far more capable of conforming to Canadian values than many who have been welcomed, shames Canada.
"States are not required to provide perfect protection to all citizens at all times. This is impossible. There are failures of state protection in countries such as Canada"
, wrote the adjudicator.
"The claimants have failed to rebut the presumption of state protection in Italy."
"Italy cannot protect high ranking judges who get blown up by organized crime. Italy cannot protect anyone – including itself"
, contradicted the family's lawyer, Rocco Galati.
"The Demitri's story is, unfortunately, very common in Italy. Italy needs state witnesses but it is no longer able to protect them."




"There are people who have been literally abandoned by the state. They live like prisoners, while mobsters are still at large."




Piera Aiello, parliamentarian, member of the national anti-mafia commission
Fabrizio Demitri worked for nearly a decade as a civilian informant for the police. He and his family are set to be deported back to Italy, where they fear reprisals from the mafia.
Photograph: Leyland Cecco