The Mutual Pain of Sanctions
"The notion that for us to go forward with sectoral sanctions, on our own without the Europeans, would be the most effective deterrent to Mr. Putin, I think, is factually wrong."




"We're going to be in a stronger position to deter Mr. Putin when he sees that the world is unified and the U.S. and Europe is unified, rather than this as just a U.S.-Russian conflict."




U.S. President Barack Obama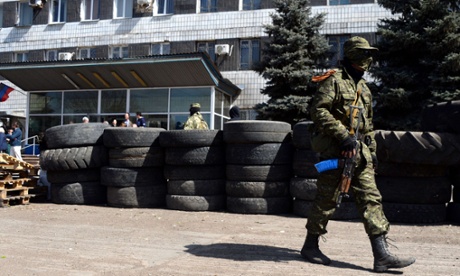 New brutish outrages in east Ukraine, new sanctions imposed on Russia. How utterly unfair; for what has Russia to do with the criminal acts taking place in Ukraine? Ah, yes, that connection of ethnicity, of clan, of tribe and the blood that courses in the veins of those faithful to Russia and damning Ukraine; the path now taken to distinguish themselves from those loyal to Ukraine and themselves, primed by Russian intervention through covert actions and urgings and discreet promises.
They are called, politely, pro-Russian, and what could be wrong there? They are, undoubtedly, fond of Russia's influence on their lives, and have taken measures to edge themselves closer, much, much closer to Russia's sphere, to not only orbit the blessed warmth of its rays, but to snuggle within them. And Moscow reciprocates; it too welcomes the love so effusively strewn its way, and will advantage their brethren by coddling and embracing them in a possessive hug.
Those pro-Russian separatists have distinguished themselves in the level of their loathing for Ukraine's ownership of their geography. They have pledged themselves to Russia, so the official Ukrainian government position presents as an impossible irritant. And nor is the presence of observers from the Organization for Security and Co-Operation in Europe appreciated. The cure for their impudence is arrest, recognized as the spies that they are.
And the Ukrainian 'secret agents' too, taken into firm custody. Which is to say, humiliated, and beaten, and made an example of; to all others who may wish to infiltrate the steady resolve of the pro-Russians this will be in store for them as well. Filmed, ignominiously without their trousers, bloodstained, beaten, blindfolded, utterly humbled; fascist Ukrainian trash.
Armed and masked rebels filmed hovering menacingly over the eight men representing the European observers from OSCE, their humble spokesman denied yet again that they were spying for NATO. A German OSCE group member assured that they, unlike the battered Ukrainians held in detention, remain in good health as
"OSCE officers with diplomatic status".
"I cannot go home of my own free will"
, the German representative, Axel Schneider stated at the press conference, but an OSCE delegation was busy negotiating their freedom. Which, according to Slavyansk's new, self-styled mayor Vyacheslav Ponomaryov, who has been behaving, along with his crew, suspiciously fascist, said that indeed the men were
"hostages of circumstances"
, who can be released should a prisoner exchange take place.
"We will turn the Russian television back on, but we will not turn the Ukrainian ones off"
, one activist among a crowd of several hundred pro-Russians in the eastern city of Donetsk said, after taking control of a state television centre. Armed with clubs, they defied Ukrainian police.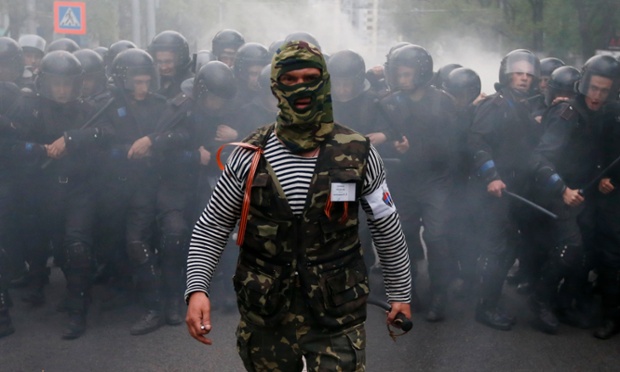 And in Ukraine's second largest city, the mayor of Kharkiv, 54-year-old Gennady Kernes, once a supporter of Ukraine's deposed president Viktor Yanukovych and more latterly expressing his support for his city, close to the Russian border to remain Ukrainian, has undergone life-saving surgery after being shot in the back by unidentified gunmen. Pro-Russian 'militants' taking exception to his loyalty to Ukraine.
The savagery of two other Ukrainian politicians a week earlier having been abducted, mutilated and killed more than adequately demonstrates the calibre of brutality that these 'pro-Russians' are capable of in their mission to gift Russia with the industrialized heartland of Ukraine, deeming Russia's criminal takeover of Crimea insufficient punishment for Ukraine wishing to keep its geography intact as a sovereign nation.
The sanctions that both America and Europe have hinted at; sectoral in nature, is set to proceed should Russia undertake a full-scale invasion and annexation of eastern Ukraine, a carbon copy of its Crimean venture. Many within Europe shudder at the prospect of more biting sanctions. "Sectoral" measures would blacklist full sections of Russian industry that would certainly affect their own economies.
Introducing fuller restrictions on Russian banks could damage the financial sectors of EU nations, particularly Britain, given Russian investment in their economies. Europe's heavy dependence on Russian gas imports through which the Kremlin could very well decide to raise the price, as they have done with Ukraine, would have further devastating effects on the European economy, still emerging from its recessionary collapse.
The U.S. Treasury and the European Commission have been sharpening their pencils over the past month closely and carefully analyzing the potential impacts on them in imposing further, biting sanctions on Moscow. So how deep is their resolve to punish Russia for the international outrage it has imposed on Ukraine for snubbing closer ties with its former Soviet master?
Labels: Aggression, Conflict, Economy, European Union, Russia, Sanctions, Ukraine, United States