Conscienceless Profit
"We cannot leave all those victims. We really hope that they would come forth and really collectively recognize the need to compensate the people, though they may not be legally responsible."




Gilbert Houngbo, deputy director-general, International Labour Organization





"Brands are failing Rana Plaza victims, and they need to pay up now."




Jyrki Raina, general secretary, IndustriaALL Global Union





"I have no money, and I need it badly. I've heard many promises from the government but haven't received anything from them."




Bulbuli Akter, 23, former Rana Plaza factory worker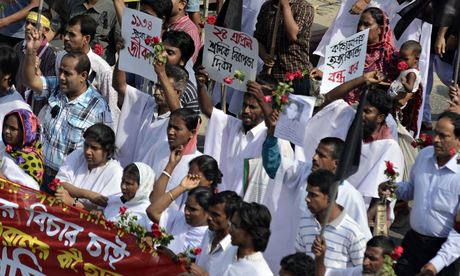 There were 2,400 survivors of the eight-storey collapse of the Rana factory complex in Savar, close to the capital of Bangladesh, Dhaka. The horrendous collapse of the building resulted in the deaths of 1,135 people. A local government investigation discovered that safety rules had been flouted including the decision to place heavy-duty generators on the building's roof.
Over 1,500 of the surviving workers were injured in the collapse, and of that number roughly one thousand surveyed by the aid group Action-Aid Bangladesh are unable to hold jobs as a result of physical failings, trauma, or through employers unwilling to hire them. The government of Prime Minister Sheikh Hasina called for donations to a a victim relief fund.
Fatema holds a picture of her son Nurul Karim in front of her slum house in Savar.

Fatema lost her son and her daughter Arifa, who were working on the fifth floor of

Rana Plaza when it collapsed.


(ANDREW BIRAJ/REUTERS)
Most families of dead workers received funds; however, 173 received no financial help from the government.
"We're trying to sort out the problem"
, said Labour Secretary Mikail Shipar. The government plans to pay $644 each to about 3,000 victims including families of those who died. But it has as yet distributed less than one-fifth of the $16-million in the relief fund.
The International Labour Organization has raised less than half of its $40-million goal to help the victims. That $40-million represents a minuscule fraction of profits earned by leading retailers whose products result from factories such as Rana. The U.S. and other countries have demanded Bangladesh employ stricter safety standards in a country known as having the world's second-largest garment industry.
Worker wages remain among the world's lowest for garment workers supplying retailers like Hennes & Mauritz and Walmart. The government of Bangladesh raised the minimum monthly wage by a whopping 77% to result in a final minimum monthly wage of about $70. The ILO trust fund has received $15-million to date representing less than 0.1 percent of an estimated $22-billion annual profit enjoyed by 29 brands sourcing garments from such low-cost producers.
Fifteen brands have not yet contributed funds. Those brands include the Benetton Group and Carefour, according to the website of Switzerland-based UNI Global Union. Three groups have started factory inspections since Rana Plaza collapsed, backed by companies including Walmart and H&M, along with the Bangladeshi government and the ILO.
Across greater Dhaka alone there are almost 5,000 factories to be inspected.
Labels: Bangladesh, Crisis Politics, Manufacturing, Profit