Distancing, Disabling Hamas
"Since el-Sisi has been in power, money and arms no longer flow through the tunnels into the Gaza Strip; instead they began to flow in the opposite direction, from the Gaza Strip into Egypt's Sinai Peninsula. Since the Muslim Brotherhood and its affiliated terrorist organizations, Hamas among them, have not accepted defeat, there has been an increase in terrorist attacks targeting the Egyptian regime both inside the country proper and in the Sinai Peninsula. The terrorist campaign receives ongoing support from the Izz al-Din al-Qassam Brigades, Hamas' military-terrorist wing, and the ISIS-affiliated Ansar Bayt al-Maqdis. Both continuously attack the Egyptian police and army in the Sinai Peninsula, murder Egyptian officials and target Egyptian institutions."




"The endless terrorist campaign in Egypt has proven yet again that the claim of a political Islam, separate from the terrorist organizations, is simply a lie. Muslim Brotherhood terrorism against the Egyptian regime is a perfect example of how the "political movement" tries to represent itself as dealing only with the da'wah [proselytizing], while in reality it is a terrorist movement whose objective is the violent overthrow of el-Sisi's administration. The White House, fully aware of the facts, continues hosting senior Muslim Brotherhood officials and shows them respect during consultations about the American Islamic community and U.S. policy in the Middle East."




Bassam Tawil, Middle East scholar





"We appeal to our brothers in Egypt to stop the work that endangers the people of Gaza. Gaza has enough problems: wars, siege and a difficult economic situation."




Rafah [Hamas] mayor Subhi Radwan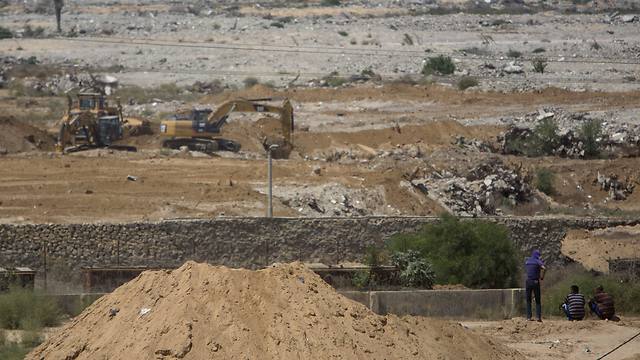 Palestinians sit and watch bulldozers and diggers work at the Egyptian side of the border with Gaza Strip
(Photo: AP)
Egypt has abandoned its plan to build a canal along the border between Egypt and Gaza whose purpose was to stop the building of smuggling tunnels that ferried goods into Gaza from Egypt, including arms and ammunition, and also allowed for the transfer of militants back and forth. In preparation for the building of the canal, hundreds of homes along the border were demolished evicting thousands of residents, to establish the buffer zone.
The canal plans were abandoned once studies indicated that the water would eventually flood the border, according to officials. Now, construction work has been initiated on an alternative plan, to finally put a stop to Gaza's tunnel smuggling. Diggers and bulldozer on Sunday began operations along the border. Black steel pipes were seen scattered about the area of construction as Egypt's army began digging 18 fisheries to be established along the 14 kilometre border with Gaza.
The plan is for the fisheries to focus on mullet and shrimps; the fisheries' presence making continued underground tunnels impossible to dig into place. Egypt's past focus on flooding the tunnels was only partially successful. Egypt has determined this new activity as a best course of action in response to the deadly assaults it has experienced on checkpoints targeting police and the military. Egyptian troops are particular targets of Islamist fundamentalists allied with the Muslim Brotherhood.
An ISIL-linked attack on an Egyptian army outpost last month saw a well co-ordinated wave of suicide bombings, typical of Islamic State martyrdom tactics, and battles take place in some of the Sinai's deadliest fighting to take place in decades. After the removal of the Brotherhood's Mohammed Morsi from the presidency and his replacement by Egypt's army chief of staff, attacks against Egyptian forces have been on a steady rise.
The removal of Morsi and the Muslim Brotherhood both of which patronized Hamas, an offshoot of the Brotherhood, struck a blow against the Gaza rulers' stability, removing their primary source of funding and legitimacy. Hamas now accuses Egypt of isolating the Palestinian territory. As though Hamas terrorists haven't wrought more than enough incitement against Egypt's current administration in its partnership with al-Qaeda, Islamic State and Bedouin Salafists.
Hamas official Mushir al-Masri observed that the new excavation appears as
"a tightening of the grip of siege on Gaza"
, bemoaning that Egypt
"should not slide into this cliff that agrees with the Israeli policies of siege"
. Perhaps Hamas should have thought of the repercussions before it fully embarked on its joint exercises on behalf of the Muslim Brotherhood, to restore Morsi to the presidency, ensuring that President Abdel Fattah al-Sisi would act swiftly to quell the insurrection.
Labels: Conflict, Egypt, Hamas, Islamic State, Muslim Brotherhood, Sinai