The Expansionist Vladimir Putin
"My view is that this is a strategic move aimed at shoring up the [Assad] regime and giving Moscow more influence on the situation in Syria."




"My sense is that unless the Russians drop a Guards Airborne Division into Idlib, the [Obama] administration won't do much. It will study the problem, send Kerry to meet Lavrov, threaten sanctions, and then conclude that what the Russians are doing is really not much different to what they have done in the past, and after all Syria is a sovereign country."




"Key will be how the Russian presence develops. Right now, it looks mostly like preparations for expanding Russian facilities … and maybe some force protection.... What comes next is the question."




Jeff White, Washington Institute for Near East Policy





"Russia sees Bashar's continued presence as a powerful rebuke to Washington.... They see nothing in the Obama administration's handling of the Syrian crisis that discourages them from going for it."




Fred Hof, senior fellow, Atlantic Council's Rafik Hariri Center for the Middle East





"Currently, the Russians believe that it's only Assad that can guarantee the survival of Syria as a state. And given the difficult situation on the fronts, definitely the increased [military] supplies is one of the measures taken by the Russians to guarantee his survival."




"There is a possibility that the Russians would use force, but limited to special operations forces. That's possible under certain conditions, namely if the situation in Syria continues to deteriorate."




Nikolay Kozhanov, fellow, Russia and Eurasia program, London-based Chatham House/Carnegie Moscow Center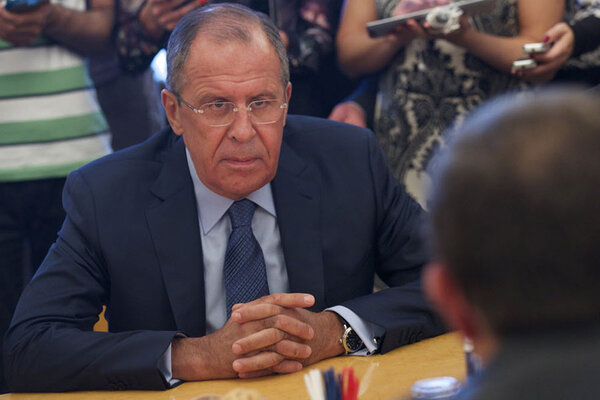 Signs point to direct Russian involvement in Syria's war against its majority Sunni Islam population. In the civil war where the Alawite Shiite Baathist regime of President Bashar al Assad responded with chemical attacks and barrel bombs to the rebel Syrian militias attempting to unseat him, Iran has been of inestimable assistance to Syria. Dispatching its seasoned al-Quds Revolutionary Guards units to guide the Syrian military to prevail in the struggle against foreign jihadist militias, al-Qaeda affiliates, and now Islamic State of Iraq and the Levant.
Which on its own more or less is in control of at least a third of Syria, making its headquarters in Raqqa. Iran has dispatched its proxy terrorist militia Hezbollah to fight alongside the incapable Syrian military, to extract from the Syrian rebels some of the towns they had succeeded in controlling. In the process of the four years of conflict in a complex melee of sectarian hatred turned bloodbath, over a quarter-million Syrians have perished, and around 11-million have been displaced.
Bashar al-Assad learned his trade well from his father Hafez whose own brutality of documented proportions his son has now easily surpassed. But despite all the assistance the regime has received from Iran along with weapons courtesy of Russia, the Syrian regime is flagging in its capabilities and victory is far from the horizon. Moscow appears to have decided that American uncertainty over involvement in Syria has left them the opportunity to become more involved.
As a result it appears that Russia may be preparing to launch its own practical aid to Syria beyond the weapons it has supplied. Prefabricated housing units for hundreds of people are reported to have been delivered to a military air base at the Basil al-Assad airport, 12 miles south of Latakia in northwest Syria. US intelligence officials have been quoted by Agence France Presse that at least three Russian aircraft have landed at the airport in recent days, two of them giant Antonov 124 cargo planes.
Syrian TV footage last week showed an advanced Russian armored fighting vehicle, carrying markings and a camouflage pattern not reflective of Syrian Army vehicles, in action against rebel forces in Latakia province. Background Russian voices are believed to be those of the crew of the vehicle. Online photos of a Russian reconnaissance drone in the skies above Idlib province have appeared, along with an increase in suspected shipments of Russian weaponry to Syria from the Black Sea to the Mediterranean.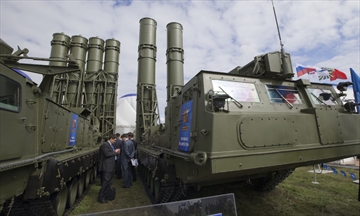 Ivan Sekretarev,The Associated Press

In this file photo taken on Tuesday, Aug. 27, 2013, Russian air defense system missile system Antey 2500, or S-300 VM, is on display at the opening of the MAKS Air Show in Zhukovsky outside Moscow, Russia. Russia has supplied similar systems to Syria.
Last week, Mr. Putin acknowledged that Moscow has given "serious help" to the Syrian military. Denying that direct military intervention by Russian forces in Syria was imminent he only declared the possibility as being
"so far premature"
, declaring he would not rule out future involvement, without going into specifics.
On Wednesday, Moscow confirmed the presence of
"military specialists"
, explaining their presence was in accord with ongoing
"military-technical cooperation with Syria"
in training of the use of the provided advanced weaponry. On the past weekend, Secretary of State John Kerry had telephoned Russian Foreign Minister Sergei Lavrov, to warn that Russia's military assistance
"could further escalate the conflict"
, a matter of which Moscow would not be unaware, simply disinterested. The hundreds of thousands of Syrian refugees surging into Europe are not Mr. Putin's concern, after all.
While Islamic State has gained a huge territory in the north and east of Syria, it has been at the obvious expense of the Syrian regime which has suffered a series of battlefield setbacks this year, losing ground in the very areas unwillingly ceded to ISIL. That the Islamic State is continuing to edge ever closer to Damascus is of concern to Syria, Iran and Russia, even while the exhausted Syrian military increasingly relies on the resources of loyalist foreign Shiite fighters from Lebanon, Iraq and Afghanistan, allies of Iran.
It is somewhat surprising, yet given President Vladimir Putin's recent exploits, not entirely so, that Russia has decided to hazard the possibility of a dust-up with the United States. Where once Mr. Putin convinced Mr. Obama that diplomacy was preferential to bombing Syria because of its chemical weapons use, the fact that such weapons are still being deployed years after they were removed, and augmented with deadly barrel bombs means a ploy once successful cannot be repeated.
The U.S., unwilling in light of its experience in Iraq and Afghanistan and Libya, to commit to ground troops to get the job done properly, has committed itself and its coalition bombing partners to air attacks on ISIL only, not Syria despite that both are equally responsible for horrendous atrocities against the Syrian population. But the presence of NATO and Arab League coordinated bombing missions and the new realization that Russian troops may soon be deployed in Syria makes for a potentially lethal combination whose consequences cannot be entirely foreseen.
Labels: Civil War, Hezbollah, Iran, Islamic State, Russia, Syria, United States