Saving Assad : First Order of Business-Rebels
"They came to save Assad … to destroy all the enemies of Assad. Definitely this will change the direction of the battle, and the direction of the [anti-Assad] groups who can't defend themselves from this."




"The Americans decide to strike the jihadists, so Russia strikes the moderates. The only remaining force will be Assad."




Abed al-Karim Payoush, resident of Kafr Nabl, media activist





"The groups that depend most on the Americans are being attacked. The Russians make a big lie when they say they attack Daesh."




"The problem is not whether [the targeted groups] are supported by the Americans or not, but if they are revolutionaries and determined to keep fighting against Assad. So this is a strike against the revolution, not Daesh."




"The friends of Bashar al-Assad support him with everything: arms, cash, fighters. But the friends of Syria – the Americans, France, Britain, Germany – they don't support us with anything, only talk … Where are you? Are you sleeping?"




Hussein Azizi, the military commander of a large FSA faction in the divided city of Aleppo





"The Russians are intervening with all their power and weapons, and that might change the battle very much, for the benefit of Daesh and the regime. This is preparing for a very big battle in northern Syria."




"Long term, they might win, it's possible. Especially because the FSA has not been progressing and weapons are running out."




"A gun does not do anything in front of a plane, and the [pro-Assad] air forces now are now so much stronger [with Russian help]."




Younes Shasho, member, Aleppo's Council of Salaheddin Revolutionaries.





"The destructive power of the Russian strikes is much greater than the regime's strikes. The craters are much deeper and the range is much wider."




"So Russian airstrikes will empower the regime, but that doesn't change the fact that we will stay on the ground and face the situation. The real enemy to Russia and the regime is the Syrian revolution, not ISIL, so we are not surprised they are striking the FSA."




Hasan Kattan, director, Aleppo Media Center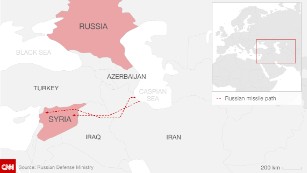 Free Syrian Army weapons and supply depots and their communication centers have been the targets of Russian strikes. For directors of the FSA the surprise is how Russian intelligence knows where to strike. They take little comfort in knowing that Russian airstrikes have also targeted the Islamic State centres. Russian cruise missiles fired from warships in the Caspian Sea have been reserved, it seems, for Islamic State targets.
Where Moscow has claimed the destruction of ammunition depots and of four Islamic State command centres. The battle against "terrorists" includes all rebel groups, including those supported with weapons and cash supplied by the United States, Turkey, Qatar, Saudi Arabia and Jordan. All for the singular purpose of removing Bashar al-Assad from power. All of whom will be foiled in their aspirations by Russia's entry into the conflict.
Iran's emissary to Moscow had proven more than adequately persuasive.
When an examination of maps, surveillance photographs along with relevant intelligence were parsed by Iranian al-Quds Revolutionary Guards Corps General Qassem Soleimani, who emphasized that Russia's Caucasus border would be somewhere on Islamic State's agenda in the foreseeable future, Vladimir Putin agreed that it was imperative Russian military dispatch its ships and jets to the middling abroad to do its part in support of Syria's regime.
Russian officials spoke proudly of their new Kalibr cruise missiles being test-fired at Islamic State from warships in the Caspian Sea. The flight path of the missiles across northern Iran and Iraq to make their way to Syria. And then, news that not all of the 26 missiles fired completed their journey. Some of them evidently crashed in a rural area of Iran, according to senior U.S. officials.
An event whose revelation must have made them feel partially vindicated over American 'accidental' bombing of a MSF hospital in Afghanistan which Russian military critics crowed over as 'unprofessional'.
Leading U.S. Defense Secretary Ashton Carter to once again take huge pleasure in criticizing Russia's "unprofessional" conduct in its Syria incursion. Of course it was also unprofessional for Russian pilots to fly into Turkish airspace, giving NATO good reason to stridently chide Moscow. All the more so when it was revealed that Russian radar had 'locked' on to the Turkish jets that arrived to escort the Russian warplanes out of Turkish airspace.
A clearly threatening situation that could have escalated into an air skirmish that would set off a response from NATO. And from there it would be anyone's guess how things would proceed; not gently.
But the initial effect is that the Syrian military is no longer demoralized; their resolve has been freshened, they have launched a ground offensive to match the aerial assaults undertaken by Russian jets and they're on the move. But just as President Assad never made it a priority to attack the Islamic State jihadists, relying on their antipathy toward the rebel groups to help his military combat those Syrian Sunni ingrates, the joint focus of Russian airstrikes and Syrian regime ground assaults is the rebels.
Western-backed rebels, the Nusra Front and others, though not ISIL are being hit by airstrikes undertaken by Russia. And though Russian officials deny that Russian troops are being assembled and will end up on the battlefield, intelligence by NATO appears to suggest otherwise. The rebel groups are entirely correct, it seems, in their assessment of their vulnerable future.
Labels: Civil War, Conflict, Iran, Islamic State, Russia, Syria