Europe's Despair
"My country, Macedonia, is on Greece's northern border and feeling the full force of the migrant crisis. We are facing innumerable illegal entries, the destruction of state and private property, the use of counterfeit passports and violence against security forces on the border -- all this by migrants intending to avoid registration and the verification of who actually has the right to asylum."




Gjorge Ivanov, President of Macedonia
A migrant grips razor wire at a gate on the Greek-Macedonian border, near the Greek village of Idomeni, on March 1, 2016, where thousands of people are stranded
Louisa Gouliamaki / AFP / Getty
Who could have foreseen that five years ago when Syrian President Bashar al-Assad reacted to his Syrian Sunni citizens' protests against their unequal treatment that favours the regime's Alawite Shiite citizens, an unending war would result. One that has pitted the two major sects of Islam against one another. One that presented a splendid opportunity for jihadis to venture into Syria to lay their own claims on Syrian territory splitting the country asunder, causing hundreds of thousands of deaths, and millions of homeless to seek shelter abroad.
The 'scum' and 'terrorists' that Bashar al-Assad spoke of in describing his revolting Sunni population formed militias to counter the destructive military assaults of a well-equipped military against its own civilians. The use of chemical weapons, helicopter gunships, barrel bombs, siege-starvation to teach Syrian Sunnis a lesson none would forget, galvanized the world in outrage that such a travesty could occur. The Arab League was moved to condemn its member state formerly in good odour.
But not they, nor the Americans whom they expected to intervene, led an effective opposition in tandem with the Sunni rebels against the homicidal atrocities mounted by the Syrian regime against its own. The conflict catapulted from a regional rebellion to an international crisis, burgeoning into a catastrophic maelstrom of government malice that transcended the atrocities mounted by Saddam Hussein and Assad's own father before him, against sectors of their populations.
Who might have predicted that the affliction visited on Syrians would reach out its tentacles to absorb Europe in an uninvited flood of refugees desperate for haven, that influenced people living in failed states elsewhere in the Middle East and Africa to throng alongside the Syrians into Europe by whatever means available to them, at risk of life and limb to reach Europe and an imagined respite from fear and poverty, conflict and death?
Europe's original compassion and welcome was soon overtaken by their very own emergency in attempting to cope with the sheer numbers of human traffic overwhelming its capacities to absorb and to care for. European countries which had complacently congratulated themselves on their humanity and the comfort of living in a continent that so amicably shared their present and their foreseeable future in a bonding of social contracts, defence, economy and pride, bickered bitterly among themselves.
If there is a solution that could give comfort to any country, any group of haven-seekers, it has yet to evidence itself. Those who had a recognized legitimate right to implore their protection and humane treatment were overwhelmed by the presence among them of economic migrants streaming out of Africa and Asia. And Europe gradually began to recognize the fact that the plight of the oppressed was transforming Europe into something it was not; its culture and heritage and society under threat.
In the process of transforming Europe 90 percent of migrants paid smugglers to convey them to the continent at an estimated profit for organized crime networks in the neighbourhood of $4.39 billion, not even counting the related business to be made from migration. And, according to Europol, the European Union today hosts between 3,000 and 5,000 radicals, extremists and terrorists who took advantage of loose security to take to the migrant corridor.
Europe's plight doesn't end there, since the migratory flood has continued to cascade and grow and gnaw at Europe's conscience in the obvious reality that those who have created the epidemic of displaced people have no conscience, simply an over-arching agenda. Turkey, which has bitterly criticized Europe while alternately preening itself for taking in close to three million Syrian refugees now has the upper hand in its relations with the EU, which in desperation is relenting to Turkey's long-spurned EU-membership quest.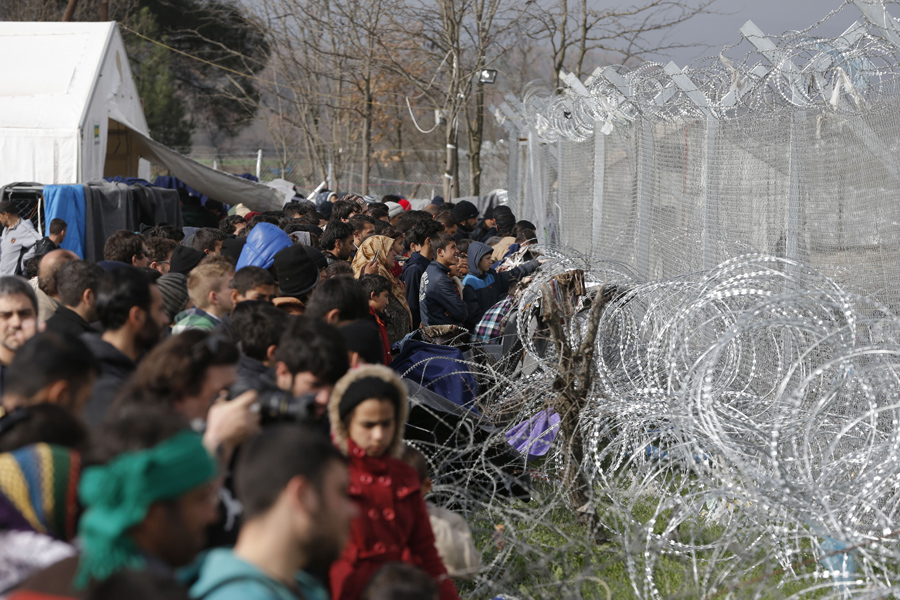 An agreement between the EU and the government of Turkey has seen method of Recep Tayyip Erdogan's madness, in demanding double the billions that the EU has been forced to pledge to Turkey in exchange for putting a stopper in the bottle of endless migration. At the earliest conceivable opportunity, at some point in the currently-unforeseeable future, when the conflict is over, Turkey plans to return all Syrians to their homeland. Those that migrate to Europe will not want to return.
What is a temporary, albeit inconvenient problem for a Muslim nation neighbouring a dissolving Muslim state in extremis, will be a permanent burden for non-Muslim European nations who will witness their helplessness as their country is irremediably transformed.