Arab Spring Part II
"We have one demand: employment."




"People don't have money. We are sick with worry about food and electricity."




Shamseddine Tlilli, 30, computer science master's degree





"The government asks us to submit projects, but then there are a whole lot of obstacles. You have to know someone or have money to bribe. If I had money, I would not be here."




"We asked the government to negotiate with us because we have ideas and solutions."




Ibrahim Omri, textile engineer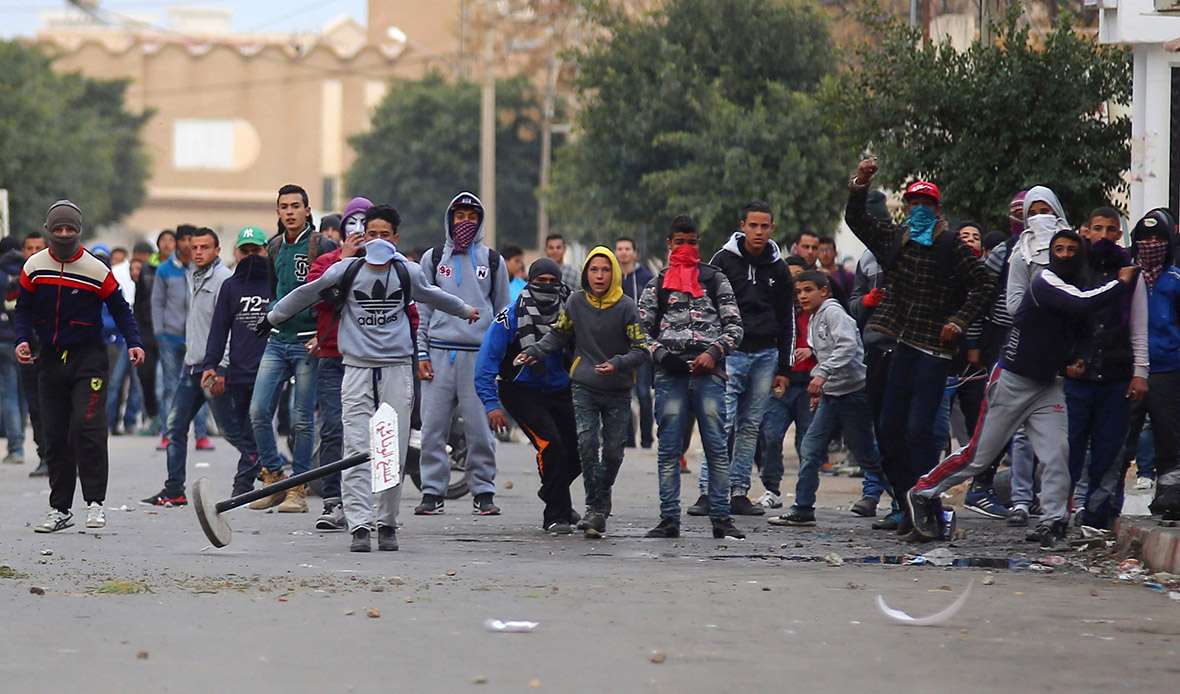 Protesters shout slogans across from government offices in Kasserine, Tunisia,
Amina ben Aziza, Reuters
The inspiration for the Arab Spring that flooded the Middle East after the protest self-immolation of a fruit street vendor harassed over a license in 2011 did have the effect of unseating the-then government of Tunisia, but Mohamed Bouazizi's self-sacrifice has not, five years later, resulted in relief from unemployment and distress for other young Tunisians.
Like Bouazizi who was a representative of the poor who could aspire only to vending fruit as an itinerant peddler, the highly educated youth of Tunisia find themselves just as frustrated by an employment market shut to their professions, skills and wish to work. In Kasserine, a provincial capital with a population of 400,000 jobless youth are desperate.
Some declare hunger strikes, several hundred among them lay siege to a governor's office for weeks. Unemployed young people with degrees have heard more than enough promises that the revolution would make a meaningful change in their lives. But the impoverished town, whose residents are anxious to see investment to help their economy, aren't likely to any time soon, given the military operations and clashes with an Islamic insurgency set up in camps in mountains outside the town.
The young protesters in the town are disappointed and frustrated that their advanced academic and professional degrees have done little to advance their interests. Jobs are scarce, and thoughts of moving to larger cities are non-starters, given the expense. They see a solution of some kind in government relaxing conditions for loans given to young entrepreneurs willing to begin their own businesses.
Pervasive corruption, they claim, impedes those few programs designed by government to generate jobs.
"People are sick of the governments words"
, said Ahmed Rahall 24, with his master's degree in business management, jobless nonetheless. Some among his group of protesters have had training courses for entrepreneurs. Their biggest complaint is that banks are unprepared to fund them with startup money insisting on down payments that are unaffordable.
President Beji Caid Essebsi characterizes the far left representing the students with their demands as being as dangerous as Islamist extremists who commit terrorist attacks. /The mayor of Kasserine, Ridha Abbassi who had, as an academic supported the 2011 revolution, speaks of his position as one of crisis management:
"I feel all the time I am walking on fire. The town is boiling and bubbling."
And Tunisia is considered to be the sole exception to the failures, some of them as spectacular as the massive breakdown of Syria, of the Arab Spring revolt against traditional Middle East and North African government authority.
Labels: Conflict, Tunisia, Unemployment