Celebrating Ramadan in Bangladesh
"The gunmen asked everyone inside to recite from the Qur'an. Those who recited were spared. The gunmen even gave them meals last night."




"[The others, not succeeding in passing the test of authentic Islamic faith] were tortured."




Rezaul Karim, Dhaka, Bangladesh





"In general, people think they have done the right thing, that it's not unjustifiable to kill [the bloggers, gay people and other secularists."




Monirul Islam, Dhaka chief of police counterterrorism unit





"On this journey, we'll lose our lives."




"This is the price we have to pay to history."




Arif Jebtik, leader, Shahbag movement
ISIL claimed responsibility for the attack on a popular cafe in Dhaka's Gulshan area
[EPA]
The Shahbag movement refers to a company of bloggers whose protests against religion-based politics brought them to the deadly attention of the Islamist psychopaths. And with the knowledge that his colleagues in that movement have been earmarked for death, Mr. Jebtik, 39, remains in seclusion. Fear has caused him to leave his employment, close his blog, and even no longer drive his children to school.
As for the method of separating the faithful from the kuffar by requiring a Koranic recitation, it was a device that has been used elsewhere as well, by Salafist terrorists. In Nairobi at the Westgate Shopping Mall in 2013, al-Shabaab terrorized multitudes of people in the very same way, slaughtering no fewer than 67, and wounding over 175.
The terrorists in Bangladesh are only just warming up. They've been at it for the past three years, but with a killing here and there; this was their first spectacular when on Saturday they attacked a popular Dhaka restaurant. Up to now, they've targeted bloggers, atheist writers, free thinkers, foreigners, religious minorities, gay rights activists and others who they believe have earned their deadly attention.
And the government, although likely somewhat perturbed, hadn't seen fit to quite crack down on the Salafists. They're thinking somewhat differently now, one assumes after the death of 28 people, including six terrorists, two police and 20 mostly nationals of other countries.
Those bloggers and atheists were subjected to a ritual of being approached by someone on a motorbike wielding a machete. At a checkpoint in Dhaka, police noticed a young man with a backpack. His unshaven beard and his Punjabi tunic over baggy pants rang alarm bells. Particularly since he was carrying a machete, an unregistered pistol and bullets. He identified himself as a teacher at a local madrasa.
And then soon afterward two other men arrested after a fatal attack, identified the madrasa teacher as a kindred spirit in the conspiracy to destroy the lives of those they targeted for their sins against Islam. Which led to Bangladeshi authorities infiltrating the atmosphere that prevails in the world the attackers inhabit. Seeking answers to the executions of 39 people, mostly achieved with machetes hitting the back of necks, authorities probed the unearthing of a conspiracy.
The killings, it transpired, were organized by two Islamist militant groups who have been busy recruiting members, training them, and creating cells, each with a commander where targets are selected and attacked. They have an ultimate purpose; to convert Bangladesh to an unadulterated Islamist culture from its current mixed secular and religious status. A sweep was initiated by security authorities where 1,000 people were detained.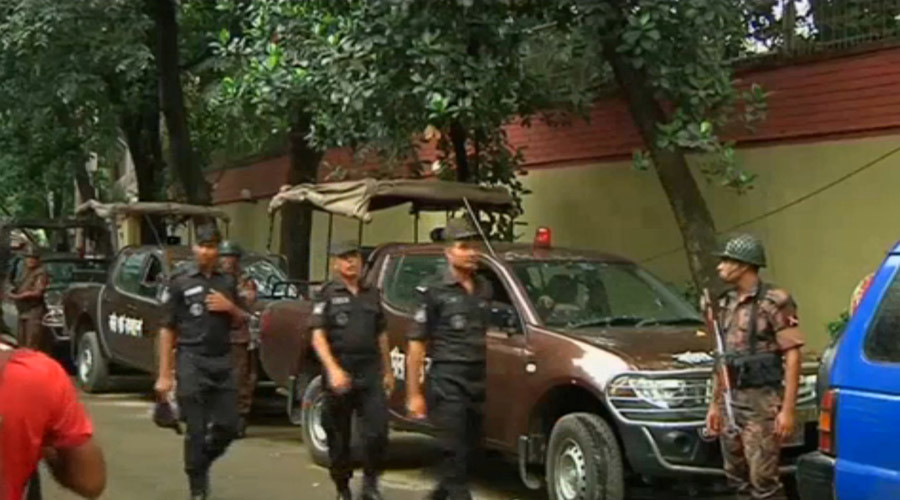 Of that number 194 were thought to be linked to networks of Islamist militants. And Islamic State is pleased to announce they're involved. And that's where authorities ran up against the protests of human rights activists in Bangladesh. And it seems that the issues raised by the Shahbag bloggers in protest against politics based on religious concepts in Islam is what spurred this response by Islamists; the deadly assaults speak to the old adage that for every action there is a reaction.
And, it concludes, the attack on the diplomatic zone where Islamists took 20 foreigners hostages ended with their deaths along with two police officers. The Islamists abandoned their machetes for assault rifles, shouting
!Allahu akbar!
as they stormed the Holey Artisan Bakery in the Gulshan area of Dhaka, disrupting the peace and quiet of Bangladeshi and foreign elements dining during the holy month of Ramadan.
There were about 35 desperate people trapped inside the restaurant with the terrorists. Those who were able to prove their Muslim status by correctly quoting Koranic verses escaped the deathly fate of those who could not. The jihadis held off police by hurling bombs and having a shoot-out with security forces. Of the 20 hostages killed there were Italians, Japanese, Bangladeshis and an East Indian, along with an American.
"All the hostages were killed last night. The terrorists used sharp weapons to kill them brutally"
, added Brig. Gen. Nayeem Ashfaq Chowdhury of Army Headquarters, on Saturday night. Machetes? Beheadings? Sparing public sensibilities with details of Islamic State-style atrocities? Not in Bangladesh!
Labels: Atrocities, Bangladesh, Islamists, Jihad