Echoes of the Cuban Missile Crisis
"This really is the most critical piece. Dialogue is extremely important. We need to make sure the tensions are reduced because it doesn't help anybody."




"As a responsible partner in the world, Canada stands side by side with its NATO allies working to deter aggression and assure peace and stability in Europe."




Harjit Sajjan, Canadian Minister of Defence
"Thank you, Canada. All four battalions for #NATO's east now have a lead nation."




"Thanks also to GER, UK & US. Strong transatlantic commitment."




Jens Stoltenberg, NATO secretary general





"As your ally and as your friend, let me say that we'll be more secure when every NATO member, including Canada, contributes its full share to our common security."




"The world needs more Canada, NATO needs more Canada. We need you."




U.S. President Barack Obama, addressing the Parliament of Canada, 30 June 2016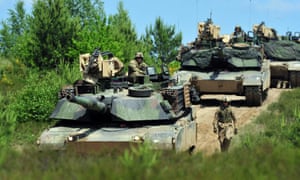 Preparations for Anaconda-2016 take place in Drawsko Pomorskie, north-western Poland.
Photograph: Marcin Bielecki/EPA
Russian President Vladimir Putin is not impressed, nor is he the least bit amused, even though he is the vector of the present situation where distrust and rancour exists at a near-historical level, re-visited from the Cold War thanks to his and the Kremlin's plans for the Russian Federation at the expense of the international sovereignty rights of eastern Europe, specifically the security of the former satellites of the USSR.
Russia's buildup of its arms in a massive renewal of state-of-the-art technologically advanced weapons systems, naval vessels, mechanized armoured vehicles, ballistic missiles and its nuclear arsenal sends a clear message of might and power and intent. The corresponding nervous tension aggravating the consciousness of Russia's neighbours have their basis in the reality of Russia's throwing its weight around in Georgia and Moldova, along with its little cyberattack treat thrown at Estonia.
But it is the stark reality of the Russian Federation awarding itself possession of the Crimean Peninsula, leaving Ukraine that much the poorer geographically, and its support in training and weaponizing the ethnic Russian rebels in eastern Ukraine, and with it the set-aside-temporarily intention to further expand Russian holdings in Ukraine that has eastern Europe on tenterhooks of fearful anticipation.
And since many of them are now NATO members, the threat is taken seriously, as seriously as Europe's response in sanctioning Russia and the G8 becoming the G7. Russia's grievance against its near-abroad being breached by NATO is understandable. When, during the Cold War period, Nikita Khruschev gambled and lost in the matter of installing nuclear sites in Cuba, it was the United States that was alarmed and adamant that the USSR had no business in its near abroad.
Under the circumstances, Canada had little option but to agree to NATO's request that it send a thousand-man-strong battalion to be part of the swift-response NATO strategy, to be stationed in Latvia. Russia's furious response that NATO's presence abuts its borders, along with the planned establishment of a missile defence system virtually 'next door' is more than understandable. And its rage is justified. But it has earned the situation it now faces.
The question is whether the world has earned that situation, to once again hover on the edge of a tinderbox of explosive action and response?
Labels: Aggression, Armaments, Canada, Crisis Management, NATO, Russia