Haunted Eyes, Hunted Presence
"We raided the house and picked her up. It took us a while to collect all the evidence against her, and the officials involved in helping her and her two sons get Pakistani national identity cards."




"We have the evidence now, and we are going to go for prosecution."




Shahid Ilyas, assistant director, Federal Investigation Authority, Pakistan





"I am committed to doing anything and everything possible to provide legal and financial support for her and her family."




"We object to this action by the authorities in the strongest possible terms. She has suffered throughout her entire life, and we believe that her arrest is an egregious violation of her human rights."




Steve McCurry, Photographer, National Geographic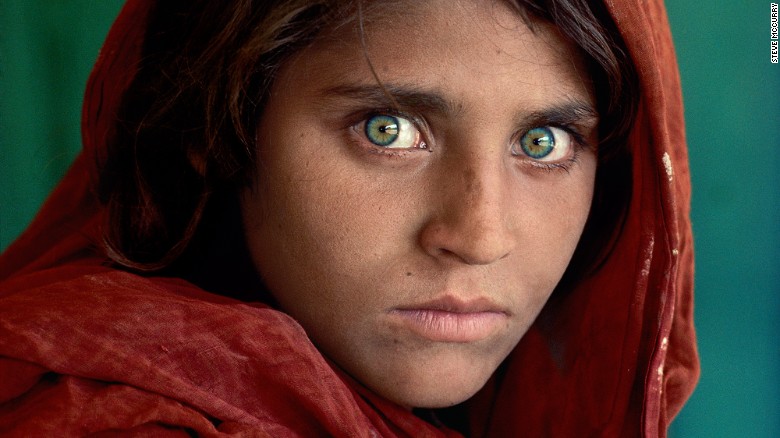 Sharbat Gula, aged 12, featured on a 1985 National Geographic cover
Refugees from Afghanistan flooded into Pakistan for years, seeking haven from the wars that threatened the country's civilian population. From the Russian invasion of Afghanistan to the subsequent battles between Afghan Warlords and the Northern Alliance and the Taliban, to the rule of the Taliban and its alliance with al-Qaeda leading to the attack on the New York World Trade Towers and the U.S.-led coalition to invade Afghanistan, drive out the Taliban and capture Osama bin Laden, Pakistan has been complicit in training, arming, inciting and shielding the Taliban.
Pakistan has focused for decades on destabilizing Afghanistan; its military and its secret service have harboured Islamists with links to the Taliban, shielding them from detection, just as they shielded bin Laden in Abbottabad, his gated compound in shouting distance of a Pakistan officers' training centre. Pakistan's hatred for India and its fear that India will become influential in Afghanistan has led Pakistan to do all it could to keep Islamists in power there, resulting in Afghans streaming out of the country in search of asylum.
After creating a massive refugee problem, authorities in Pakistan now have the gall to focus on one refugee and her family among others in like situations of living in Pakistan without legal papers, to further terrorize them through petty bureaucratic vengeance for flouting Pakistan's refugee laws. A much older Sharbat Gula than the 12-year-old that had graced the cover of
National Geographic
was placed under arrest, charged with being in possession of illegal national identity cards.
A year of investigation led to her being detained after her home in the northwestern city of Peshawar was raided. Ms. Gula's illegally obtained identity card had been obtained in 1988. she had retained her Afghan passport, using it to travel to Saudi Arabia for the hajj pilgrimage in 2014 and was in possession of a computerized Pakistani identity card dated 2014. Unforgivable crimes according to the nation's laws that fostered and harboured Afghanistan's dread Taliban.
Her punishment is dire for an indigent refugee; up to 14 years in prison along with a fine of $3,000 to $5,000 if found guilty. There appears to be a link between a (US)drone strike in Baluchistan killing former Taliban leader Mullah Akhtar Muhammad Mansour in May, and the subsequent crackdown on Afghan refugees created by the complicity and aid given the Taliban by Pakistani authorities.
According to a senior researcher and advocate for the Refugee Rights Program at Human Rights Watch, 1.5-million Afghans living in Pakistan are in possession of
"proof of registration"
cards, protecting them from deportation. On the other hand, an additional million Afghans who are absent the required paperwork have taken to using false identity cards which Pakistan has now committed to focusing on for the purpose of repatriation.
Thousands of national identity cards have been revoked or blocked as a result, labelled as identity cards foreigners have illegally obtained. Now in her 40s, Ms. Gula was one of many caught in the dragnet at her arrest.
In a follow-up on the young Afghan girl living in a refugee camp, possessed with hauntingly beautiful green eyes and a piercing stare published in 1985, Mr. McCurry journeyed again to Afghanistan to find an updated version of the young girl, living in her ancestral village of Pashtuns. That follow-up article of 2002 described the girl now adult:
"Time and hardship had erased her youth Her skin looks like leather. The geometry of her jaw has softened. The eyes still glare; that has not softened."
She has reason to glare: she and others like her have lived miserably persecuted lives during times of incessant danger and conflict only to find themselves once again persecuted and hunted down by the very state apparatus that had turned them into refugees to begin with.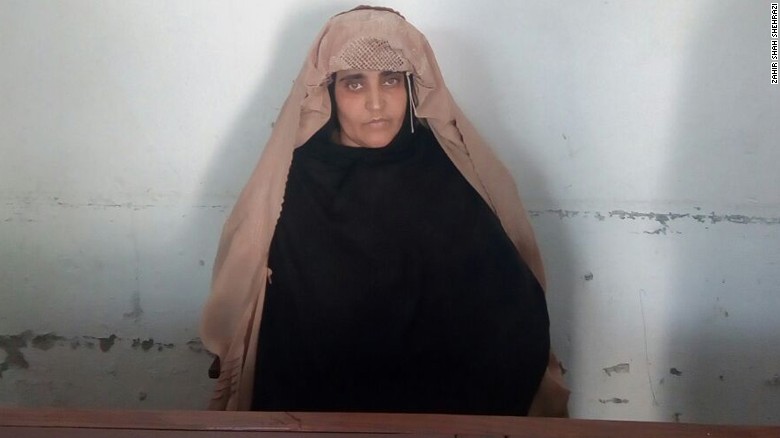 Sharbat Gula in the women's jail of Peshawar.
FLIA/AFP/GETTY IMAGES
Labels: Afghanistan, Human Relations, Human Rights, Pakistan, Refugees, Taliban, Threats, Violence