No Love Lost While Dislodging Entrenched ISIL
"I don't think there's ever going to be an ideal time to go in [to engage in a conflict with Islamic State [to re-take the city of Mosul]."




"But the enemy is cracking and the forces are ready. Momentum is everything in Iraq."




Michael Knights, Iraq specialist, Washington Institute for Near East Policy





"We think it's better to keep [Shiite militias] out of Tal Afar; it's a bad idea to have them there."




"We are trying to do that politically because we can't prevent them by force."




"If they don't take a decision on what to do after, that means they'll leave it up to whatever de facto situation happens on the ground. And that will lead to a struggle."




Atheel Nujaifi, former governor, Nineveh province
There will be a long and concerted struggle in the conflict between the U.S.-supported Iraqi-led expedition to wrest the northern Iraq city of Mosul with its million-strong population from Islamic State, but once that fervent goal is achieved there is certain to be hostilities expressed through other battles between contesting claims of right to territorial imperatives invested in various factions, in Iraq; Sunnis, Shiites, Turkmen, Kurds.
Some Iraqi officials are of the opinion that such issues as pertaining to the manner in which the area is to be governed and stability take place, should be settled before the beginning of the offensive. However the issue is resolved, it will with little doubt be expressed through the struggle of conflict with competing interests challenging one another for primacy over territory, returning the area to a battlefield.
In the interim, officials in Baghdad and with the Kurdish regional government have reached agreement on a military plan of some detail meant to recapture the northern city. As for the role of Iraq's Shiite militias, and the subsequent interest in who will take control of the land once it is freed from the talons of Islamic State, that is an issue yet to be fully addressed, a sharp point of disagreement at any time, no less so than at the present.
According to Iraqi military commanders the invasion's planning stage has been completed. In a mere matter of weeks the offensive is set to be launched with Prime Minister Haider al-Abadi pledging that Mosul will be retaken at least by year's end. Mosul and the province of Nineveh surrounding the city is situated in the most religiously and ethnically diverse portions of Iraq. United to defeat a common enemy, many of the disparate groups gathering to take part in the assault remain bitter rivals, holding their competing interests dear.
Turkey has its own historical claims to Mosul, and Recep Tayyip Erdogan is, as usual, doing nothing to endear him to his neighbours; his cranky belligerence speaks to his miserable temperament and his general contempt for just about anyone who contests him. The government of Iraq has protested vehemently against Turkish military intervention in Iraq, to little avail. The military assault agreement's plan of attack includes Iraqi special forces, army, police; with area volunteer fighters being permitted to enter Mosul to help in the fight.
Kurdistan's semi-autonomous government has agreed to accept that Iraqi troops will move through the area to build their presence in areas held by Kurdistan, while sectors of the battlefield have been established for assault by various Iraqi forces. According to Lt.-Gen. Yahya Rasoul, the role of the Shiite militias remains
"still to be determined"
; they may be used on the outskirts of the city. Shiite militias have clashed with Kurdish peshmerga forces in the past year over territory.
Turkish troops and fighters trained by them will be treated as an
"occupying force"
, should they appear on the battlefield, warned a spokesman for Asaib Ahl al-Haq, one of the country's main Shiite militias. Turkish forces on a base in northern Iraq have provided artillery support to Sunni fighters doing battle with ISIL, even as Iraqi officials repeatedly demand Turkey withdraw its forces from Iraq.
"No one can prevent us from participating"
, stated President Erdogan; naming its duty to protect ethnic Turkmen.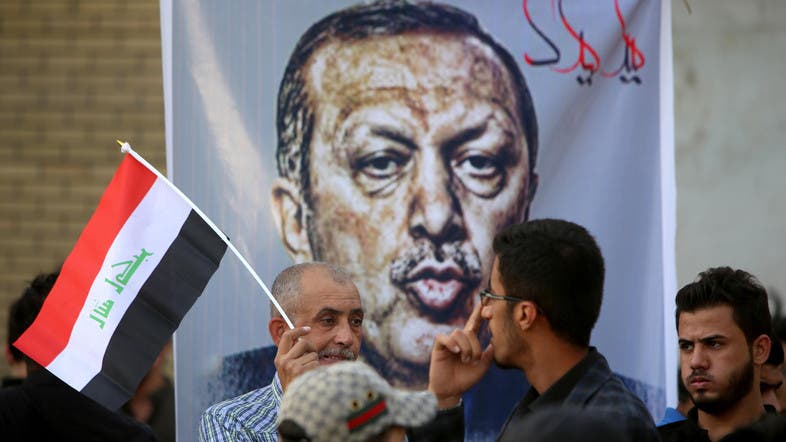 Iraqis stand in front of a banner bearing a portrait of Turkish President Erdogan October 8, 2016 during a demonstration to demand the withdrawal of the Turkish troops from the Bashiqa camp.
(AFP)
Labels: Conflict, Iraq, Islamic State, Mosul, Shiite, Sunni, Turkey