Civilization? What Civilization?
"We are living on the last of the aid, and the last of the vegetables that came from the countryside. There is no milk, no cheese, nothing."




"None of us have cooking fuel ... so we make bonfires outside."




Om Majed KaMran, 58, Aleppo





"We will continue to defend our people in Aleppo and our existence. We will not surrender. We will repel them."




"Aleppo will remain free of Assad, his sectarian militias, and thugs."




Nour el-Din el-Zinki, insurgent group, Aleppo





"American officials -- they say something in the morning and they do the opposite in the evening. We cannot take them at their word, to be frank."




"We don't listen to their statements, we don't care about it, we don't believe it."




Bashar al-Assad, Damascus





"This has been a tremendous success for Russia across the board -- I don't see why they would want to bring this [their aid to Assad in destroying Aleppo while slaughtering Sunni Syrians] to a close."




"Not only in fighting terrorism, killing Russian jihadis, and re-establishing a role in the Middle East, but sticking a finger in the eye of Washington."




David Schenker, director, Program on Arab Politics, Washington Institute
The aftermath of an airstrike near Aleppo on the weekend.

(AFP)
Bunker-busting bombs flown by the Syrian airforce and reinforced by Russia's airforce are being deployed in civilian areas in rebel-held Aleppo. Bunker-busters would be most useful in areas where people attempt to shelter themselves in subterranean havens like bomb shelters. The bombs' notable capability in destroying reinforced underground chambers hugely useful as measure to destroy an enemies' defences, and useful to the Assad regime in directly targeting civilian enclaves, in a new version of a burnt-earth policy of total destruction.
It appears that fully 50 percent of the victims of the vicious bombardment that was initiated on Wednesday in an all-out attack have been children already suffering deprivation resulting from months of siege. As Syrian and Russian jets continue to blast Aleppo preparatory to a ground assault, the Syrian rebel volunteer civil defence White Helmets has mobilized all their resources to rescue whomever they can from the hellfire and the rubble, and in the process have themselves become targets of regime attacks. Of their four action centres, three have been destroyed.
"The White Helmets are completely exhausted. Aleppo is being burned"
, civil defence volunteer Ammar al-Selmo despaired.
"I have not seen in my life such bombardment. It is very, very intense"
, Ibrahim Alhaj, a Syrian Civil Defence member stated. And to complete the picture of a people whose existence is being obliterated as the world watches and the United Nations twists its hands in hapless inadequacy to yet another demonstration of grand-scale atrocities, Abdulkafi Al-Hamdo, a teacher in Aleppo said
"This means welcome to hell. We expect extermination."
The bombardment has identified in its focus its clear and unequivocal intentions, targeting residential areas, infrastructure and civil defence centres for a complete sweep of whatever is left of the residents' and the rebels' defences and desire to surmount this grim threat to their existence. There is little mystery to the purpose, while a Syrian military official confirmed the continuation of airstrikes and shelling until the operation is prepared to expand into a planned ground invasion of the Aleppo districts held by the rebels.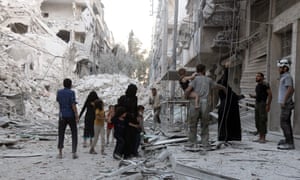 Airstrikes on Aleppo have causing widespread destruction that has overwhelmed rescue teams
Photograph: Thaer Mohammed/AFP/Getty Images
Leaflets were dropped by the military over the city, urging regime opposition members' surrender; to take advantage of an limited-time-offer amnesty for fighters agreeing to surrender their arms.
"The belt is getting tighter around you. Surrender now or you will meet your inevitable destiny"
. The leaflet came complete with a photograph of a bearded militant lying dead, a rocket-propelled grenade beside him.
A prolongation of the most recently-failed ceasefire is out of the question, since Assad 'doesn't trust the Americans'. As though he imagines himself loftily trustworthy in any index of human empathetic conviction, as though he cares for the welfare of the population of Syria beyond those who cravenly support him in his lust for continued power and pathology of vengeance he exerts toward those who have the criminal audacity to question his divine right to rule and to ruin.
Just as the Syrian regime feels itself to be beyond reproach for its belief that it is emulating the Israeli military when it rains leaflets beforehand, down on areas it plans to assault, to warn residents to remain clear of targeted areas, the Syrian military equates that effort to save civilian lives with its extended warning to Syrian rebels complete with gruesome retribution striking "paid" for daring to offend the Syrian Shiite Alawite regime by contesting its legitimacy. The Israeli leaflets offer life, the Syrian ones, death.
Assad scorning what he terms as American inconstancy as though the United States administration and its military have negotiated poorly with his blameless administration, represents a mind-boggling mental challenge in and of itself. Is he complaining that the U.S. administration that warned of consequences to follow should the "red line" of chemical weapons be used, never followed through when Assad ordered their use, killing hundreds of Syrian civilians, turning the other way rather than making good on their threat?
While the United Nations declares criminal acts on a grand scale by a brutal totalitarian regime, no one powerful nation and no group of confederate nations would pledge to confront the barbarians to protect a people whose ruler loses no opportunities to slaughter, a clique of grimly conscienceless nations like Russia, Iran and Lebanon have become deadly co-predators with no opposition. Five years of civil war with each year of the odious Assad destroying 100,000 lives represents a monumental toll, growing still, of lives lost, with no end in sight.
A Syrian man looks at a heavily damaged building following air strikes on rebel-held eastern areas of Aleppo.

(AFP:Karam Al-Masri)
Labels: Atrocities, Civil War, Conflict, Russia, Syria