The United Nations, the United States and Competing Religious Warfare
"T

here are two situations in the world that should shame [Samantha] Power [U.S. Ambassador to the United Nations], the anti-genocide activist. The first, and less obvious one, is Burma. The Obama administration cites this country as one of its foreign-policy successes, because the ruling junta took steps toward liberalization in return for lifting some sanctions against it. But then everybody seems to have forgotten about it, and in doing so forgot about the Rohingya, an ethnic Muslim minority currently being subjected to an unmistakable genocide—among the clearest examples ever to emerge in real time. This is genocide on Power's watch, and we don't hear a peep about it."
Seth Mandel, Commentary



"Earth to Samantha: 500,000 Arabs died in Syria. Do you really think the problem in the Middle East is Jews building extra bedrooms in communities in Beit-El?"




"You couldn't pass even one United Nations Security Council Resolution condemning Russia, Syria, and Iran for the slaughter in Syria. But you passed this motion condemning peace-loving Jews who live in the ancient Biblical lands of Judea and Samaria?"




"As someone who has dedicated much of his public life to fighting genocide, I was once honored to support Samantha's nomination to the UN post, even while others were outraged, because she was one of the world's foremost voices against mass murder. That was prior to entering the Obama administration, and adopting a policy of humiliating silence as Iran threatened genocide against Israel and actual genocides were carried out in parts of Africa and the Middle East."


Rabbi Shmuley Boteach, Breitbart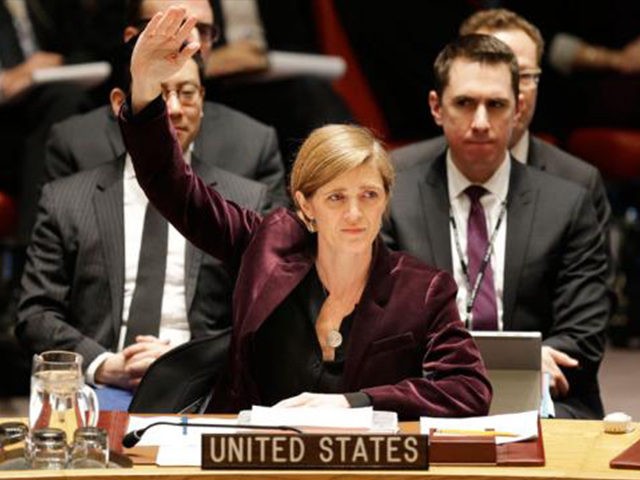 AP Photo
"Some [Rohingya] were shot, some were killed with a blade. Wherever they [Myanmar military] could find people, they were killing them."




Jannatul Mawa, 25, Kyet Yoepin, Myanmar





"They grouped the women together and brought them to one place."




"The ones they liked they raped."




Noor Ankis, 25, Kutupalong Camp, Bangladesh





"I feel no peace."




"They killed my father and mother. What is left for me in this world?"




Sufayat Ullah, 20, village of Pwint Phyu Chaung, Myanmar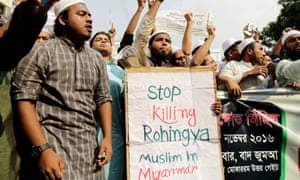 A protest rally in Dhaka, Bangladesh, on Friday against attacks on Rohingyas in Myanmar.
Photograph: Abir Abdullah/EPA
"She [Aung San Suu Kyi] is obviously very reluctant to criticize the military, because she fears that any sort of antagonism towards it could prompt it to assert itself more forcefully."




"If the military felt that it was losing power to the civilian government, because that government is criticizing it and trying to reign it in, then it might try and reassert its supremacy."




"You do have a very difficult relationship between the civilian government and the military, but at the moment, the civilian government is playing into the hands of the military."


Francis Wade, writer, Myanmar observer, Time contributor
The plight of the Rohingya who originally, historically fled discrimination and poverty in Bangladesh, crossing the river that separates that impoverished Muslim country into the Buddhist nation of Myanmar only to face discrimination and poverty there as well, has been fraught with fears of genocidal intention in the last five years, as animosity to their presence has slowly built to a crescendo. The brutal military regime that ruled Myanmar for so long is no longer a factor. The Nobel Peace Prize Laureate who had been under house arrest for many years was released.
She had been recognized for her fight for human rights. And she is now the leader of Myanmar. And the international community has felt perplexed as Aung San Suu Kyi has appeared unmoved by the brutal attacks against Myanmar's Rohingya population. She appears to have done nothing to alleviate their desperate situation. Instead, the military has embarked upon a renewed mission against the Rohingya. Their tale is that they carry orders for a counterinsurgency.
The military campaign is one dispatched by Myanmar's government which believes it must disarm militant groups that have risen among the radicalized Rohingya in response to their desperate straits in the Burmese nation. The refugees that have fled Myanmar to cross the Naf River into Bangladesh to find haven in refugee camps there, tell stories of villages in Rakhine State where rampaging soldiers shoot at random, set homes on fire with rocket launchers and rape girls and women.
Myanmar's government appointed a commission to examine the situation while defending its military, denying allegations from abroad that genocide was taking place in the villages where Western journalists and human rights investigators have been denied entry. Rohingyas, according to the official line, have been fire-bombing their own houses. The military attacks were precipitated by three border posts in Rakhine State coming under attack, killing nine police officers. A Rohingya insurgency group stands accused.
Thus far, 65,000 Rohingya have fled into Bangladesh, according to the International Organization for Migration.
"They started coming in like the tide. They were a mess
"
, commented a Rohingya refugee managing the Leda refugee camp at the border with Myanmar. Nazir Ahmed, imam of a mosque in Bangladesh, said that Rohingya, furious over a generation of discrimination, organized themselves to become a militant force, but its proportions and threat have been over-emphasized by Myanmar.
The International Crisis Group focused on the group, claiming them to be financed and organized by emigres living in Saudi Arabia. Saudi Arabia's very particular brand of Wahhabist Islam is, in very fact, responsible largely for the ascent of Salafist Sunni jihadists, from al-Qaeda to Islamic State. And Islam itself represents an ideology of conquest, from its origins to its current aspirations, tirelessly exhorting the faithful to commit themselves to Islam's destiny -- to surmount all other religions in full domination of the world order.
A reality and a curse the world will be grappling with for a long time. There are many victims of this unending struggle for Islamist primacy, none more numerous than Muslims themselves.
Anik Rahman/NurPhoto/Sipa USA
Labels: Atrocities, Buddhism, Conflict, Islamism, Myanmar, Rohingya