The People Speak ... The Authorities Arrest
"The United States strongly condemns the detention of hundreds of peaceful protesters throughout Russia on Sunday."

"We were troubled to hear of the arrest of opposition figure Alexei Navalny upon arrival at the demonstration, as well as the police raids on the anti-corruption organization he heads."

"Detaining peaceful protesters, human rights observers, and journalists is an affront to core democratic values."

U.S. State Department spokesperson Mark Toner

"Today we are discussing (and condemning) corruption, not the detentions. Well, I was detained. So what. It OK. There are things in life that are worth being detained for."

"[Medvedev has a portfolio of assets including] huge pieces of land in the most sought-after regions, yachts, apartments in old mansions, agricultural complexes and wineries in Russia and abroad, [purchased through] bribes from oligarchs, and state bank loans."

Alexei Navalny, Putin critic, politician, political opponent, protest organizer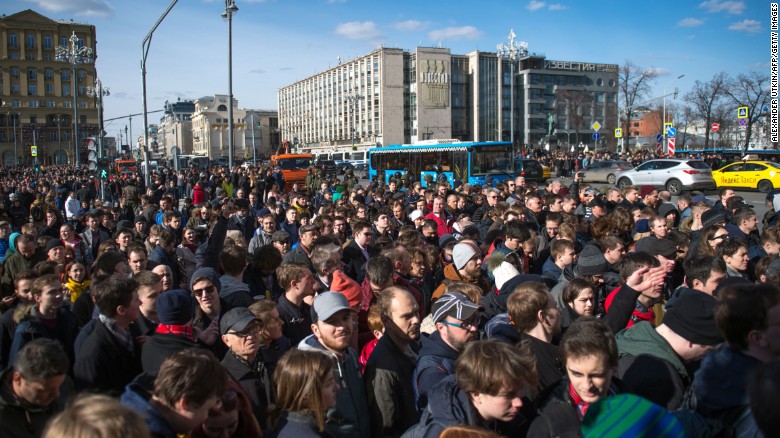 CNN
"It is pointless to comment on the propagandistic outbursts of a convicted opposition figure, who has already announced he is running some kind of election campaign and fighting against the authorities."

Natalya Timakove, Medvedev spokeswoman
Russians gathered in surprising numbers in Moscow and other cities across the country, in support of protests against the government of Vladimir V. Putin and his cronies, whose deep-seated corruption has outraged Russians having to live under economic constraints in a struggling economy where revenues have decreased thanks to diminishing returns for natural resources and the effect of Ukraine-related sanctions by the West biting deeply into the nation's economic prospects.
Police set up barricades, responding with tear gas and mass arrests in answer to the protests taking place in cities right across that vast national geography. Riot police wearing body armour and helmets manhandled over a thousand demonstrators in central Moscow alone, hauling them out of crowds estimated at well over ten thousand demonstrators cheering, whistling shouting 'Shame! Shame!" Shame, unfortunately, on the part of authorities, was in short supply.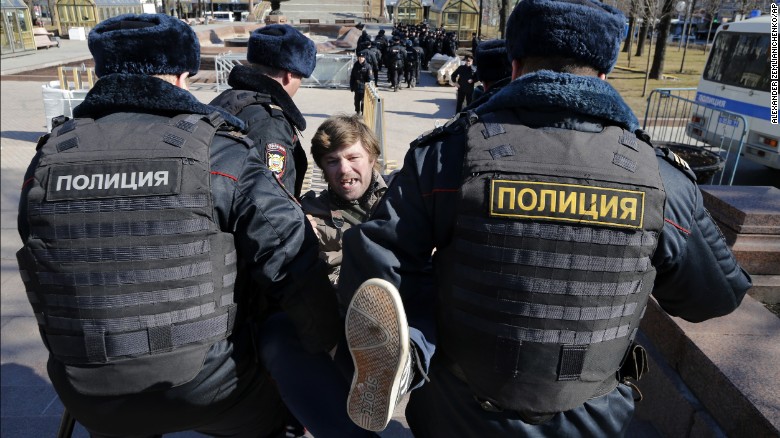 CNN
Alexei Navalny, a courageous opponent of the government, was chiefly responsible for the large turnout and the organization behind it. His status as a chief troublemaker for Vladimir Putin places him in dangerous territory. It takes immense courage for Navalny, let alone the protesters who came out in droves, to express their enmity and contempt for their government in light of the very real fact that this government has few scruples when dealing with those it considers threatening to its existence.
Prime Minister Dmitry Medvedev, known for his nimble proficiency in playing revolving chairs of President-to-Prime-Minister-and-back-again with Vladimir Putin, was an especial target this time around. Mr. Medvedev had obviously taken his cue from Mr. Putin who had previously spent hundreds of millions in building a palatial palace befitting a czarist-era president-for-life. Mr. Navalny spoke of the prime minister's vineyards, luxury yachts and mansions to a value of over $1-billion.
Russian opposition leader managed to fly a camera over Medvedev's vacation digs, which supposedly belong to a charitable foundation.
Weisss-Navalny files
Contracting out assassinations, whether in sight of the Kremlin, of major political opponents, or those who travel abroad to London, or next door to Ukraine, to help the government in Kyiv assemble a slate of actions by the Russian state against its neighbour, can be guaranteed. Mr. Navalny's Anti-corruption Foundation fails to find favour with the Kremlin, quick to charge it with extremism. It is even illegal to broadcast news of the rallies taking place.
Pushkin Square and surrounding areas were teeming with protesters; major streets were full of people decrying the corruption of their government. Anyone carrying a sign imputing malevolent motives to the government was ripe for being picked off and shoved into large buses moved onto the scene by police with the obvious intention of arresting as many protesters as possible to deliver the message that the protest was unauthorized.
Authorities would
"bear no responsibility for any possible negative consequences"
, stated senior Russian police official Alexander Gorovoi. People who presented themselves at the protests expressing outrage at corruption, were considered fair game for authorities who made it clear that informing people of the rallies and encouraging them to come out to express their grievances was
"illegal"
.
Rallies took place across Siberia and in the Far East of Russia where protesters were detained there, as well. Interior Ministry troops wearing combat gear pushed the protesters around while a loudspeaker blared:
"You are participants in an unsanctioned demonstration. Consider the consequences."
Labels: Conflict, Political Realities, Protests, Putin, Russia