The Split Tongue of Hypocrisy
"Unless you're [Liberal government of Canada] going to go further than you've said so far, in between the years of 2020 and 2030, the government won't be on track to meet its [environmental carbon emission climate] target."




"You're going to need more stringent policies."




Andrew Leach, environmental professor, University of Alberta





"He [Prime Minister Justin Trudeau] said things were going to be more transparent, things were going to be more open."




"Those were his rules. And that's why this [parliamentary rules violations] matters to Canadians."




John Brassard, Conservative deputy ethics critic





"I question the whole legality of this [Trudeau government's decision to scrap the F-35 jet purchase for Super Hornets].".




"Holding a competition within a year is even doable. It's not like you're starting everything all over again."




"[Operating an] interim [fleet would significantly increase the air force's operational costs, not to mention the billions that will be spent to simply acquire the Super Hornets]."




"This was probably the worst possible option. The taxpayers will bear the cost of this and it's not necessary."




Alan Williams and Dan Ross, former assistant deputy ministers of materiel, National Defence





"Daycare advocates have ensured that policies contain discriminatory definitions that explicitly exclude parental child care and preferentially fund institutional group care spaces. This is despite the fact that institutional group care is the most costly, least preferred and the most problematic for children's mental and physical health."




Helen Ward, president, Kids First Parent Association of Canada
Canadian Prime Minister Justin Trudeau arrives on his official plane to attend the Nuclear Security Summit meetings in Washington, March 30, 2016.
Reuters, Jonathan Ernst
This is quite the government that Canadian voters traded in for the former Conservative-led government of Prime Minister Stephen Harper. A man who failed to appeal personally to voters on his numerous and proven merits, Mr. Harper lacked the Trudeau name and charisma, just a solid, hard-working principled and trustworthy man who led Canada solidly and with distinction. Now, Canadians have an egotistical popinjay notable for his 'sunny ways' and limitless selfie-taking, a glad-handing, self-avowed 'feminist', and champion of the 'middle class'.
That middle class champion descended from familial wealth and celebrity, is also, unfortunately, guided by his infatuation with self and with the living standards he has been accustomed to, with barely an inkling of what constitutes a middle class lifestyle. He is wedded to luxury, so takes his family vacations on property owned by those with fabulous wealth at their disposal, and in the process challenges the ethics imposed by himself on his MPs, themselves as casual with ethics as their leader.
The open and transparent government he promised, has chosen to replicate the government that preceded them, which the Liberals had upheld as the very type of government they abhorred and campaigned against. But the Harper government never sold access to government ministers and the prime minister to the highest bidders as the Liberals have done, entertaining at the personal level lobbyists and financial interests for a considerable fee.
The much ballyhooed funding of $7-billion for "child care" has proven a dud with moderate or lower income families. The tax deductions available to parents of children will benefit largely top income bracket families, not those at the lower income levels. Statistics Canada reports that higher-income families are likelier to use the subsidies for child care and daycare, not those at the low end of the income spectrum. In other words, taxpayers fund high income families with subsidies for institutional child care.
Veterans' groups, promised so much from an incoming Liberal government, casting for their votes are now hugely disappointed that the promises they anticipated would become reality will never occur and the campaign promise of restoration of full lifetime pensions for injured veterans destined to remain an unattainable aspiration. The flashy promises during the election campaign assuring First Nations that a Liberal government would solve all their demands, particularly regarding equalizing payment and opportunities for First Nations educational opportunities, another lost cause.
Electoral reform, one of the leading issues of the election campaign when Justin Trudeau promised voters that the campaign that elected him would be the last 'first-past-the-post' type of election, failed to progress beyond the consultative process and is now permanently shelved. Not that the entire population wanted a change necessarily, but that this was an issue that guaranteed votes from a good many sources who did want the change.
The just and transparent government of Justin Trudeau was pledged to honour the electoral candidate choices of riding associations. Instead time after time, local candidates who had spent months electioneering, signing up new members, raising funds, were advised to stand aside for a Trudeau-choice candidate parachuted in to the riding, to the chagrin and anger of both candidates and riding associations.
This prime minister, who before the election took place, spent a minimum of time in the House of Commons, preferring to gad about the country shaking hands in various communities and taking endless selfies with admirers lining up to greet the Trudeau scion, has not changed his habits. His time in Parliament is that of an infrequent visitor. And his government has attempted by various means as a majority government to thrust through, without the consent of all Members of Parliament, new procedures meant to reflect advantages for the Liberals.
The Canadian military is in a sorry state. As a NATO member each of which is mandated to spend 2 percent of GDP on military acquisitions and support, Canada spends barely half of that. And while the state of the Navy languishes with no operable submarines, let alone adequate battle groups, and search-and-rescue helicopters direly require replacements, so too does Canada's jet-fighter fleet, but yet another Trudeau election promise, not to proceed with the purchase of the F-35 Jet that the Airforce considers the most suitable, has left that too in distant abeyance.
On all accounts and by any measure, Justin Trudeau, as prime minister of the country, has been an unmitigated disaster. He is a year and a half into his mandate, and electioneering constantly for the next election, in 2018. And confoundingly, the youth of the country idolize him, while remaining blissfully ignorant of his failures, completely disinterested in educating themselves and in the process enabling themselves to make informed choices.
"Justin Trudeau and his Liberal party have only achieved a fraction of the promises they made – 15.5 per cent – in their first year running the country."




"That's 34 of 219, according to the non-partisan, citizen-driven site TrudeauMetre.ca. Another 29 per cent are in progress, while 55 per cent have either been broken (26 of 219) or not yet come to the fore (95 of 219)."




Global News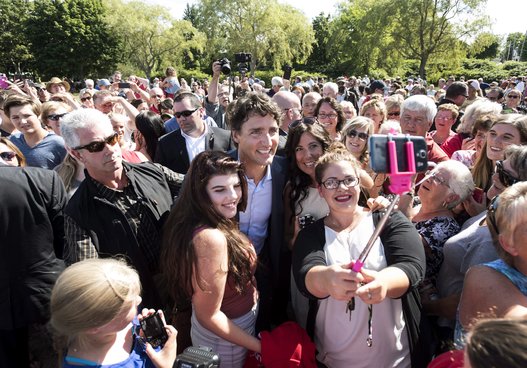 Darren Calabrese, CP

-- Trudeau posing for selfies
Labels: Government of Canada, Justin Trudeau