Driven to Summit
"Everything just became a lot more dangerous."




"In places, it's literally a knife edge, and there's a 10,000 foot drop on either side of you."




"It's such a wild place, that anything unexpected can be a problem."


Ryan Agar, author, Yukon Climbing Guide



"She didn't know it was an earthquake, she thought the hanging glacier on which she was camping had moved."




The helicopter will leave ASAP, but that doesn't seem to be earlier than Friday according to current forecasts."




"It's different waiting for a storm when you're in the climb and you're looking forward to continuing. But now, it's just waiting to be evacuated."




Camilo Rada, mountaineer
Natalia Martinez is clearly one of those driven people attracted to challenging her stamina, strength, capability and knowledge of mountaineering skills in the determination to summit the world's most difficult mountains. The Argentinian woman from Patagonia, as close to the cold and inhospitable Antarctica as anywhere else on Earth, had already summited five peaks never before climbed, in a Patagonian icefield.
She and her climbing partner, Camilo Rada, had celebrated the world's first summit of Mount Malaspina located near Mount Logan, in Canada's Yukon Territory.
And now she had set another goal for herself, a solo climb of Canada's tallest peak, Mount Logan. She is alone in her venture, though other climbers have also ventured toward the peak. Those climbers are nowhere near where Natalia Martinez is located, however, since she chose a far more difficult-to-access East Ridge route.
The unpredictable can always happen on a mountain. Avalanches, wicked weather conditions with storms breaking creating white-outs and high winds threatening to blow climbers off the slopes. An earthquake likely ranks among the least-expected of events to occur, but a magnitude 6.2 earthquake struck southern Yukon early Monday morning and another 6.3-magnitude tremblor hours later, with over 100 minor aftershocks following.
The immediate consequences of the earthquakes impacted the area of the mountain where Ms. Martinez had established her 3,900-metre camp. Around her avalanches tumbled, and immense glacial ice pieces came crashing down through the destabilized region. As an experienced climber she knew where best to situate her camp, and that saved her from immediate danger.
Yet because the entire area is so destabilized she can neither ascend nor descend for fear of the shield of ice and snow crumbling under her.
She had planned to give herself another six days to complete her summit. She remains in touch via satellite phone, speaking to her climbing partner, updating him. Areas around her collapsed, were buried, but fortunately her campsite remained intact. With aftershocks pummeling the area, she decided to move her camp close by to a more protected ridge she hoped would put her out of reach of any new avalanches. She has with her ten days' worth of provisions.
Parks Canada is coordinating rescues from Mount Logan, located within Kluane National Park. Normally, a rescue helicopter would have been dispatched, but a delay has occurred given that storms and high winds are battering the region. Climbers are generally asked to access areas where a rescue helicopter can land. In this instance it won't be possible. What may be required is for the helicopter to lower a rescuer to place Ms. Martinez in a harness, to be lifted back to the hovering helicopter.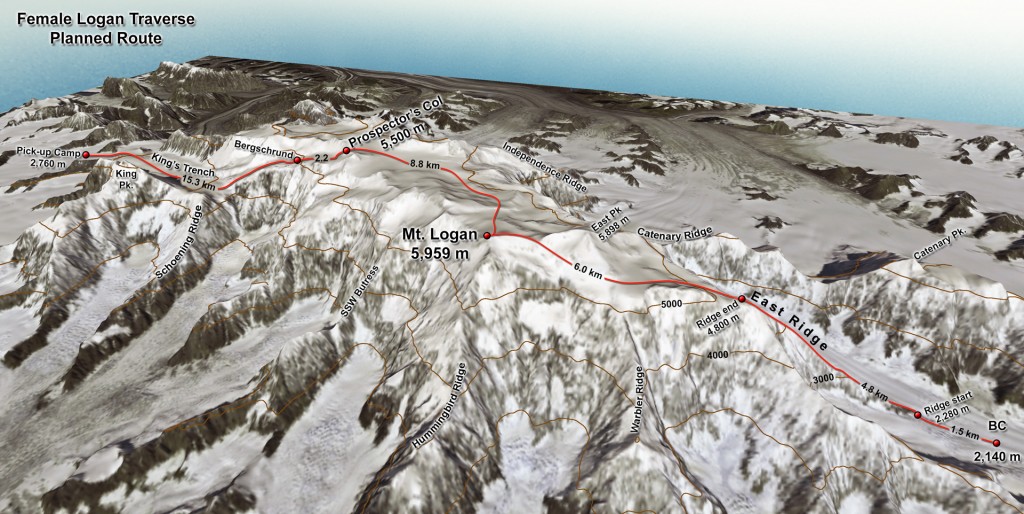 'It's an area that you've always got to look over your shoulder if you're flying around up there,' said Tom Bradley, chief pilot with Icefield Discovery Tours
. (Lance Goodwin/Icefield Discovery Tours)
"You've got weather conditions that are constantly changing, no two flights are ever going to be the same. So it's an area that you've always got to look over your shoulder if you're flying around up there."




"It's the world's largest non-polar icefield, so it's just a sea of snow and ice. The mountains there are on a grand scale — they're the largest mountains in the world, by girth."




Tom Bradley, chief pilot, Icefield Discovery Tours
Labels: Adventure, Mountaineering, Nature, Rescue