"Suicide Journalism"
"Sometimes I ask myself if it's worth it. But we have a commitment to our readers. And if you're paralyzed by fear, you can't do anything."




"We can't ignore it. My city is hurting, my country is hurting. That's why I'm here."




Isai Lara Bermudez, Tijuana, Mexico





"There are many places across the country where naming people convicted of drug trafficking or reporting on organized crime is off-limits, where shoot-outs are not reported, where human rights violations are not reported."




Carlos Lauria, program director, Committee to Protect Journalists





"They have made it their mission to make narco violence and corruption visible."




"They have gone through hell and back -- and somehow have survived."




Alejandro Hope, security expert, Mexico City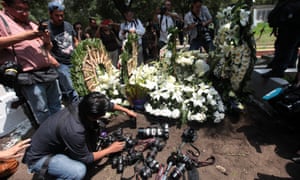 Rubén Espinosa's funeral.
Photograph: Sáshenka Gutiérrez/EPA
Miroslava Breach was a veteran investigative reporter. While driving her child in Chihuahua she was sprayed with bullets. The publisher of
El Norte
, the Juarez newspaper where Ms. Breach worked, was inspired to shut down as a result of her death. Readers of the newspaper read a letter from the publisher who informed them that his conscience spurred him to shutter the newspaper, since he felt he could no longer guarantee the security of his staff.
Only Syria and Afghanistan have managed to surpass Mexico with the number of journalists killed there in 2015.
Reporters Without Borders
chronicle the situation facing journalists across the world, in war zones, under repressive, authoritarian governments. March of 2017 alone forward to the present saw four reporters killed, and three other journalists hit by gunshot in attacks across Mexico.
Naming people who have been convicted of drug trafficking can be viewed as voluntarily signing one's own death warrant. Reporting on the affairs of organized crime represents another voluntary death trap, best avoided if one's conscience permits, in deference to the instinct of survival awareness. Similarly, shoot-outs fail to be reported, and when human rights violations occur, as they invariably and frequently do, they too get a free pass, as it were.
One of the fearless journalists is Isai Lara Bermudez, editor and reporter for the journal
Semanario Zeta
, a weekly investigative publication who keeps right on reporting alongside the small, supportive staff at Zeta. It, and a few other respected and dedicated newspapers has become a frequent target as it documents government corruption and the drug trade. Two of its editors have been killed, a third dreadfully wounded as reward for the stories they uncovered and published.
Theirs is considered to be
"suicide journalism"
, according to the Knight Center for Journalism in the Americas.
Reuters

Mexico's press is caught in a deadly cycle of violence and impunity, with journalists in Veracruz state at particular risk of kidnap and murder. Despite authorities appointing a special prosecutor to investigate crimes against freedom of expression and establishing a protection mechanism for journalists, a lack of political will to end impunity exposes Mexico as one of the most dangerous countries in the world for journalists.
"Free like the wind"
is the motto printed on
Zeta'
s front page. When Lara sets out to work every morning, there is a team of state police officers guarding the front door of
Zeta
's headquarters, to whom he nods before entering. Busy exposing endemic corruption,
Zeta
also chronicles the dramatic violence that has increased steadily in Mexico, with the year 2017 reflecting more homicides thus far than any previous year has recorded.
Tijuana in particular has seen massive bloodshed. In March of last year 181 people were killed in the state of Baja California, double last year's count.
Journalists at
Zeta
have been busy documenting the swift rise of Tijuana's latest criminal group, representing an alliance between two organizations, one of which had been stationed in Baja California and another cartel representing one of Mexico's most powerful drug gangs. The newspaper had published the names and photographs of several drug lords last fall, the headline reading:
"The Jalisco Cartel's Most Wanted"
in response to police claims that the cartel wasn't operating in Tijuana.
In an effort to protect their vulnerable reporters, stories guaranteed to elicit a reprisal response are published under the simple, non-specific byline
"

Zeta

investigations
", omitting the writer's identity. Once a threat is received, it is published along with all relevant details on the theory that the more people are aware a crime may be committed, the less likely it may be for it to actually be carried forward. At the same time the Mechanism to Protect Human Rights Defenders and Journalists, a government program established in 2012 geared to provide emergency evacuations, is notified.
Under the program there are currently no fewer than 174 journalists being protected, most of whom were threatened by government authorities themselves. Unfortunately the program will be shuttered for lack of funding in a few months' time.
"There is no political will to tackle this problem because what journalists investigate and report on is uncomfortable for may public functionaries"
revealed Luis Knapp, attorney at Article 19, referencing the fewer than one percent of crimes against journalists ever solved.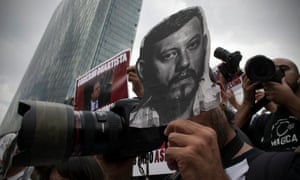 Photojournalists protest in Mexico City on 2 August after the murder of colleague Rubén Espinoza.
Photograph: Alejandro Ayala/Xinhua Press/Corbis
Labels: Corruption, Drugs, Journalists, Mexico, Violence