Wrapped In A Russian Flag
"I came here wrapped in a Russian flag and I'm afraid the police will arrest me."




"What kind of country do we live in when I can't put a Russian flag on my shoulder?"




Dmitry Umydov, 30, Moscow





"I'm angry, my family is angry, but they're not going to come to this [protest] because they're scared."




"I don't have such fear. I will be here on this street until they throw me in jail. And there's a lot of people who think like me; my friends think like me."




Alexander Fomenko, 17, student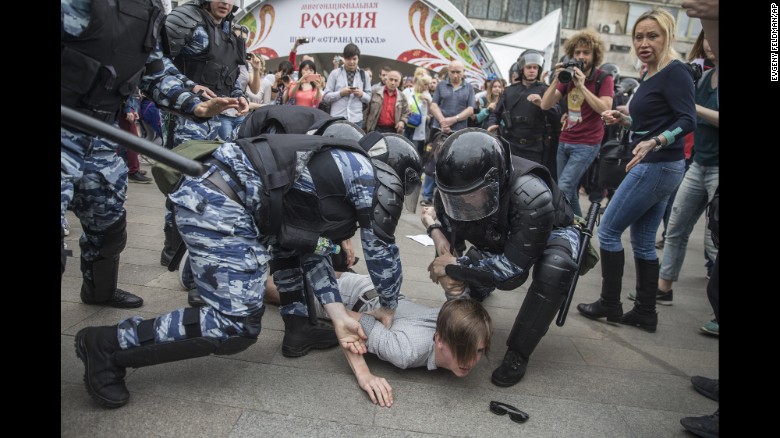 Police detain a protester In Moscow, Russia, Monday, June 12, 2017
"How much can you sit round at home and feel angry?"




"You have to start with something. The young people who came here today will be the drivers of this [political change in Russia]."




Oksana, 49, businesswoman





"I want to live in a modern democratic state and I want our taxes to be converted into roads, schools and hospitals, not into yachts, palaces and vineyards."




Aleksei Navalny, 41, lawyer, political leader, Moscow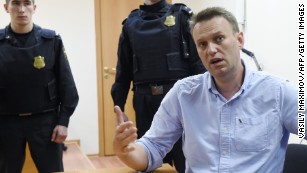 Alexey Navalny speaks after his Monday hearing.
Aleksei Navalny is a fearless man. He knows quite well that others who have stepped forward to challenge Vladimir Putin in the political arena have fared poorly. Railroaded by false charges that have led them to long prison sentences. Alternately, assassinated by some mysterious hand, right in the centre of Moscow, most unfortunate, but of course, having nothing whatever to do with the President-for-life of Mother Russia.
On Monday, popular protests burst anew, led by thousands, many of whom are teens or in their early 20s, protesting at the meagre future that awaits them in the knowledge that institutionalized corruption benefiting their President and his cronies haa hollowed out the economy and their future prospects at employment and life in a country whose history and values have limped from the past back into the present.
"Corruption is everywhere. It's the hypocrisy of the authorities who say one thing and do another"
, fumed 21-year-old Artyom Mikhalin who, like all the thousands of others refusing to support the unsupportable, are determined to face the uniformed hoodlums doing the Kremlin's bidding to put a quick stop to the rallies by brutally manhandling people dissatisfied with the status quo.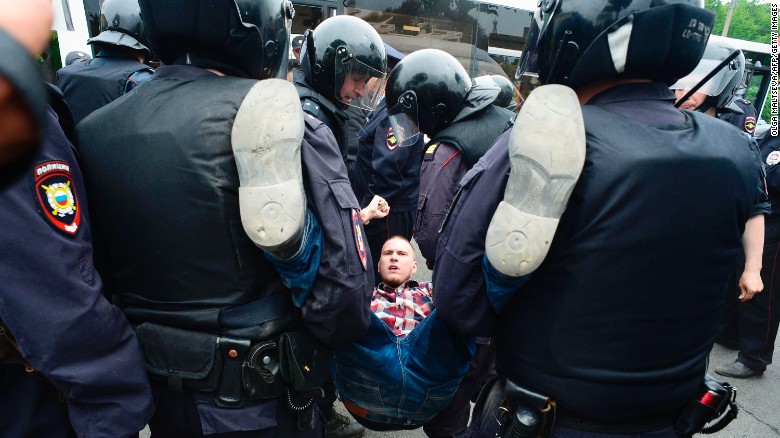 Police arrest a protester in St Petersburg.
And so, in their hundreds, across the country, from Moscow centre, radiating out to the far reaches of that vast nation, from Vladivostok to Norilsk, Kaliningrad and elsewhere, protesters are arrested. Riot police had their work cut out for them, splitting up masses of protesters, arresting people while they chanted
"Putin is a thief!"
,
"Down with the czar!"
, and
"Stop lying and stealing!"
slogans being chanted all around the chaotic scenes.
To Vladimir Putin, this is merely a bit of social turbulence. His approval ratings, after all, remain around 80 percent for the last three years. There may be some surface concern at the scale of the protests and the fuel it gives to the opposition, but overall, while making news outside the country, nothing to be alarmed about. Those not taking part in the protests wherever they live, may not even be aware of the dissent and the clamour.
After all, if Russian state-owned television is depended on to give the news, there is no news to cover for no mention was made of the protests, so did they really happen? Electricity to the building where Navalny supporters were running an online live feed of the protests, was cut off.
That's life and politics in Russia.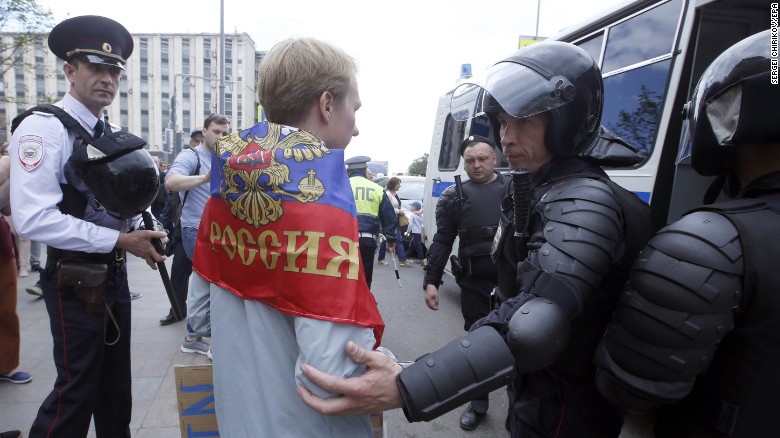 Police detain a participant of an unauthorized rally in Moscow's Tverskaya Street.
Labels: Protests, Russia, Vladimir Putin