Defending Europe From Invasion
"They set sail] to chase down these enemies of Europe."




"We want to expose the so-called humanitarian NGOs that co-operate with human traffickers who live off people's misery."




"Our mission is to rescue Europe. An invasion is taking place. This massive immigration is changing the face of our continent."




Defend Europe group statement
Daily Mail
Pictured: A ship hired by the 'Defend Europe' group
"I introduce [these measures] in all humbleness as I am perfectly aware that the issues at stake today are difficult."




"If they were easy to solve, I have no doubt they had have been solved."




"[I have no] magic wand [to resolve a situation larger than France]."




French Prime Minister Edouard Philippe
Paris, no fewer than 34 times in a two-year span, has cleared a single neighbourhood, placing 2,771 migrants in housing, while hundreds of others remain illegally in France, neither immigrants nor refugees, but illegal migrants, all demanding entry and settlement in a country that has no wish for their presence. Thousands of others have once again returned to the port city of Calais even though a huge camp was cleared in October of migrants attempting to make their way to Britain.
According to Prime Minister Philippe, speeding up asylum claims, creating increased housing for asylum seekers and efforts to ease life for people aspiring to remain in France is top of the country's agenda, even while a new law is anticipated to assist in enforcing expulsions of claimants felt to be illegally in the country. This man laments that his nation has failed humanity to his huge regret, for Germany and Italy have taken in far more migrants.
Of the 91,000 migrants France detained for their illegal entrance to France last year, 31,000 were ordered to leave, while fewer than 25,000 did.
This is the social and political environment that has given birth to what is termed an
"extreme right-wing"
group determined to defend Europe from unwanted entrants in numbers that threaten to engulf the continent entirely eventually and transform it completely, its culture and heritage lost in a miasma of competing, non-integrating culture, religion, and values. The group calling itself Defend Europe has planned a vigilante-style mission off the coast of Libya to block the rush of migrants while confronting the
"criminal NGOs"
busy rescuing them.
Over 85,000 migrants, mostly emanating out of sub-Sahara Africa, have been rescued and brought to Italy, struggling to accommodate impossible numbers requiring shelter, food, medical aid, in this year alone. Predictions claim a total of 200,000 will have entered by the end of the year. Over two thousand people have died in their attempt to reach Europe. Defend Europe is identified by its critics as far-right and anti-Muslim, mostly comprised of young people from France, Germany, Italy and Austria.
These committed activists are nothing if not determined. They don't see their elected politicians doing much other than wringing their hands in despair. They do see the future of their countries unrecognizable and forlorn, and their own futures in question in a continent completely transformed. They raised 76,000 euros to enable them to rent a boat in Djibouti to cross the Suez Canal to the Mediterranean, expecting in five days' sailing to arrive off the coast of Libya.
They see the humanitarian NGOs acting as a taxi service for migrants put out to sea by traffickers in inadequate vessels endangering the lives of those they cram into them, with the understanding that most will be rescued. The traffickers' interest lies entirely in the wealth they can accrue, and the interests of the NGOs is the perpetuation of their raison d'etre; each dependent on the influx of migrants equally to assure their own futures.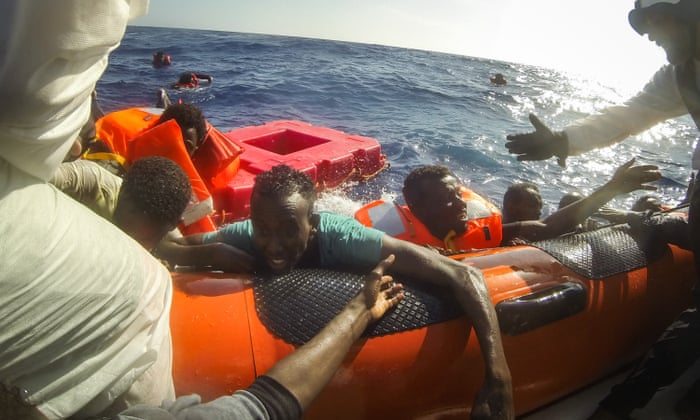 Migrants are pulled aboard a rescue craft after a boat carrying more than 500 people capsized off Lampedusa last week.
Photograph: Chris McGrath/Getty Images
Defend Europe has a clear mission, just as their name implies. Their plan is to themselves rescue any boat carrying migrants they may come across. That rescue comes complete with handing over the migrants to the Libyan coast guard, so they find themselves returning to the place where they left Africa to reach Europe. It is difficult to find fault with the unrealized solution, however uncomfortable it is that Defend Europe has devised. The flood of migrants will continue otherwise with people willing to gamble their lives for the opportunity to find opportunity.
Theirs is a purpose to defend their home from a totally unpalatable and unconscionable turning over of the continent to those fleeing circumstances on a totally different continent. Just as revolutions took place in Europe to effect changes that would eventually benefit all its people, Africans too must assert their human rights and confront the tyrants who despoil their futures. The kind of wholesale transfer of people from one social culture and religion with all the upheaval of the original that is taking place is absolutely untenable.
It represents a mass psychosis of gaming fate.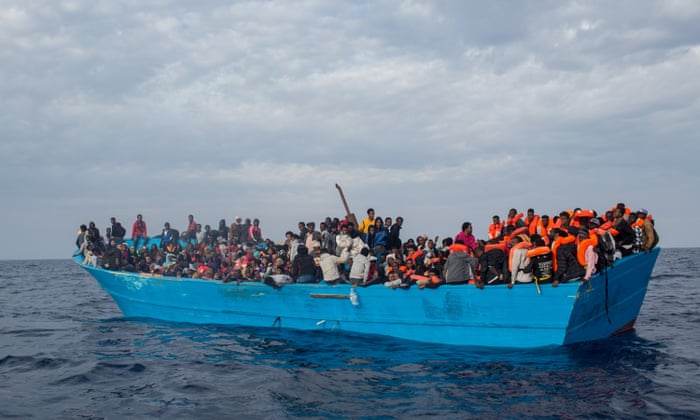 Refugees and migrants put on life jackets distributed by rescue crews off Lampedusa last week.
Photograph: Chris McGrath/Getty Images