Climate Report
"2016 was a year in the Arctic like we've never seen before."




"A clear and more pronounced signal of warming than in any other year on record."




Jeremy Mathis, Arctic research chief, U.S. National Oceanic and Atmospheric Administration





"The Larsen C rift [from Antarctica's Larsen Ice Shelf] and iceberg 'calving' is not a warning of imminent sea level rise, and any link to climate change is far from straightforward."




Adrian Luckman, glaciologist, Swansea University





"Climate change may not be responsible for the recent skyrocketing cost of natural disasters, but it is very likely that it will impact future catastrophes."




NASA Earth Observatory





"Some storm types such as hurricanes, tornadoes and winter storms are also exhibiting changes that have been linked to climate change, although the current state of the science does not permit detailed understanding."




U.S. federal agencies report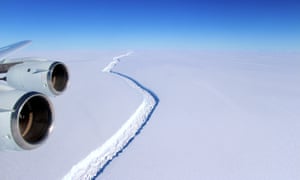 Nasa handout photo dated 10 November 2016 showing the rift in the Larsen C Ice shelf in Antarctica.
Photograph: Nasa/John Sonntag/PA
Scientists from the U.S. National Oceanic and Atmospheric Administration released their annual study of Earth's climate indices to focus on 2016 having been identified as the hottest year on record, on sea levels being at the highest level on record, and sea ice in the Arctic and Antarctica registering as the lowest on record, in the 209-page report published in the
Bulletin of the American Meteorological Society.
All of which point to a clear affirmation of declared human-caused climate change. Just incidentally, an El Nino warming of the central Pacific which alters weather worldwide, was also a large factor in the wild weather experienced throughout the Globe. The El Nino, though not part of identified climate change, a regular natural feature, was described as also being the largest on record.
Key findings included:
Almost 1/8 of the world's land mass was in severe drought; higher than normal, making it "one of the worst years for drought", according to report co-author Robert Dunn from the United Kingdom Meteorological Office.
Extreme was the byword for giant downpours, heat waves, and a huge wildfire in Canada.
For the sixth straight year of record high sea levels, the global sea level rose another quarter of an inch.
With a total of 93 tropical cyclones including Hurricane Matthew that struck Haiti, killing a thousand people, 13 percent more cyclones struck last year than usual.
For the 37th year in a row, the world's glaciers shrank by an average of about one metre.
Since 2002, Greenland's ice sheet has lost 4,000 billion tonnes of ice; last year's loss measured 30 billion tonnes.
The droughts that are impacting North America haven't matched the 930s Dust Bowl phenomenon, the worst of the last thousand years. The ferocious wildfires in British Columbia are dreadful but in 1950 wildfires in Alberta were so widespread Toronto's atmosphere was darkened. The heat wave Phoenix recently experienced began to melt city infrastructure, but on June 25, 1990 it registered its highest temperature ever, at 50 C.
Balance that with sixteen of the world's 17 warmest record years having occurred since 2001. Concurrently, global sea ice is diminishing. All these changes are being tracked through networks of satellites, weather observatories and weather experts. And the scientific picture being delineated is that on average the planet is going to experience more powerful droughts,intensified conflicts linked to same, and coastal cities being threatened by rising seas.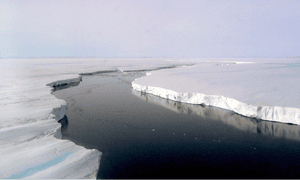 Crack in Larsen C ice shelf.
Photograph: Ted Scambos, NSIDC
Labels: Climate Change, Environment, Nature, Science, Weather