National Hygiene and Safety in a Public Toilet Campaign
"I wouldn't want to visit her. "




"I just didn't look forward to visiting my grandmother for fear of being herded out in the fields to defecate."




Nishua, 16, student, New Delhi





"This is a real problem."




"So many women, especially landless women, face a lot of violence when they go to the bathroom outside."




Jagmati Sangwan, women's rights advocate, India





"I can't think of another time when a national leader has broached such a sensitive topic so frankly and so publicly."




"Even better, Modi backed up his words with actions."




Bill Gates, Microsoft co-founder
According to Indian government officials in New Delhi, $4 billion has been allocated and spent thus far in an effort to proceed with goal of the installing fifty million toilets in the vast country, serving well over a billion people, in areas where public and private toilets simply don't exist, placing women at risk and forcing people to defecate in fields, on railway tracks, or anywhere they happen to squat to answer the call of nature, absent the availability of toilet facilities.
Community latrines have been built, and subsidies provided to people to enable them to install toilets in their homes. Villages which respond to the national trend to turn India from its pathetic position as a nation deficit in the most basic of human needs' provisions, to one that responds to those needs, are recognized by a special "ODF" (Open Defecation Free) designation, honouring their initiative to serve the public.
A film, "Toilet, a Love Story" became the most popularly-viewed movie this summer in India. In the film, a divorce is averted when a young husband responds to his wife's demand that she must have a toilet in their home or their marriage would end. The lack of toilets, both in private homes and public arenas has shamed India, representing a serious public health concern. One which India's Prime Minister Narendra Modi has seen fit to seriously address.
According to parameters of the Swachh Bharat Mission, any urban local body can declare its wards ODF only if it is successful in providing public conveniences at 75% of its areas. Also, there should be provision for toilets within 500 metres of slum settlements.
(Arvind Yadav/ HT File Photo)
His decision was that India would embark on a toilet-building spree to end only when 100 million new toilets were installed in the nation of 1.2-billion people. The push to install toilets is so all-consuming and swiftly concentrated on that on occasion workers fail to see they are connected to the sewer system. A new mobile phone app informs people where to find the nearest toilet.
"Use your phone when nature calls!"
, billboards advise.
UNICEF's figures relate that 564 million Indians, representing close to half the population, defecate still out in the open -- in fields, forests, near ponds, along highway medians and on the beach. As a way to spread disease and cause public and personal problems, it rates high. Women living in rural areas endure taunts and sexual assaults while relieving themselves outdoors, so they take care to travel in small groups before dawn, for protection.
Urinary tract infections assail women, particularly in pregnancy when they are unable to urinate or defecate throughout the day, waiting for hours until darkness when they emerge to perform their toilet tasks. Low birth weight in babies has been linked in a recent study with pregnancies, where the mother had no toilet facilities.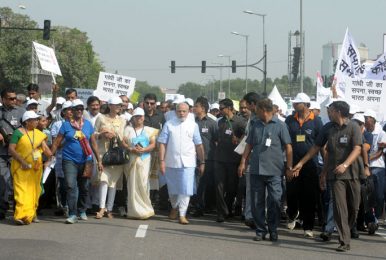 Prime Minister Narendra Modi at the launch of the Clean India campaign.
Image Credit: Flickr/ Narendra Modi