Kurdish Valour and Independence
"We have achieved our goal, which was to pound the strongholds of [Islamic State] terrorism in its [Raqqa] capital, liberate women, and restore honour to Yazidi women by liberating dozens of slaves."




Nisreen Abdullah, Women's Protection Units, YPJ, Kurdish female militia





"The city is in ruins, it needs time. And it needs prospects that are beyond ours, our energy."




Hassan Mohammad Ali, civilian council for rebuilding Raqqa





"I'm expecting to see a new Hiroshima."




"I'm trying to be mentally prepared when I go. I'll be lucky if I see one of my house's walls still standing."




Dr. Mohammad Ahmed Saleh, Raqqa resident, working in Tal al-Abyad hospital
Fighters of Syrian Democratic Forces in Raqqa
[Rodi Said/Reuters]
The Kurdish militia comprised of women fighters is determined to continue liberating women from Islamic State in the wake of their successful collaboration freeing Raqqa in northern Syria from the terrorist group. In Paradise Square where Islamic State infamously carried out public punishment by killing those who failed to cooperate with their rule in the city they made their capital, Nisreen Abdullah of the Women's Protection Units stated their intention to go on rescuing women from the grasp of Islamic State, and they are mostly Yazidi women and girls.
As part of the U.S.-backed Syrian Democratic Forces, the women lost 30 of their fighters throughout the four-month liberation of Raqqa battles. Hundreds of women and girls, captured and forced into sexual slavery still await rescue. Buildings and tunnels were still being cautiously checked to ensure they are cleared of the presence of Islamic State fighters; in their stead were left explosives to greet the inquiring eyes of the YPG and Syrian Democratic Forces coalition.
The city lies in ruins. Saudi officials are involved in discussing how the Kingdom will establish its
"prominent role in reconstruction"
before the estimated 300,000 former residents can be expected to return to a cratered, bombed-out city with no running water, no electricity, no schools, no hospitals. The SDF was anxious to declare the city void of extremists after it was held by them for the last four years as the capital of their 'caliphate', the women within forced to veil themselves, and death by stoning deemed punishment for those whose behaviour shamed Islam.
Despite that ISIL has suffered significant losses of territory, including important cities such as Mosul in Iraq and now Raqqa in Syria, its leader, Abu Bakr Al-Baghdadi was impressively persuasive in bringing tens of thousands of Muslims, from Europe and North America to the region to fight as 'soldiers' of his caliphate. Convincing them to destroy ancient ruins in Palmyra and Hatra, and to establish themselves as loyal martyrs to the universal cause of Islamofascist conquest.
While the caliphate has been significantly reduced with ISIL looking for new redoubts in Libya and Afghanistan and Africa, it continues as well to incite Muslims living in Europe and North America to recognize their duty to Islam by engaging in jihad, ISIL-style. When ISIL fighters evacuated Raqqa over the four months of siege, they took their heavy equipment with them, prepared to continue to launch attacks and to secure the territory left to them, in the deserts of Syria and Iraq.
U.S.-led airstrikes have been largely responsible for the city's devastation. Over 3,000 bombs hit the city since January, in the process destroying schools, hospitals and residential buildings. Less than one percent of the city's prewar population of 300,000 was still in the city when it fell to the SDF.
According to the Syrian Observatory for Human Rights, up to 3,250 people were killed in the months leading to Raqqa's liberation, a third of them civilians, with hundred more missing, presumed buried under collapsed buildings.
The SDF advance came at the cost of those lives, resulting from the intense air strikes by the U.S.-led coalition, despite strict targeting processes meant to minimize civilian risk. And nor can it be overlooked that the deliberate use of civilians as human shields by ISIL resulted in more casualties, including those shot by the terrorists, as they attempted to evacuate the embattled city.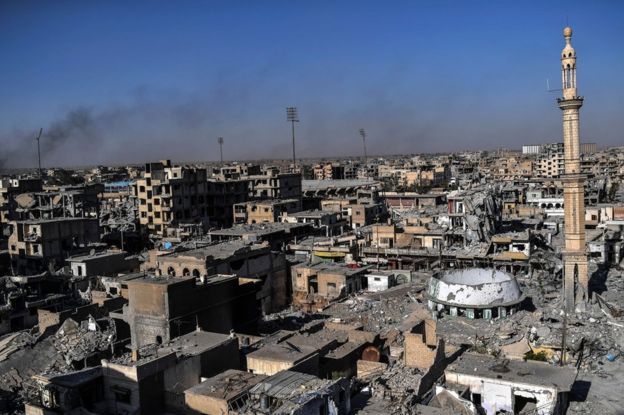 The municipal stadium was one of the last ISIL positions held in Raqqa to fall
AFP
As it stands today, Raqqa will in all likelihood remain unlivable for its former residents for years to come. Where the funding for its reconstruction will come from has not yet been established. And although it was the background establishment of the U.S. held to be responsible for most of the bombing damage. the U.S. government states quite baldly that it is not in the market for other than defence; reconstruction is another matter entirely. Washington spent massively on defence and has no intention of matching those funds for reconstruction.
No funds have been allocated for areas requiring reconstruction in Syria; not while $13-million is being spent on a daily basis to operate Operation Inherent Resolve. U.S. Secretary of State Rex Tillerson stated during a meeting of the 68-nation coalition in March:
"As a coalition, we are not in the business of nation-building or reconstruction."
However, months later, Brett McGurk, special presidential envoy for the Global Coalition to Defeat ISIS, also stated that his country is committed to
"stabilization"
in Raqqa. Which would include de-mining, rubble removal, perhaps the restoration of basic electricity, sewage, water, to enable the basic essentials to be provided for the hundreds of thousands of refugees to
"come back to their home"
.
More than 3,000 bombs have landed on Raqqa since January
[Rodi Said/Reuters]
And while the SDF initially declared that the population of the majority Arab city should make their own determination of how their future would proceed
"within the framework of a decentralized, federal, democratic Syria"
and the Kurdish-led SDF made a pledge
"to protect the frontiers of [Raqqa] province against all external threats"
, handing control to a city civil council, Damascus has its own plans, arranged with the connivance of Iran, for it considers Raqqa to be
"occupied"
until such time as the Syrian army is in control there.
While Syrian Kurds might also have been considering including Raqqa in Rajova, the
Democratic Federation of Northern Syria (DFNS) initially, it has since stated its intention to declare independence, and it is clear that Damascus has no intention either of permitting Raqqa to be absorbed into Rajova, or to allow the Kurds to retain part of Syria as their sovereign territory, just as in Iraq Baghdad has been punishing Kurdistan for the impertinence of believing it was high time to recognize the need for Kurdish independence.
Labels: Conflict, Islamic State, Kurds, Raqqa, Syria