A Muslim Nation's 'Honour'
"It's an epidemic, and, unfortunately, at the moment, Indonesia has no legal protection for sexual harassment."




"Women have to be brave to report it, and the police services here are not friendly toward victims."




Yuniyanti Chuzaifah, vice-chairwoman, National Commission on Violence Against Women





"The more stories people see, the more brave and willing they are to come forward."




"It just adds up when it happens every day. It's tiring."




Kate Walton, Australian writer, Jakarta
Coconuts Jakarta
Indonesia is the largest Muslim-majority country in the world. Islam is vital to its identity, but it is mostly in the far reaches of the country where Sharia-led Islam is practised. Indonesia prides itself on being a democracy. India too is a democracy, priding itself as being the largest democracy in the world. And within India's immense population of 1.3-billion people, live the second largest group of Muslims. The 8th Century saw the violent sweep of the Islamic conquest reach the east; some dispute that date, attributing it to the 12th Century; either way Islam spread by the sword and established itself firmly in the geography.
Pious Muslims are informed that men must lower their gaze when confronting a woman, whereas women are enjoined to be chaste and to conduct themselves modestly, covering their womanly allures because men are helpless to restrain their base impulses. When women are assaulted generally they are found at fault for flaunting their sexuality and forcing men to notice them. A woman noticed is a woman deemed to be loose and therefore deserving of violation through physical force.
Coconuts Jakarta
Daily harassment in Indonesia is a common experience for most women.
"I froze. I didn't know what to do"
, recounted Tunggai Pawestri, speaking of her first encounter with sexual aggression in public when on a crowded bus a man began gyrating from behind against her. When this kind of thing happens women do tend to freeze, to think that they are responsible for this type of bestial behaviour. Ms. Tunggal is older now by several decades and she has joined a growing number of women activists enjoining women not to put up with being harassed on the street, on trains and buses across the country.
Millions of street harassment incidents are unreported annually, according to Indonesian activists. A matter of little concern to the Indonesian National Police who are disinterested in tabulating and making public official data on cases of street harassment. Which would, in any event, only reflect a small proportion of such events, since women are loathe to report them, knowing the disinterest their experiences are viewed with by authorities.
A mere 268 street harassment reports were filed in the last year with the police, nongovernmental organizations or the commission itself in this nation of over 260 million people. In the Jakarta region alone over 200 women posted incidents where they had experienced harassment or groping to the Indonesia website of Hollaback, an international initiative responding to street harassment.
"I feel street harassment has been normalized within our country"
, commented Anindya Restuviani, coordinator of Feminist Festival Indonesia.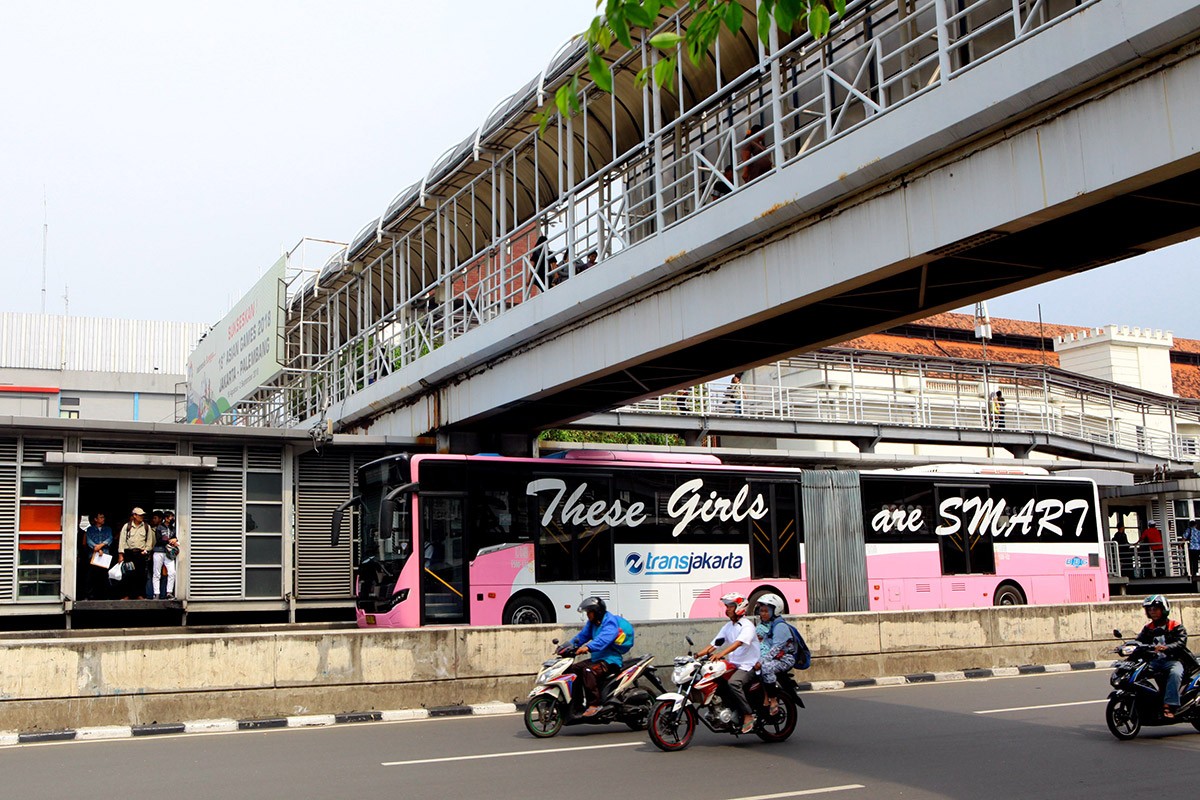 The Jakarta Post
Women-only cars have been reserved on crowded commuter trains, and spaces have been particularly designated for women on public buses, as a response leading to an effort to somehow be seen to react to outrages against women. In January, Kate Walton conducted an experiment, walking from her home in South Jakarta to a shopping mall located four km distant. Within the space of 35 minutes she was the subject of harassing incidents on thirteen occasions.
The online discussion group she helped establish to give women an assurance of cohesion and support now has two thousand Indonesian and expatriate members who regularly recount events of street harassment as a vital exchange between themselves in the belief that every bit of exposure and support that women offer one another will eventually lead to more women speaking out and demanding change to make the government sit up and take responsible notice.
Labels: Female Exploitation, Human Rights, Indonesia, Predators