Driver Inattention, Inebriation, Incapacitation
"We came around the corner and it had to have just happened ... there were no police there yet. There was one link of the train off to one side and the other on the other side of the freeway. There were crushed cars underneath. There was an insane amount of fire trucks and ambulances heading towards us."




Motorist Danae Orlob
"I was traveling to work this morning along I-5 and we came to a sudden stop."




"We all tried to stop quickly to avoid running into each other, to be honest. Once we all came to a stop I was able to look up and see, unfortunately, this scary thing of ... a train hanging off of the overpass. Lots of military personnel and people ran to try to help the best they could."




Motorist Greg Mukai





"It took a lot of extrication tools. They were using jaws of life, they were using air chisels, different forms of saws to be able to get into some of the cars to get access to people to get them out."




"Some of the rescues were done by ladders. It was just a difficult place to be."




West Pierce County Fire and Rescue Battalion Chief Jay Sumerlin





"We are working with the Joint Command Center on scene to receive information from the incident investigation; no cause has been reported at this juncture in the investigation."




Kimberly Reason, senior public information officer, Sound Transit
Aerial images show the train sprawled across the track and highway on Monday
CNN
Speed kills. This is an obviously reliable truth. And speed killed three people near Seattle, Washington on Monday as an Amtrak train on a brand new time-saving route derailed when it jumped the elevated track. This is not supposed to happen. Passengers trust that advanced technology, robust professionalism and system reliability will get them efficiently and safely from point A to point B, routinely and on time. For a maiden trip to have gone so awry represents a startling level of failure on all those indices.
Trust misplaced. Train operators, bus drivers and other systems of mass transportation employees are known to on occasion exceed the limits that policy outlines as best practise and mandatory. People with a cowboy instinct, people inclined to push their limits, people with a yen to push the limits of technology and give danger a little shove should ideally be weeded out of the pool that passengers rely upon for their safety. In testing for the presence of alcohol or drugs civil liberty groups cite confidentiality and individual rights.
Late Monday, a National Transportation Safety Board member, Bella Dinh-Zarr, stated that the data recorder in the rear locomotive revealed that the train that plunged off an overpass south of Seattle was moving at about 130 km/hr in a 50 km/hr zone. That is an enormous disparity, All the more so as the train was rounding a curve, where it derailed, spilling some of its cars below onto an interstate highway. It has not yet been revealed to the public what the investigation has revealed as to the cause of the derailment.
No comment yet for public consumption to explain why the train was travelling at that speed, at that critical juncture. Interviewing the engineer and other crew members must be undertaken to determine the possibility that the engineer might have been distracted or disabled .Of the 85 passengers on the train along with crew members, over 70 people were injured and of that 70, ten seriously injured. One of the three dead passengers was identified as an enthusiastic railroad buff, a customer service employee at a local transit agency.
This was an inaugural run of a new bypass route purposed to be faster, a 24-kilometre, $233-million refurbishment project meant to speed service through the bypass of a route that had several curves, single-track tunnels and freight traffic. By no means could this be called a resounding success. This run's catastrophic ending will forever haunt the people who experienced the derailment and those who came across the wreckage and the human toll, en route to their workplace that morning at 7:34.
And nor could it be assessed whether had a positive train control system been activated to automatically slow down and control the train -- the accident leaving mangled train cars atop one another, one hanging over the freeway -- that dreadful event might have been averted.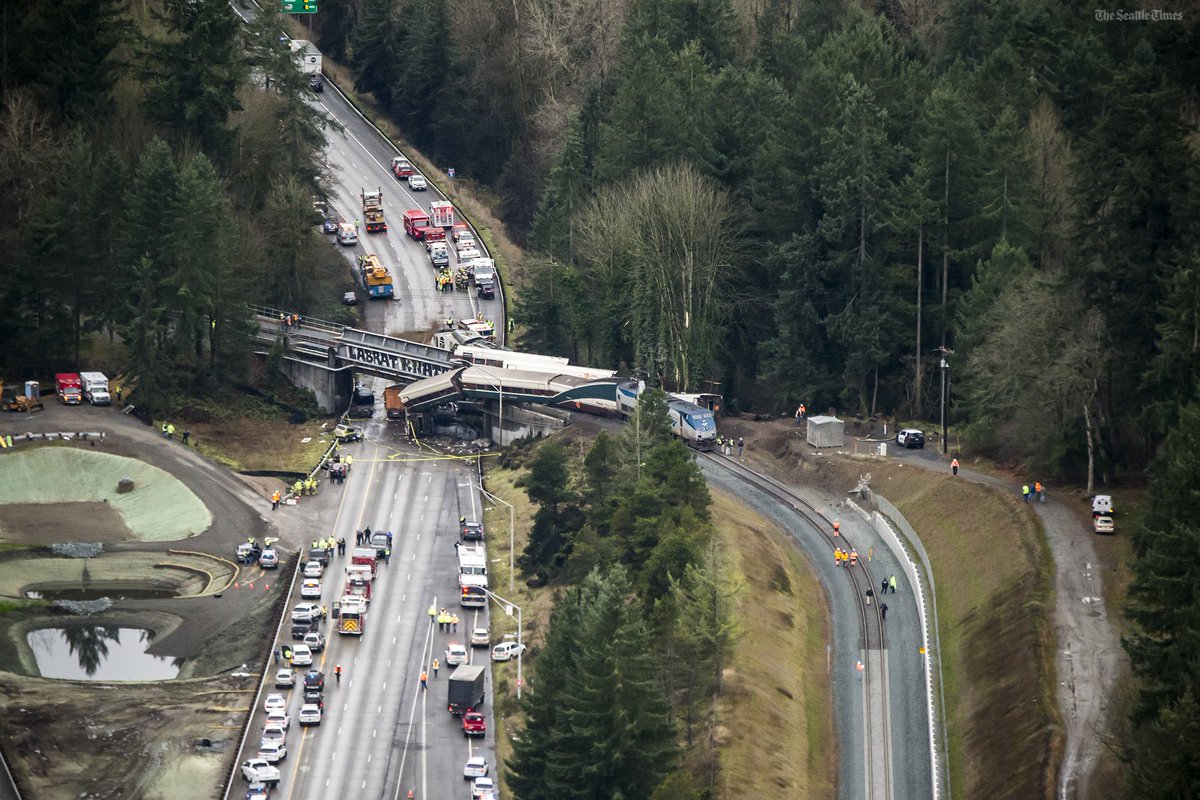 Seattle Times
Labels: Train Derailment, United States