Crimea, Linked : Putin's Obsession
"It is showing the world the great things it can do."




"The government might not be able to provide safety, good health care and education, but it can provide big projects. If you cannot do bread, you can at least do circuses."




"It signifies in the most visible way the connection between Crimea and Russia, that Crimea is part of Russia."




Ekaterina Schulmann, political scientist, Russian Presidential Academy of National Economy and Public Administration





"All this discussion about geology, ice, wind, waves -- it would have been relevant fifty years ago."




"Now, it is just a question of cost."




Mikhail Y. Blinkin, director, Higher School of Economics, Moscow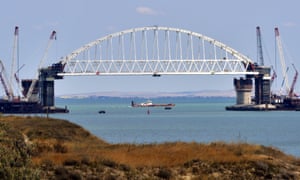 The bridge will span 12 miles across the Kerch Strait when complete.
Photograph: Lev Fedoseyev/TASS
Three years ago, after the Ukrainian Crimean Peninsula was hoisted off Ukraine's unwilling hands to Russian ambitions to restore what Moscow saw as Crimea's place in Russian hearts, an interesting article appeared in
The Moscow Times
: https://themoscowtimes.com/articles/crimean-adventure-will-cost-russia-dearly-39112. It was fairly pessimistic, pointing out that with Russia's straitened financial situation it would be too devastatingly costly for the country to build a bridge link between Russia and Crimea, after Ukraine cut off all water, electricity and trade with Russian-held Crimea.
"Since the beginning of the crisis in Ukraine, the U.S. and the EU have sharply criticized Russia's assistance to separatists in the east, arguing that Moscow's provision of fighters, weapons, equipment, and even direct military support are deeply destabilizing to the region. But Washington and Brussels have paid far less attention to the economic assistance Moscow is providing to Crimea, the formerly Ukrainian peninsula that Russia annexed in March."




"Annexation, however, will not magically enable Moscow to govern Crimea, which has no overland connection to Russia and which had been dependent on its land bridge to Ukraine for trade, travel, public services, and essential services like power and water. Crimea's geographic separation from the Russian mainland will also complicate Russia's ability to exercise authority and promote economic development in the region."

Larry Hanauer, senior international policy analyst, RAND Corporation,

Sept 2014
That was then -- moving briskly ahead to 2017 we find things have changed and an ambitious bridge is under construction, whose cost will ring in at $7-billion, a cost significant enough that it will drain much of the budget set aside for road and bridge construction throughout Russia. The considerable outlay for an engineering marvel set to carry 40,00 vehicles and 94 trains daily between Russia and Crimea will span the Kerch Strait.
The megaproject is expected to be open to traffic in a year's time; December of 2018.
"The bridge itself is difficult, the scale is huge and it is tough to meet the deadline"
, according to Oleg Skvortsov, a bridge specialist involved in an advisory council. This is a bridge whose construction was a matter of consideration over the last century, but whose cost and complexity of engineering was sufficient to ensure that it was placed well back on a high shelf for some future date.
Vladimir Putin decreed that date had arrived. Work is proceeding on schedule. In an immense operation involving hundreds of workers, a 6,000-tonne railway arch was lifted into place 35 metres above the sea. The bridge, on completion, will be twelve miles in length, open to road traffic in 2018 and rail in 2019 to consolidate the Kremlin's intention to integrate Crimea with Russia.
In an operation viewed by the international community as illegal, with Crimea still viewed as part of Ukraine. Since its annexation in a rapid military operation, Crimean officials and companies have been under western sanctions.
The Kerch Strait runs between two mountain ranges with howling winds whipping throughout its confines, and where rivers line the seabed with 80 meters deep of fine silt and ice floes tumble in spring thaw in an area susceptible historically to earthquakes. Thousands of pylons had to be driven into the seabed to ensure stability for the bridge. Parts were built aerodynamically ensuring that winds would flow around the structure.
Once the bridge is in operation it's likely the current ferry systemm inadequate to the task of ferrying vehicles in required numbers, will be mothballed. Two close friends of Vladimir Putin, billionaire brothers Arkady R. and Boris Rotenberg, have stepped in to oversee the bridge project. Both Rotenbergs are suspected of having enriched themselves by siphoning off 15 percent of the 2014 Winter Olympics' cost of $51-billion, a Russian tradition whereby friends of the political elite are suitably rewarded.
Labels: Controversy, Crimea, Putin, Russia, Sanctions, Ukraine