Are They Spies, Escapees, or Just Desperate Fishermen?
"It's after Kim Jong Un decided to expand the fisheries industry as a way of increasing revenue for the military. They are using old boats manned by the military, by people who have no knowledge about fishing."




"It will continue."




Satoru Miyamoto, professor, North Korea expert, Seigakuin University, Japan





"I am wondering why so many of these [North Korean boats] have all of a sudden come in such a short time."




"[North Korea] is a mysterious country. We don't know so much. I don't know if they are coming here to escape or whether they just accidentally drifted here."




Kazuko Komatsu, 66, resident, Yurihonjo, Japan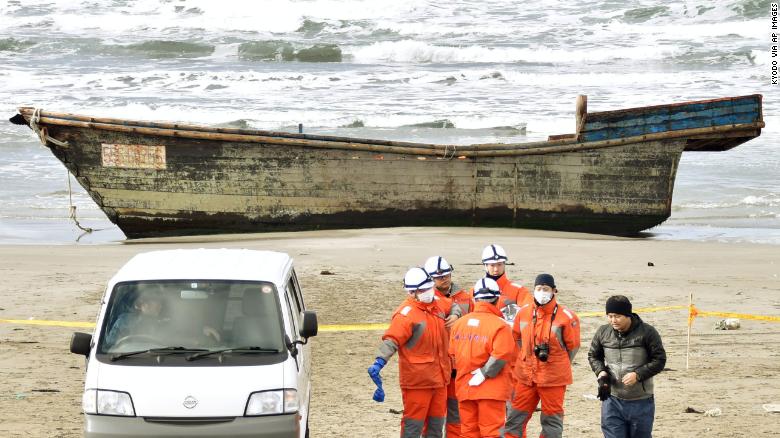 Japanese officials gather on Nov. 27, 2017, near a boat washed ashore in Oga, Akita Prefecture. Authorities found eight bodies in the unidentified wooden boat.
CNN
"Everyone was hungry, even the soldiers"
, North Korean defector, former army officer Kang Ri Hyak reported on
"brutal"
conditions in North Korea before he left four years earlier.
"The UN is sending rice and fertilizer and it all goes to the ranking officials under [North Korean leader] Kim Jong Un. There are many soldiers who also die from disease because they're not given medical treatment"
, he explained.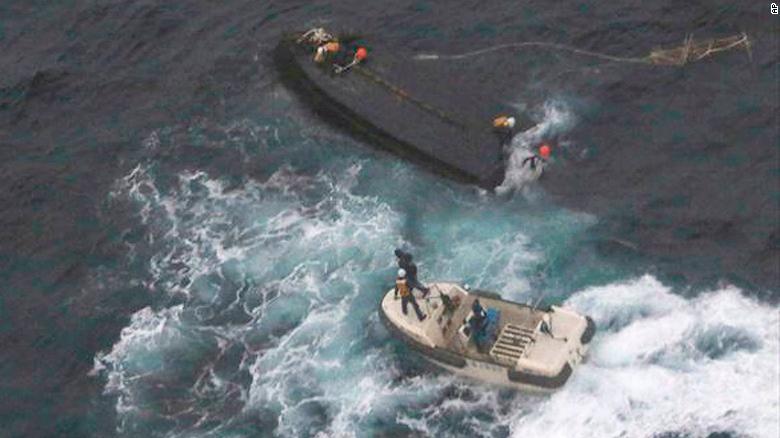 A Japan Coast Guard boat approaches a capsized wooden vessel, on Wednesday, Nov. 15, 2017. Three crew members rescued from the capsized boat are North Koreans, and Tokyo is arranging their return home.
CNN
For years dilapidated fishing boats have washed ashore on Japanese beaches. Some without the presence of humans, others replete with human skeletons, and some carrying fishermen who are taken into detention and questioned. In the last few years the sightings of these boats, with and without crews, dead and alive, have been increasing in number and they are puzzling both to Japanese rural residents who see them and to authorities who question those aboard.
Seven boats in the past two weeks came ashore in coastal Akita, all of them identified as North Korean, one with eight crew members who arrived in Yuirihonjo an Akita prefecture port town. They were taken directly into police custody for a week, then transferred to a facility for immigrants in Nagasaki, from where the Immigration Bureau plans to return them to North Korea. Although no news has been released to the public, it would be interesting to know whether the eight North Koreans are delighted to be returned to their homeland.
In all probability they can look forward to being detained by the North Korean military and punished for their infidelity to the People's Republic. No doubt while in Japanese detention they will be fed in a manner quite unlike what they are accustomed to in North Korea. No doubt hunger and privation led them to shove off on a fishing venture a little further from North Korea's fishing coastline than practicable if they hadn't meant to 'drift' off to another country on a long sea voyage that could have ended disastrously for them.
That it will end disastrously for them is another matter.
Given the tensions and concerns emanating from North Korea with its violent provocations in sending rockets over Japan and threats to go with them, little wonder Japan will not give haven to these desperate people. Perhaps returning them to South Korea where they will receive grudging haven would be more humane. Stories in the local Japanese media are not averse to noting instances of Japanese citizens abducted by North Korea. It has happened, and no one wants it to happen again.
No fewer than 18 North Korean fishing crew have come ashore on beaches in Japan over the course of this year. The number of skeletons found on ghost ships have been higher, however, a gruesome sight that underlines the sheer desperation of people for whom no other solution to their plight can be envisioned by them as an alternative to remaining in North Korea to starve. The stories the North Koreans tell Japanese authorities is that of bad weather, mechanical problems, and drifting with the currents taking them to Japan.
Evidently, Japanese authorities have reason to doubt some of those stories as for example, when the Japanese coast guard found a North Korean boat near Hokkaido and when they questioned the fishermen from it, they extracted a confession that some of the ten-man crew had been ashore to take possession of refrigerators, televisions, washing machines and a motorcycle from unprotected fishing shacks. The decision whether or not to arrest the men hadn't yet been arrived at. The public is given very few details.
When a North Korean soldier dramatically ran across the demilitarized zone between the two Koreas under gunfire, authorities swiftly made details public. South Korean doctors examined the man to discover multiple and numerous types of parasitic worms, some 27 centimeters long, and that he was also infected with hepatitis B. A professor at Seoul National University College of Medicine specializing in parasites pointed out human fertilizer used on crops and poor sanitary conditions responsible for parasitic cysts in the North.
Contact with feces or unwashed hands lead to intestinal worms, and the North uses untreated human waste as crop fertilizers. Something neighbouring China also traditionally has engaged in. Such infections are readily treated with drugs.
"It is a vicious cycle that is hard to stop in North Korea. They are so desperate to make ends meet that they cannot take proper preventive measures"
, explained Professor Choi Min-ho from Seoul National University.
Labels: Desperation, Human Rights, Hunger, Japan, North Korea