Convoluted Alliances in Syria : Syrian War Crimes, Turkey's Kurdish Assaults
"We don't have anything - no food, no medicine, no shelter."




"They targeted everything [Eastern Ghouta]: shops, markets, hospitals, schools, mosques, everything.




"Maybe every minute we have 10 or 20 air strikes...I will treat someone - and after a day or two they come again, injured again."




"Where is the international community, where is [the UN] Security Council... they abandoned us. They leave us to be killed."




Dr. Bassam, Eastern Ghouta, Syria





"There are cases where we find someone we thought was dead and they turned out to be alive. A baby of 20 months was brought in after an airstrike. He was blue and he wasn't breathing but his heart was working. I opened his mouth and I found his throat was completely full of sand, back to his tonsils."


Abu al-Yasa, doctor, Eastern Ghouta

"I feel suffocated down here but we are lucky because some people have no basement to hide in."




"We are just breathing but this is not living. The situation is worse than your imagination."





Abu Abdelrahman, Eastern Ghouta resident





"It is not a good place for them [wife and newborn child]. It is not healthy, it is not equipped. It is too cold."




"And I know it is not safe if it is hit by a missile. But what else can we do? This is a war of extermination."




Bassem, 33, anesthetist, resident, Eastern Ghouta
Eastern Ghouta has become a trap for about 400,000 people, half of whom are children. It is a death trap for some of those civilians whom the regime and its Russian allies target as they intensify their air strikes. A softening up, many believe, of the area's defences preparatory to a planned all-out assault on the enclave of starving, fearful people scheduled for a week from the present. Bassem's wife was just delivered of a baby boy several weeks ago, his wife too malnourished to breastfeed.
Residents of the besieged area fear their fate, that they will be among the next several hundred that the fierce artillery and bombardment assaults will kill. Of the 200 people killed in the last several days, 57 were children. The Syrian opposition characterized this focused offensive as

"a bloodbath of innocent women and children"

. The doctor in Douma who had cleared the infant's mouth and throat of sand was able to find space for a respirator to enable the child to breathe, and hopes are that he will survive.
His mother and two siblings did not.
Islamist fighters and Syrian rebels have formed a coalition to fight back in hopes of repelling the advance. Odds of defence are not with them, they haven't the warplanes or the heavy arms to match those of the regime, their Iranian-backed militia partners and the Russian military. Those who have succeeded in finding haven from the bombs, sheltering in basements have no electricity or running water. A volunteer must exit whenever a bomb explodes nearby to clear the resulting rubble from pipes providing ventilation.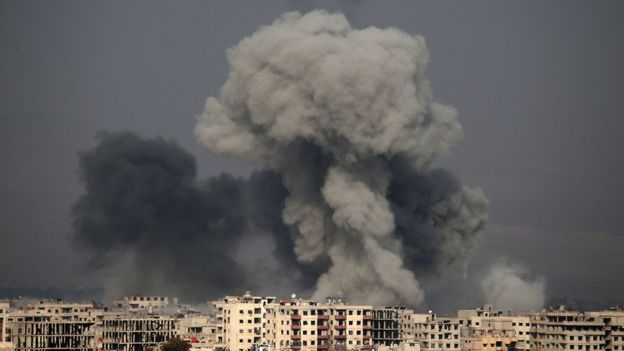 On Tuesday ten towns and villages across the Eastern Ghouta region were bombarded. The humanitarian situation has eroded from dreadful to horrible leading the UN to call for a ceasefire so aid can be delivered and the wounded evacuated. A call hardly likely to be heeded in the maelstrom of vicious bombardment. The region hosts as its defenders aside from Syrian rebel groups, Jaysh al-Islam, an Islamist group as well as Hayat Tahrir al-Sham, a former affiliate in Syria of al-Qaeda -- in a jihadist alliance.
"People have nowhere to turn,
" a local doctor explained to the Union of Medical Care and Relief Organisations, which supports Eastern Ghouta medical facilities.
"They are trying to survive but their hunger from the siege has weakened them significantly."
Six hospitals were struck by bombs on Monday and Tuesday. According to the UK-based Syrian Observatory for Human Rights barrel bombs filled with explosives and shrapnel were used in regime strikes on the towns of Jisreen and Kfar Batna .
Afrin, the Kurdish enclave just south of the Turkish border, is experiencing similar attacks, but from Turkish troops shelling the area. Scores of pro-government gunmen entered Afrin just prior to that latest shelling. They set out to
"defend our people against the Turkish aggression"
, according to state-run Syrian television, of the Turkish troops in Syria attacking the Kurdish YPG fighters as "terrorists" linked to the Kurdish PKK separatist group in Turkey.
The merciless bombardment of civilians in Eastern Ghouta by the Syrian military and its Iranian and Russian allies have devastated the lives of tens of thousands of Syrians. The Turkish military is doing the same to Kurdish civilians in Afrin, and pro-regime fighters come to their aid. Russia appears to have given assent to Turkey to invade Syria and bomb Afrin in its zeal to expunge the YPG. Iran is determined that Turkey not interfere with its regional plans. It's difficult to determine which group is hostile to the other.
In this region but for the Kurds, the veneer of civilization is thin indeed.
Turkish-backed Free Syrian Army fighters react as they hold their weapons near the city of Afrin, Syria February 19, 2018..
(photo credit: REUTERS)