Rapid Emergency Response to DRC Ebola Outbreak
"This is a major development in the outbreak."




"We have urban Ebola, which is a very different animal from rural Ebola."




"If the number increases in Bikoro it's bad but it's not a disaster. But if these three cases in Mbandaka become ten, or twelve, then we have an urban epidemic."




"We're certainly not trying to cause any panic in the national or international community. [But] urban Ebola can result in an exponential increase in cases in a way that rural Ebola struggles to do."




Peter Salama, senior World Health Organization official





"Boats move up and down the river, carrying people and goods."




"One of the risks is that someone with the virus could easily access one of the boats and start moving up and down."




Jose Barahona, Oxfam DRC country director





"The arrival of Ebola in an urban area is very concerning and WHO and partners are working together to rapidly scale up the search for all contacts of the confirmed case in the Mbandaka area."




Matshidiso Moeti, WHO regional director for Afric

a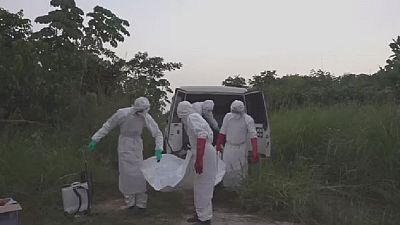 A victim of the ebola outbreak in the Democratic Republic of Congo has been buried by the Red Cross. The society says this was to prevent further spread of the contagious viral disease. Dr. Pierre Formenty, is team leader for viral haemorrhagic fevers at the World Health Organization.
In 2014-2016, the world's eyes were riveted on the largest recorded Ebola outbreak in West Africa that killed 11,300 people, causing widespread fear and panic before it was stalled. Difficult to control, it spread to the capitals of Guinea, Sierra Leone and Liberia. And the race was on to find a formula that could be relied upon to stop this deadly virus before it infected and killed many more. In a Canadian research laboratory in Manitoba one such vaccine was produced by ZMapp scientists,and the incidence of infection began to be reduced.
Before it came to a halt, however, it took the lives of men, women and children, and those of health workers as well. Medical teams rushed to the affected areas in a desperate effort to check the advance of the often-deadly virus. A few cases showed up in Europe when travellers brought the virus back with them, often people in the medical community whose advanced treatment largely proved successful. A huge sigh of relief was exhaled once the WHO was able to declare the epidemic at a halt.
Now, once again, teams from the World Health Organization and major agencies are being swiftly deployed to Democratic Republic of Congo to face this new outbreak to which world governments and agencies have pledged funding. Teams from Medicines sans Frontieres set up an isolation zone in the area, preparing to build two Ebola treatment centres in Mbandaka and Bikoro.
"With Ebola, when people die, they are very contagious. So it's a place where we have a lot of infections. It is therefore important to have safe burials because it reduces the risk of human-to-human transmission, but it is also important to have dignified burials"
, explained Dr. Pierre Formerlty, team leader for viral haemorrhagic fevers at the World Health Organization.
Ebola kills half of those who are infected. Recovery is long and people are extremely ill throughout the touch-and-go process, then face suspicion from a fearful population unconvinced survivors are no longer infectious, leading to the social isolation of survivors. While Ebola usually surfaces in the countryside, it is now speculated that the disease was carried from the countryside down the Congo river to the city by someone infected, but unaware.
The city of Mbandaka, with its 1.2-million population is connected through the Congo river with the capital of Democratic Republic of Congo, Kinshasa, and Brazzaville, the capital of Congo-Brazzaville, as well, so the potential of Ebola spreading more widely is feared. Moreover, in a crowded city environment the virus can spread far more rapidly in person-to-person contact than it can in less-crowded surroundings in the countryside.
Hundreds of people are suspected to have been in contact with infected people, now being monitored. The WHO is deploying thirty experts to move throughout the city conducting surveillance. The city of Mbandaka though densely populated has poor sanitation, and inadequate health care services. Of the 44 people identified as having been infected, 23 have died. It was only ten days ago that an outbreak was reported in the remote rural area of Bikoro, in the DRC's northwest.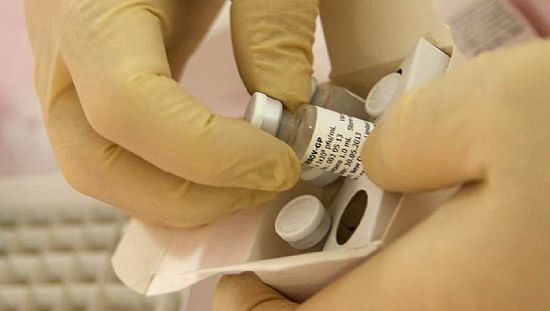 DRC receives first batches of vaccine during outbreak.
Africa News
Labels: Africa, Democratic Republic of Conco, Ebola, Epidemic, Medicine