An Honourable, Dangerous Profession
'None of us wants to be a hero or a model,' says Borrometi
"None of us wants to be a hero or a model. We just want to do our job and our duty, to tell stories."
"The only words the attackers told me that day were, 'Mind your own business,' or 'This is only the first warning,' or a Sicilian, less polite, version of it."
"I owe my life to my state, to those policemen and magistrates [who protect him from death threats]."
"I am without my family and my loved ones. But I have my wonderful job."
Paolo Borrometi, Rome, Italy

"Don't stop writing, Paolo."
"Our countries need free and investigative journalism. You have my respect."
Daphne Caruana Galizia, Maltese journalist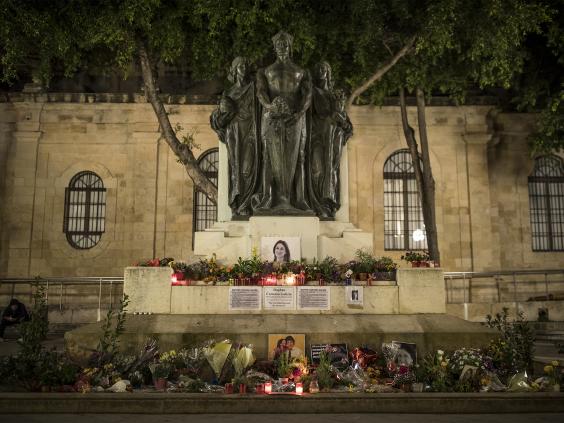 Tributes for the murdered Maltese journalist Daphne Caruana Galizia in Valletta (Getty)
"We need a 'firework' like those in the 1990s, when one couldn't even walk on the streets."
"A death every once in a while is useful, so that all the whipper-snappers [young and idealistic journalists] calm down a little."
Sicilian mobster

"There have already been two journalists killed by the mafia inside the European Union, both investigating mafia stories and stories that domestic governments were not looking into."
"Italy is historically the country that has felt the mafia the most, and has a dozen of journalists under 24-hour police protection."
"That doesn't happen in other countries."
Pauline Ades-Mevel, European desk, Reporters Without Borders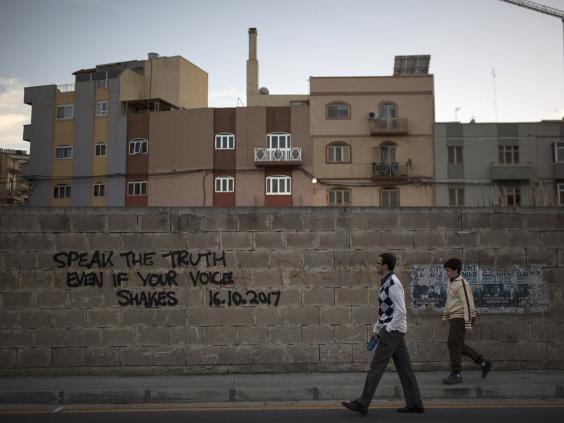 Italian journalist Paolo Borrometi was assaulted by two men wearing ski masks in 2014, outside the country home of his family in Sicily. His writing as an investigative journalist on his independent news website,
La Spia
(The Spy)
for the past year had offended Sicily's criminal element. In the space of five years he has received hundreds of death threats courtesy of local mobsters. And there have been enough lethal events in proof of their vendetta against journalists who specialize in revealing to the public the criminal exploits of these gangsters to warrant taking these threats seriously indeed.
Which is why Mr. Borrometi goes nowhere without being accompanied by a police escort. In fact he goes nowhere in any event. He can no longer live a normal life. No strolls through local parks in fine weather, or cavorting on a beach, nor going out for a meal at a restaurant, or taking in a movie. He is unable to do the most ordinary of pursuits such as shopping, or driving a car on his own. He must be accompanied for his own safety.
Making enemies of the mafia is life-transforming. One needs to be beyond committed to forgo all the pleasures of living an independent life in favour of releasing to the pure air of public condemnation and outrage the wretched violence and corruption that mobsters wreak on society. Italy takes those threats seriously and has committed to guaranteeing the safety of its journalists through police protection. Despite which murders are on the rise in Italy, connected to organized crime.
The principal threat to journalists in Europe according to international observers and authorities, are represented by these criminal networks. The Maltese investigative journalist who wrote to Mr. Borrometi to express her solidarity and admiration for him, became one of those casualties last October when she was killed in a car-bomb attack for exposing her country's links to offshore tax havens and for reporting on crimes committed for decades by local politicians.
She was not beloved by her nation's politicians; even the country's economy minister had launched a lawsuit against her, which speaks volumes of the effect of her journalistic integrity and powerful revelations. In February, 22-year-old reporter Jan Kuciak was killed together with his fiancee, in Slovakia. He too had been investigating corruption related to suspected ties with Italian mobsters. A mafia expert working for the magazine
L'Espresso
has been under police protection for eleven years in the wake of police having thwarted a bomb attack at the front of his Palermo house.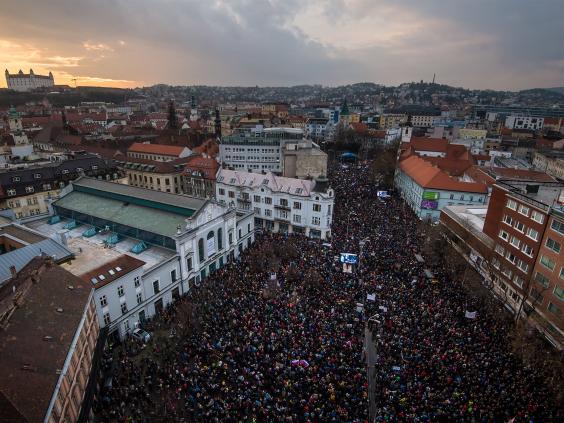 Labels: Corruption, Crime, Journalists, Threats