It's a Head-Scratcher
"While in China, if you experience any unusual acute auditory or sensory phenomena accompanied by unusual sounds or piercing noises, do not attempt to locate their source."




"Instead, move to a location where the sounds are not present."




U.S. Consulate, Guangzhou, China





"I know of no acoustic effect that would produce concussion-like symptoms; according to my research, strong effects on humans require loudness levels that would be perceived as very loud noise while exposed."




Jürgen Altmann, physics professor, Technischen Universität Dortmund, Berlin





"If you took any one of these patients and put them into a brain injury clinic and you didn't know their background, you would think that they had a traumatic brain injury from being in a car accident or a blast in the military."




"It's like a concussion without a concussion."




Dr. Randel Swanson, specialist in brain injury rehabilitation, University of Pennsylvania
"We don't want to see that this individual case would be magnified, complicated or even politicised."

"China has been investigating this matter in a very responsible manner. We haven't found that any organisation or individual has carried out such a sonic influence."

"[The US might with to carry out an] internal [probe into the case]."

Chinese Foreign Minister Wang Yi





"The employee was sent to the United States for further evaluation. On May 18, 2018 the Embassy learned that the clinical findings of this evaluation matched mild traumatic brain injury (MTBI)." "The Chinese government has assured us they are also investigating and taking appropriate measures."




Jinnie Lee, U.S. Embassy spokesperson, Beijing
There it is, again. Consular officials once more exposed to some mysterious sound wave likened to a 'sonic attack', that occurred just recently in China, after that same peculiar and inexplicable event occurred earlier, a year back, in Cuba, in some cases seriously affecting both American and Canadian Embassy officials, and their family members. Why nowhere else in the world have these events occurred? Only in Communist nations with undercurrents of hostile attitudes toward the West. Strange indeed!
For some of the diplomats and their family members who experienced the peculiarly strange phenomenon that made them peculiarly ill, their experience and its results still linger. Those affected reported
"mental fog"
that
"slowed"
them for months, according to a commissioned report. Some became beset with a sense of nervousness and irritability. Two of those interviewed for the study evidently met criteria for post-traumatic stress disorder. Their job performance capability was reduced substantially.
Three of those affected required hearing aids in response to moderate-to-severe hearing loss that resulted from their exposure to the unknown-in-origin sound. Many others continued to experience pressure or ringing in their ears, while over half required prescribed medication to enable them to sleep or to respond to headaches.
And among those affected, many were unable to return to work, given symptoms not typical of concussion; pain and ringing in one ear only. Another difference the study noted was that though concussion patients frequently make swift, full recoveries, these patients had their symptoms persist for months on end.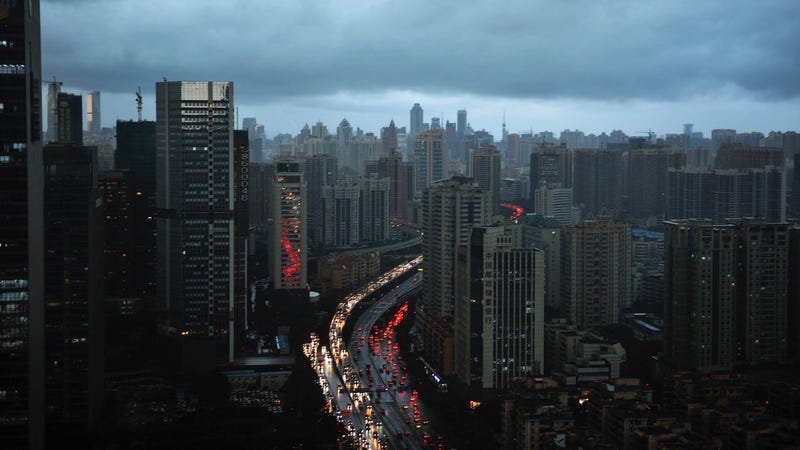 Photo: File photo of the Guangzhou skyline
(Getty)
The similarity between the Cuba experience and that now identified in China is striking and puzzling. A government employee in the southern Chinese city of Guangzhou reported
"subtle and vague, but abnormal, sensations of sound and pressure"
, alerting the U.S. State Department of a mild traumatic brain injury brought on by
"abnormal"
sensations of sound and pressure, resembling those that occurred to American diplomats in Cuba.
"The U.S. government is taking these reports seriously and has informed its official staff in China of this event"
, stated the US. consulate. As yet, no other cases within or without the diplomatic community have been reported. The U.S. Embassy in Beijing called members of their diplomatic corps from five consulates in China to a meeting for staff to air questions and receive responses. The U.S. is preparing to send a medical team to Guangzhou to conduct medical evaluations for any employees requesting such.
In Cuba, 24 diplomats and their family members had been victimized by
"specific attacks"
that left them with injuries such as those occurring with brain trauma. When Canadian diplomats experienced similar symptoms, Canada withdrew its officials from Cuba as well. And while investigators suspect the involvement of a
"sonic weapon"
, no proof has arisen other than speculation that this might be the cause of those events.
The
"unusual sounds or auditory sensations"
reported by the victims have never been identified.
Do 'Sonic Weapons' Adequately Explain 'Health Attacks' on Diplomats in Cuba?
Inaudible sonic weapons are an unlikely cause of the mysterious symptoms suffered by American and Canadian diplomats in Cuba.

Snopes
Labels: Attacks, China, Cuba, Diplomacy, Health, United States