Islamist Conquest Ideation
"Kunduz city has collapsed into the hands of the Taliban. We are trying our best to clear the city as soon as possible."




"Security forces in Kunduz were prepared for an attack, but not one of this size, and not one that was co-ordinated in ten different locations at the same time."




Sediq Sediqqi, spokesman, Afghanistan Interior Ministry





"Kunduz is a ghost city now, fear has locked people inside their homes. [Taliban gunmen were going door to door] searching for government officials, local police commanders, anyone they can think of."




"No one is safe."




Folad Hamdad, freelance journalist, Takhar province





"None of the security forces or officials had any information about the attack; if they had, they would have warned the NGOs, the UN and the banks, but they didn't."




"Yesterday it was possible for people to get out of the city, but today it is too late because all roads are under the Taliban control."




Anonymous Kunduz resident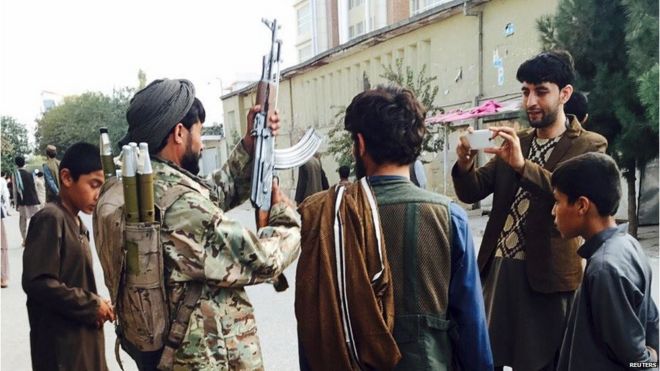 The anonymous resident, a local banker, was among the fortunate able to escape from Kunduz and seek safe haven elsewhere, under government control. In the confusion resulting from the surprise attack, he said, government officials and their bodyguards streamed in panic to the airport, attempting to make themselves scarce, knowing full well what would await them at the hands of the Taliban.
Of a total population of approximately a million in the entire province of Kunduz, the city itself boasted a population of 300,000 souls. A city on the strategic crossroads that connect Afghanistan to its neighbours; Pakistan, China and Central Asia. The region is considered a chief bread basket with rich mining assets, its loss to the central government of President Ashraf Ghani, aside from representing a crisis of conquest for the Taliban, represents an enormous loss in strategic reputation and economic fallout.
Government forces, aided by U.S. warplanes which carried out one early morning airstrike, have been incapable of even entering the city in hopes of speedily retaking it. The strategic city is locked to entry, the military unable to proceed as a result of Taliban roadblocks and ambushes; they remain two or more kilometres from the city, massed for action, but unable to proceed.
"All the Taliban are inside the city and so are all the people"
, stated a NATO official.
That being the case, there can be no additional airstrikes, and if government forces, not that well motivated at the best of times, are eventually able to dismantle the roadblocks and risk ambushes, they will have to fight street by street, hoping to spare the startled and frightened population that has for the most part confined themselves to their homes in fear of the Taliban whose previous rule they well recall, from 1996 to 2001.
It was clear that Afghan military intelligence had no idea just how imminent and how powerful an attack was in the offing. Fighters for the Taliban, according to Acting Defense Minister Masoom Stanekzai, had previously infiltrated the city during the Eid holiday, when millions of Afghans are on the move, visiting with family. They were the Trojan horse that scoped out the city and invited their comrades to invade with a huge degree of success.
The base core of the attackers were Taliban fighters, seasoned and competent, and they were joined by other jihadi militants from neighbouring Pakistan, along with others coming out of China and Central Asia. Government military forces had been lulled into a sense of security resulting from the summer stalemate, never anticipating that a lull precedes a storm.
But this is just the thing with fundamentalist Islamists. They have a god-steered mission and an obligation as pious Muslims to fulfill their duty to Islam. Their intractable war against moderation of any kind that might be viewed as neutralizing Islamist precepts ensures that there may be lulls in their operations as they retreat, recoup and rearm, but they will return. They are nothing if not resilient, resolute and totally geared to conquest.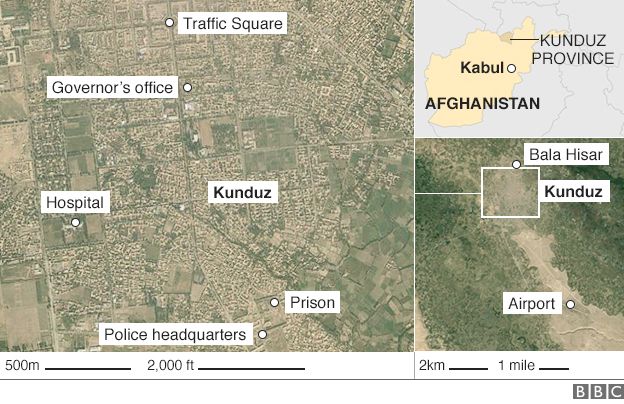 "[The Taliban takeover represents] a shock but not a surprise, because every province in Afghanistan is as fragile as Kunduz. [The Taliban have achieved] a huge political and propaganda victory."




Ali Mohammad Ali, security analyst
Labels: Afghanistan, Conflict, Islamism, Taliban