Refugees Seeking Haven from Islam
It has become a typical scenario, one little remarked upon, but a telling one. The panic in Europe over floods of refugees from all points of the Islamic compass; the Middle East, Asia, Africa emphasizes the requirement of the world of the West to absorb and give haven to those seeking better lives and assurances that they will live to see a future. But a vast country like Russia, with its latest interventions in Syria and Afghanistan, has no concerns over being overrun by refugees and asylum-seekers; its concern is a potential influx of violent Islamists.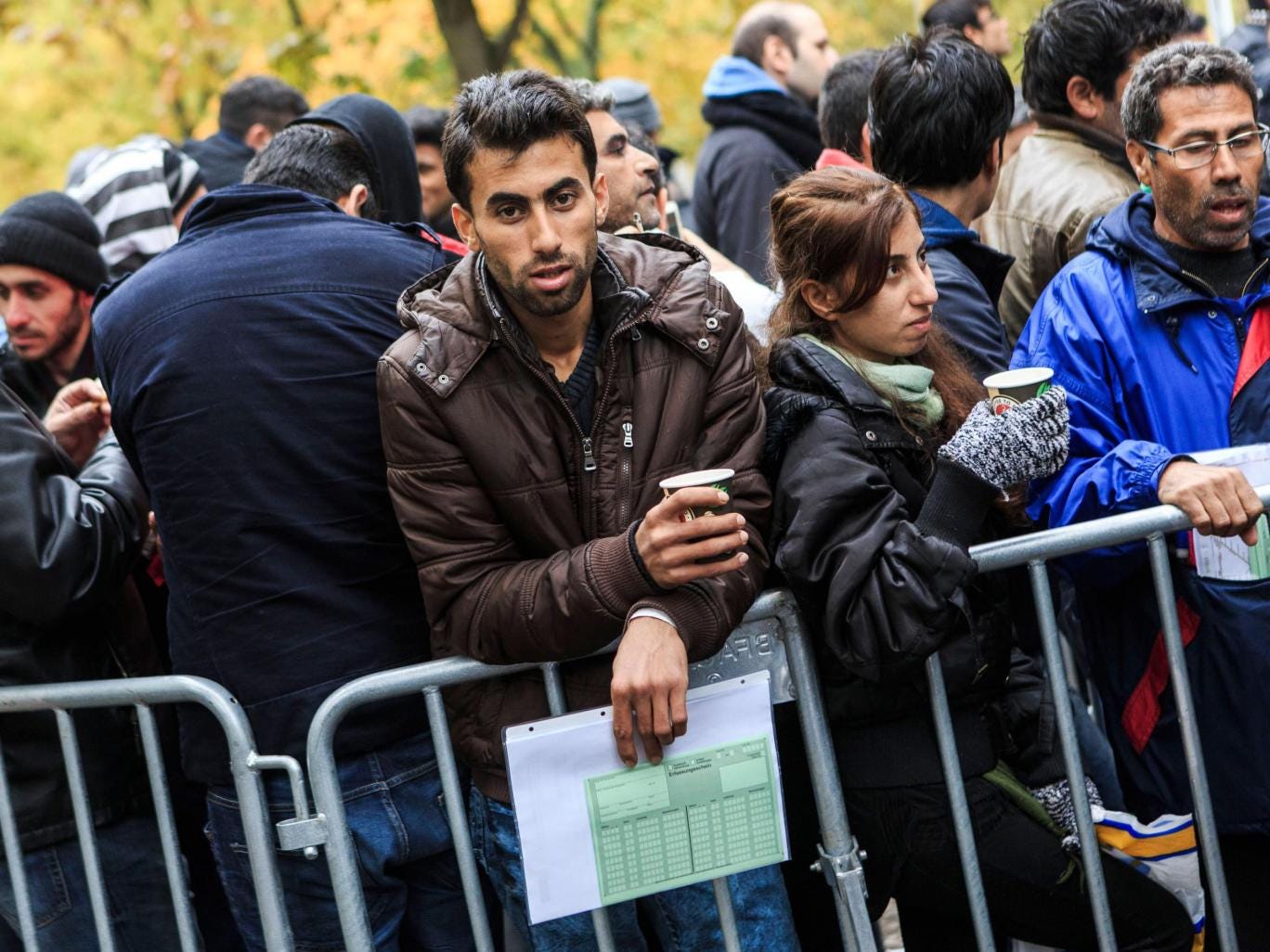 A man seeking refugee status waits to register outside the Central Registration Office for Asylum Seekers in Berlin
Refugees, it seems, do not aspire to live within the Russian Federation. Perhaps they are aware that in Russia they are not welcome. Somewhat like the reception they know awaits them in most of the Islamic countries not embroiled in civil war. Refugees from Africa, from Afghanistan, from Iraq and from Syria have rushed into Europe, while mostly Syrians have moved to Jordan, Turkey, Egypt and Lebanon. There, their presence is tolerated with the hope that they will move on, return from whence they came should the conditions that spurred them to leave their countries ever improve.
But it is those conditions that pretty well characterize what life is like for the faithful living in their religion's regions of origin. Islam does not appear capable of producing administrations that, though they are faithful to Islam, are committed to the welfare of their countrymen. While exhorting to the principles of Islam, the elite who administer the nations' affairs appear committed to the belief that they themselves are exempt from the laws of Sharia which dominate the lives of their people.
Moral relativism aside, Islam does not appear to present as a guiding light reflecting the enlightened principles of human rights; rights abide only on behalf of the rulers of the benighted. And so they flee from the lands of Islam. And congregate within the non-Islamic lands of the democratic, socially-empathetic West whose progressive march to freedoms and entitlements for all citizens the refugees and asylum seekers gratefully take use of. Social welfare on the scale practised in the West is a revelation and a blessing.
As are the laws that equate citizenship with equality entitlements. And then a strange thing happens; refugees aggregate and they agitate, become disenchanted with the difficulties in achieving social and economic parity with the indigenous peoples of the lands they settle in. The introduction of formal Sharia law becomes a demand even while the laws of the land are used to manipulate the 'guilt' of the governments and the peoples that have taken in the refugees.
A new surge of refugees has erupted, this time from Afghanistan responding to the newer offensives of the Taliban around heavily populated areas like Kunduz. The country's agency issuing passports are inundated by people anxious to escape the dangerous confines of their country. Originally travelling to Pakistan and Iran for haven, governments there are now beginning a process of repatriation, refusing to extend identity cards even for refugees who have lived abroad for decades.
This is enforced patriation; deportation, claimed upon people least expecting it, and ending up in refugee camps. The government of Afghanistan is in no position to aid their own due to its endemic corruption and agency dysfunctionality. Resentment against Afghans by Pakistanis and Iranians leads them to accuse the refugees of association with terrorism, drug abuse, with their presence hurting the local economies. The irony here of course is that both Pakistan and Iran encourage terrorists; it was Pakistan in particular that informally through its military and intelligence agency supported the Taliban.
All of the countries associated with NATO which had been involved in Afghanistan and who used the services of Afghans as interpreters and assistants, should feel compelled to give immigration visas to those Afghans and their families to place them out of harm's way, if they have not already done so. The creation of safe zones through the intervention of international aid groups may be of questionable value, given the growing presence of Islamic State and the growing incidence of violence as the Taliban becomes more violently assertive.
Countries in Central Asia; Russia, China and Iran could do well to give aid toward Afghanistan stability. As a trade-off for not inviting refugees to enter and find haven with them, a priority should be seen to provide funding in support of permanent safe areas where stability of a relative kind still remains. Leaving Afghanistan to its feeble government agencies to clean up its corruption, violence and economic failures, yet even safe areas of questionable duration might be a help to the country's embattled people.
Labels: Afghanistan, Conflict, Iran, Islamic State, Pakistan, Russia, Taliban