Seeking an Antidote to Gun Violence
"Like all Americans, I have been horrified by the recent terrorist attacks in San Bernardino and Paris. This should be a wake-up call to all of us. This is a moment to seize in America -- and today I'm here to say that we in Connecticut are seizing it."




"I have previously written to Congress on this matter. But inaction is not an option. So here in Connecticut, we are acting."




Connecticut Governor Dannel Malloy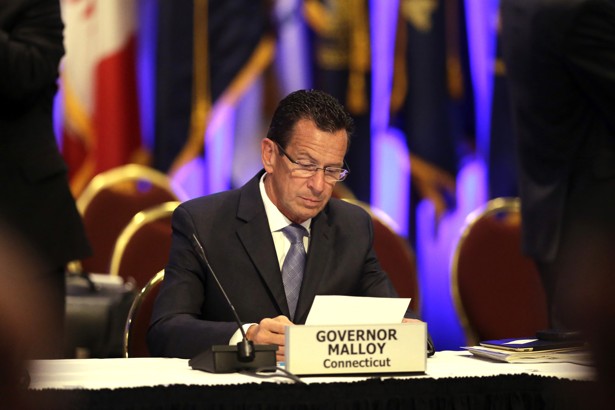 According to data held by the U.S. Federal Bureau of Investigation, people whose names appear on terrorist watch lists attempted to buy guns and explosives in the United States on 2,233 separate, documented occasions. According to that same data they managed to succeed no fewer than 2,043 times.
Digest that for a moment; people who come under warranted suspicion as having ties to terrorist groups and who are kept under watch to determine whether their interests will take them to actually carrying out violent terrorist attacks on American soil, are able under existing lax gun sale opportunities, to take possession of lethal weapons to conceivably aid them in their goals.
That is mind-boggling. Like a death wish fulfilled. Little wonder the American population is nervous and under great tension once again, in the wake of the San Bernardino atrocity. The high-powered weapons -- a semiautomatic AR-15s manufactured by DPMS and Smith & Wesson -- that Syed Rizwan Farook and his wife Tashfeen Malik made use of in their murderous rampage that allowed them to cause the deaths of 14 people were bought by a close friend.
And they were bought for that very particular purpose - to launch a deadly assault against American civilians as an act of jihad by two radicalized Muslim hard-liners - years before the attack actually took place. Those assault rifles were augmented by two handguns that Farook himself bought legally, enabling himself and his wife to finally engage with what they took to be their destiny. Syed Farook was previously identified as someone with an interest in jihad.
So now, however, belatedly, the governor of Connecticut is prepared to sign an executive order barring people on federal terrorism watch lists from procuring firearms, at least in his state. Governor Malloy's state already has some of the strictest gun laws in the union, inclusive of measures dating to 2013 in the wake of the horror that occurred at Sandy Hook Elementary School in Newtown that saw 20 schoolchildren and six staff slaughtered by a gunman.
At the federal level any number of attempts to strengthen gun and gun procurement laws have met with failure. The power gun lobby has its talons in Republican lawmakers creating a clear split along party lines in Washington. The latest measure to expand background checks for people wishing to buy guns went down to defeat in the Senate.
Frighteningly, all four of the Republican senators currently running for their party's presidential nomination -- Ted Cruz, Lindsey Graham, Rand Paul and Marco Rubio have voted against the measure.
"These are everyday Americans [people on the no-fly list] that have nothing to do with terrorism. They wind up on the no-fly list, there's no due process or any way to get your name removed from it in a timely fashion, and now they're having their Second Amendment rights being impeded upon (sic)."

Senator Marco Rubio, Florida, Republican candidate for president
What Drives Gun Sales: Terrorism,
Politics and Calls for Restrictions
754,000 guns sold Month of Sept. 11 attacks
1.1 million guns sold Month of Obama's election
2 million guns sold In the January after Obama's re-election and the shooting at Sandy Hook Elementary School
Estimated gun sales
per month
1.2 million guns sold November 2015
Estimates based on an analysis of federal background checks by The New York Times.
Labels: Crime, United States, Weapons