A Wretched Dilemma
"It was agreed that the church and the mosque would stay. By demolishing them, the authorities are showing contempt for NGOs (non-governmental organisations) and are seeking conflict with the migrants who used these places."




Christian Salome, NGO Auberge des Migrants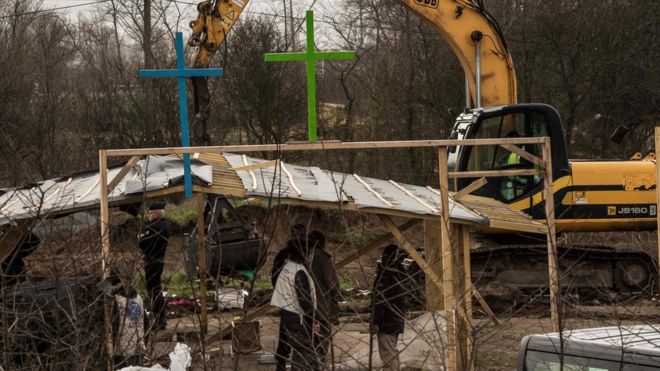 Migrant church and mosque demolished --
AFP/Getty
"It was never a question of evacuating the south zone in a brutal fashion using bulldozers. This would scatter the migrants everywhere across the region."




"We intend to proceed by finding shelter for all those who are in the southern zone at Calais, particularly unaccompanied minors."




"[A] reception centre [would be set up with women and vulnerable children a priority]."




French Interior Minister Bernard Cazeneuve
The Lille court has ruled that the migrants' makeshift shelters could be destroyed, comprised of tents and lean-to shelters, accommodations for hundreds of migrants in t he slum cap known as the "jungle", in Calais, where the inhabitants' intention is to somehow get to Britain, where their problems will be solved. They will be finally ensconced in a civil society where their needs for employment, dignity and a decent future awaits them, they dream.
Except that: it doesn't. They live at the makeshift camp, they have made a temporary life for themselves there, waiting and hoping, and becoming a community that outside sources compassionately do their best to accommodate, short of helping them achieve their goal of escape from the "jungle", into Britain. Most of the civil conveniences that make a community have been established there from houses of worship to schools to cafes.
Aid groups and the migrants themselves have gradually built up a rough approximation of a shanty town to accommodate those who have travelled from Syria, Iraq or Afghanistan to escape conflict, human rights abuses and African nations' endemic poverty. In Calais they see the portal that will finally bring them to peace and prosperity -- not there, but in Britain. Without the required papers they hope to sneak across the Channel.
Residents of the camp were given the choice of temporary centres around France or to remain in a heated container set up in a fenced-in area behind the camp which holds 125 of these quasi-homes that provide shelter.
"You're basically going to scatter a lot of people"
, observed Maya Konforti of the association Auberge des Migrants, critical of the move to disperse the migrants from the camp, predicting they would simply go elsewhere around Calais.
But authorities cited security and sanitation concerns. Let alone that Calais, a city of 80,000 that prides itself on tourism, having now to cope with the influx of thousands of migrants living in poverty and close proximity is coping with great difficulty. Calais became the perfect place for migrants to congregate with its ferry port, Eurotunnel and truck traffic crossing the English Channel, giving them hope that they might too cross into Britain one day.
Truckers using the byways from France to Britain have experienced disconcerting events that dismay and anger them, leaving them fearful of bold moves by migrants intent on taking rides across the Channel. Razing the camp will offer no solution to the migrant problem, it will simply remove part of a festering sore, and place it elsewhere. If there is a solution to the plight of thousands of people desperate to find a home for their futures, it has not yet been struck.
"It's inhuman to live in the jungle. But certain associations, certain billionaire stars are telling us to leave things alone."




"That's enough. The jungle must be evacuated".




Xavier Bertrand, head of the region





"The news is just starting to filter down and people are really nervous. They don't know where they can go. There is a lack of information."




"Children have already travelled to the Dunkirk camp, where conditions are far worse than here."




Caroline Anning, Save the Children

Labels: Britain, France, Human Relations, Migrants, Social Welfare