Islamic Republic of Iran as World Threat
A poster of Ayatollah Ali Khamenei, Hezbollah Secretary-General Sayyed Hassan Nasrallah, and others behind Iranian, Syrian, Lebanese, and Hezbollah flags during Resistance and Liberation Day celebrations in Bint Jbeil, Lebanon, May 25, 2014
Photo by Ali Hashisho/Reuters
"The Iranian regime through the Iranian Revolutionary Guard corps is building a complex terror infrastructure including sleeping [sic] cells that are stockpiling arms, intelligence and operatives and are ready to act on order including in Europe and America."




"[Iran plans destabilization of the Middle East and beyond in training, funding and arming] emissaries [toward a revolution]."




Israeli Defence Minister Moshe Yaalon
It was inevitable and it was predicted, and the expected is now in operation. The Islamic Republic of Iran, which, due to financial strains was forced to suspend its nexus of terror networks is now back in the business of robustly financing and arming them. Iran sees its satellite militias as a useful armed force it can call upon as needed; they are allies loyal to the theocratic Islamist regime representing criminals, insurgents, terrorists. The release of billions of dollars to Iran with the relaxation of sanctions due to the P5+1 nuclear negotiations has resulted in a terror-nexus reborn.
Iran is the sun around which its satellite networks revolve, from Hezbollah to Hamas, Yemen's Shia Huthi militias to Iraq and Syria, the al Quds Revolutionary Republican Guard Corps. has been busy doing its nefarious work, just as it had back in 1980s Lebanon when it elicited the interest in Islamist martyrdom from among the Lebanese Shiites and trained them in explosives, subterfuge and raw violence, to destroy the U.S. Beirut embassy and marine barracks.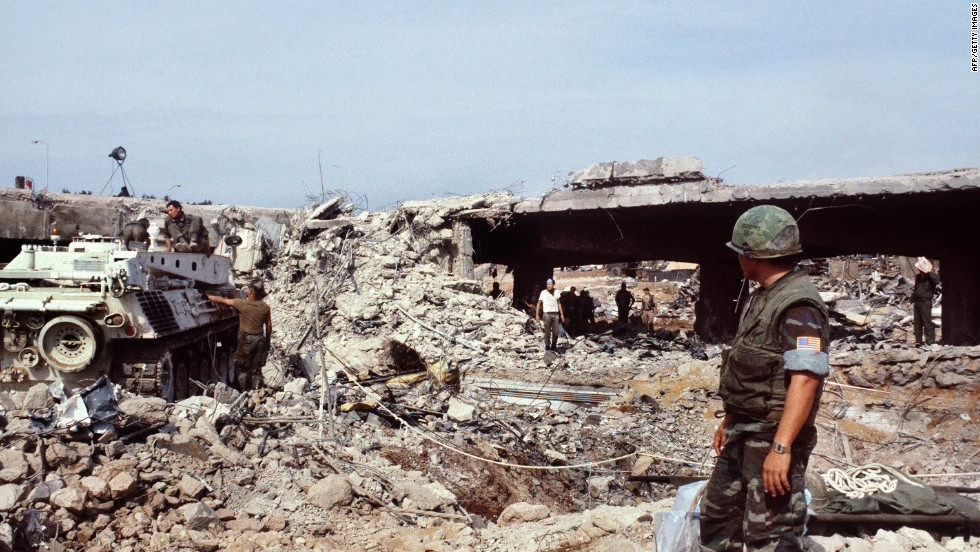 U.S. marines searching for victims in Beirut eight days after an attack that killed 241 American soldiers on October 23, 1983
The steady buildup of Iran's network of terrorist entities has become a global enterprise with active operatives infiltrating dozens of countries. Hezbollah, heeding its paymaster's instructions has been involved in international atrocities on command. This is what hundreds of millions buys in training and modern weaponry. Tehran, Baghdad, Saana, Damascus and Beirut all joined in one vast Islamist enterprise as a Shia-led march to conquest over the majority Sunni contingent of the vast ummah that is Islam.
In speaking of the threat posed by Iran's master plan to achieve influence, power and command first in the Middle East and then abroad by stealth and by pursuing its nuclear agenda, while perfecting its longer-range ballistic missiles, the Israeli Defence Minister describes a wide-ranging imperialist Islamist plan of eventual world domination, one that stands alongside the Sunni terrorist groups all harbouring the same ambitions, and at war with one another jostling for superior position.
If all the non-Muslim world had to concern itself with would be the Byzantine intrigues and hatreds rife in the world of Islam, not slopping over to threaten the non-Muslim world, it could all be viewed with a certain level of disinterest tinged with more than a modicum of disgust at the wasted lives. That the threat reaches out to the democratic nations of the world where Islam is not an official and over-arching influence on politics, social life and every sphere of society, should be of consuming interest to the international community.
Israel, the proverbial canary-in-the-mine, is singing its distress warning, and no one seems to be able to get those plugs out of their ears, convinced that it is Israel only -- a Jewish democracy located in an ocean of dysfunctional Muslim countries headed by monarchs, oil sheikdoms and and theocracies all of whom resent its presence on land they claim to be consecrated to Islam -- whose existence alone is threatened.
So the West remains complacently unaware and perhaps deliberately so, since it is so tedious to be reminded of our vulnerability. Mr. Yaalon remarked on a Canadian member of Hezbollah in possession of nine tonnes of chemical compound, seized in Cyprus. Leading to Lebanese-Canadian Hussein Bassam Abdallah being sentenced by a Cypriot court to six years imprisonment on the admission that Hezbollah planned to mount terrorist attacks against Israeli targets, and certainly not for the first time.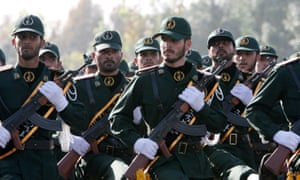 Members of Iran's Revolutionary Guards march during a parade ceremony just outside Tehran.
Photograph: Vahid Salemi/AP
Labels: Defence, Hezbollah, Iran, Iraq, Islamism, Israel, Lebanon, Nuclear Technology, Security, Syria, Terrorism, Yemen