Russia, on the Troubled Home Front
"I don't think Uralvagonzavod will vote for Putin again -- we saw what that led to. This is the opinion of a lot of workers, but a lot of them are afraid to say it. We just don't understand why they are firing people."




"They say they have orders, but they also cut our salaries."




Yevgeny M. Shukhin, labour protester, Nizhny Tagil, Russia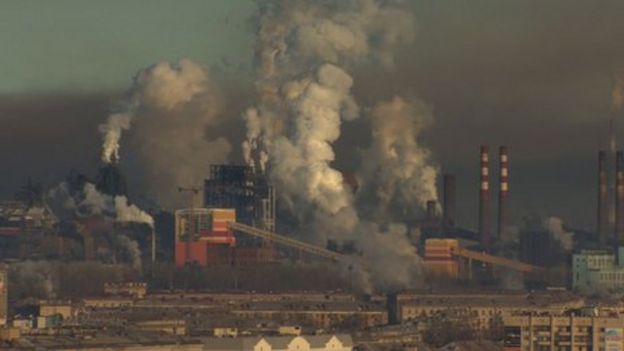 Industrial pollution in Nizhby Tagil,
BBC News
In Nizhby Tagil there are two industrial plants, one of which produces steel and the other, Uralvagonzavod which turns out train cars and tanks. Both are pivotal industries. Both have announced worker layoffs. Since that initial announcement, however, Uralvagonzavod has stated that within its workforce of about 30,000, "optimization" will be of a voluntary nature.
The agony of these Russian workers is inextricably wound up with Russian President Vladimir Putin's extravagance in military spending, given the parlous nature of the Russian economy, stuttering since the fall in oil prices and struggling under the sanctions regime. But his dedication appears to be heavily in favour of continuing that military spending; there remains prestige and the promise of power in that direction.
The workers will have to fend for themselves. And they're doing that by angry protests. Uralvagonzavod is not yet fully feeling the pain, however. Workers on the train-car portion of the factory are now on two-thirds salary amounting to about $260 monthly, while the tank assembly lines are going full blast, and those workers are paid in full measure.
Russia's economic slump has seen real wages, adjusted for inflation, drop 6.3 percent in January. New car sales are down 50 percent. Labour unrest is stirring throughout Russia. The days of flush $100-a-barrel oil prices fuelling the economy are past. Once viewed as the champion of factory towns, the troubled industrial centers no longer view Mr. Putin as their knight carrying bailout funding.
As many workers as are out protesting, their presence is overwhelmed by more numerous police officers on Machinists Square. Those workers who did turn out were extremely aware of the presence of the uniformed and plain-clothes police. A local activist pulled a red banner printed with
"For Workers' Rights!"
across the pedestal holding a statue of Lenin.
Back in 2012 during the presidency campaign, Vladimir Putin showed up in Nizhny Tagil in the northern Ural Mountains where a shift foreman at the factory had boasted on television that his "boys" from the factory were prepared to travel to Moscow to beat up the urban protesters.
"You showed who the Russian people are, who the Russian working man is"
, Mr. Putin said to the foreman, Igor R. Kholmanskikh.
"For more than a year, people go to work but do nothing"
, said Ilya Korovin. He grumbled that the assembly lines were idled while workers' pay was cut and grocery prices were going through the roof. And the factory management had no response, no direction, not the merest bit of alternative action, let alone response to the workers' crisis of confidence.
While back in Moscow, Ilya V. Yashin, a leader of the opposition movement that Mr. Kholmanskikh had threatened with his "boys" from the factory, empathized with the workers:
"Dear Workers of Uralvagonzavod! In the end, the workers who not so long ago threatened to scatter the protesters were themselves forced to go to protest against layoffs and violations of their labour rights. Time put everything in its place."
A retired shift boss at Uralvagonzavod, Mikhail G. Scherbakov, has a pension of $175 monthly, after 43 years of his working life on the assembly line.
"They either have no conscience, or they have no money"
, he noted glumly, prepared to give them the benefit of the doubt.
Overviews of EVRAZ NTMK plant in Nizhniy Tagil - one of the biggest Russian steel mills. Together with UVZ (machine building plant which produces railroad carriages and tanks) and some smaller factories, this huge combine covers almost half of the town's territory. Currently only two blast furnaces are running at the site and two more are under demolition. Also there are two coking plants, BOF shop, numerous rolling mills, continuous casters and mechanical shops.
steelphoto.net
Labels: Economy, Manufacturing, Oil Revenues, Russia, Unemployment