Peace ... No?
"Together, we have removed the world's most deadly materials from nuclear facilities around the world."




"There is no doubt that if these mad men ever got their hands on a nuclear bomb or nuclear material, they would certainly use it to kill as many people as possible."




"The single most effective defence against nuclear terrorism is fully securing this material so it doesn't fall into the wrong hands in the first place."




"This [the P5+1 agreement with Iran] is a success of diplomacy that hopefully we will be able to copy in the future. So long as Iran is carrying out its end of the bargain, we think it's important for the world community to carry out our end."




U.S. President Barack Obama
Surrounded by world leaders, President Barack Obama gave the peace sign at the end of a nuclear security summit
President Obama reminded the representatives and heads of over fifty nations attending the U.S.-initiated Nuclear Safety Summit that the world would reel in shock should the threat from terrorists planning to launch a nuclear attack ever be realized; such an attack would
"change our world"
, and the threat, he emphasized, is real. Somehow he managed to bypass the other reality, that it might be a country that could unleash that nuclear frenzy, a country like Iran, or North Korea, in a deliberate action to
"change our world"
.
But President Obama is confident that "concrete" steps have been taken as a result of the four successive summits that he personally led, that it is entirely feasible to prevent nuclear terrorism. Concern was expressed by others attending the Washington summit respecting North Korea's program on nuclear weapons. Concern was also expressed over the elephant in the room; the absence of Russia at the summit, since Russia is the second nuclear-arms powerful country in the world. Without the presence of Russia and its willingness to engage, the summit was essentially half-baked.
Yet Mr. Obama agreed; the opportunity and the invitation was given, and obviously spurned. Moreover, that Russia's President Vladimir Putin chose to absent himself, conceivably to avoid having to face questions over financial allocations favouring ongoing military buildups of advanced technological weapons, delivery systems and armoured vehicles over the more pressing concerns over securing sites and reducing nuclear arms, is certainly troubling.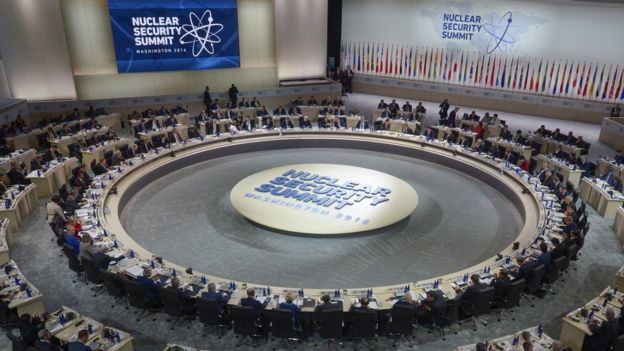 It does not quite represent a vote of confidence in the process and procedure that Prime Minister H
Nawaz Sharif of Pakistan chose to cancel his participation in the summit, using the deadly bombing in Lahore as reason. That bombing should have represented reason all the more for his attendance at the summit. But perhaps like Mr. Putin, he would prefer to sidestep inconvenient questions regarding Pakistan's nuclear facilities in the hands of the military in a country riven with Islamist jihadists, where both the Taliban and al-Qaeda have infiltrated Pakistan's military and intelligence services.
The world can perhaps find comfort in the pablum reaffirmations of world leaders to their commitment against nuclear proliferation. No one present, one can assume, was asked for ideas on prevention and/or containment of rogue countries like North Korea, in possession of nuclear bombs and its hugely successful ballistic missiles component of its arms industry. They do have Mr. Obama's assurance that progress has been made in large parts of the world being free of nuclear materials, citing South America, with Central Europe and South East Asia in hot pursuit.
The world cannot be "complacent", building on its progress slowing the nuclear weapons stockpiles. Returning to Iran, he described the agreement reached as proof of his diplomatic solutions, since it was a
"substantial success"
. Presumably, no one present was ungracious enough to raise the issue of Iran's continued research on longer-range intercontinental missiles, let alone its agreeable relations with North Korea.
All eyes were on Obama (left) as 54 other presidents and prime ministers joined him in Washington
Labels: Nuclear Arms, Obama, Peace