Egypt, In Thrall to the IMF
Amr Nabil/Associated Press
"If you look at what's happening, they are making the right choices. It's not going to be easy, but they are pleased that there is new thinking."




"Which is what Egypt needed."




Angus Blair, chief operating officer, Pharos Investments, Cairo-based bank





"It's only enough for food [government cash transfer for needy families]."




"They can buy chicken, some ducks, some vegetables to sell, some sewing thread [with the $21 provided monthly]."




Olfa el-Sellami, media adviser, Social Solidarity Ministry





"Where has it [$30-billion provided to Egypt by Saudi Arabia and other Gulf states] gone?"




"The policy instability, the corruption, the bureaucracy. When domestic investors are thinking twice, why would international investors come [to rescue Egypt from its economic doldrums]?"




Samer Atallah, professor of economics, American University, Cairo
Egypt hasn't had a good ride since the ouster of its former autocratic and traditional President Hosni Mubarak during Egypt's share of the "Arab Spring". Whatever stability there was at the time, went swiftly downhill in the wake of the burgeoning protests and breakdown of law and order and the eventual resignation and imprisonment of Mr. Mubarak and his family, along with his political appointees and supporters. The poor became more impoverished, crime escalated, tourism tanked and the economy was in tatters; foreign investment balked at returning.
When the Muslim Brotherhood -- now banned as a terrorist organization in the country, under the current administration -- won a 'democratic election process' supported by the United States, leading to the presidency of Mohammad Morsi, a Brotherhood stalwart, religious polarization in the country was emphasized with the university educated and liberal, secular portions of the population which had supported and come out for the protests hoping for success in bringing in democratic reform, seeing the economy continue to deteriorate even as Egyptians began to push back against the Islamists.
When General Abdel Fattah el-Sisi became the popularly acclaimed new president of Egypt with the subsequent ouster of the Brotherhood and Morsi, a backlash ensued by Brotherhood supporters and political violence escalated, not only throughout Egypt but in particular in the Sinai peninsula, where Salafist Bedouin, Hamas militias and the Muslim Brotherhood incited hardened Islamist groups to attack the military and the police and cause general havoc. Because of Islamic State's entry into the Sinai, violence escalated, and tourism faltered when foreigners found themselves under attack.
The downing of a Russian passenger plane flying out of the Sinai with holidaying Russians returning home, by a bomb set in its cargo by ISIL affiliates who had infiltrated the airport and had entry to the plane, leading to the death of 224 people on board, and the killing of 12 Mexican tourists on another occasion put the death knell to a recovering tourism industry. Egypt's financial future was seriously faltering. The government attempted to remedy matters anticipating greater income to be had from an expansion of the Suez Canal but its success failed to materialize.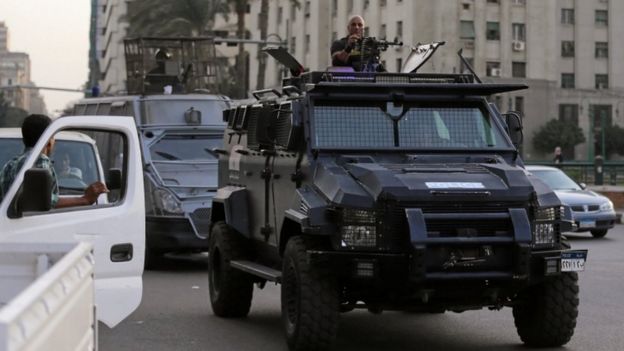 No doubt some of that $30-billion that Egypt had received as largess from Saudi Arabia was used for that purpose. But relations between Egypt and Saudi Arabia have turned sour lately -- even with Egypt surrendering two disputed islands to Saudi hands -- with the Saudis choosing to withhold an expected shipment of discounted petroleum products for the last several months, forcing Egypt to procure these products from other sources. Egypt finds itself in dire financial straits. President el-Sisi's popularity has plummeted along with the growing scarcity of sugar, oil and other staples.
The government decision to float its currency has resulted in a fifty percent devaluation of the Egyptian pound, wiping out many peoples' savings and effectively slicing their salaries by half. Egypt finally had nowhere to turn for financial relief but to the International Monetary Fund for a three-year loan of $12-billion, the first tranche of which at $2.75-billion has been disbursed. Given that Egypt has had $30-billion to play with in the last few years, it's questionable what one-third of that amount can accomplish to aid it in its financial disarray.
Across the board, the 90-million Egyptian population has seen their financial well-being dissolved, leaving people living in real economic hardship. Prices are steadily rising even as real wages have plummeted, leaving whatever is available beyond reach for people whose incomes have suddenly become very limited, forcing students to leave university unable to pay tuition fees, let alone families no longer able to afford basic foodstuffs.
Egyptians are no longer taking to the streets to protest; the original "Arab Spring" protests were as much about unaffordable prices as they were about freedoms, but now protests are forbidden. Security forces in armoured personnel carriers where masked men carry assault rifles, are deployed across the capital and in other cities across the country in an obvious discouragement of people gathering to protest, as inflation soars.
The new government social program meant to alleviate misery for the poor has aided five million Egyptians so far when an estimated twenty-five percent of the population lives in poverty. These are cash transfer programs where one component provides families with a maximum of roughly $35 for each three-month period, with another providing about $21 a month. There were certain stipulations imposed on Egypt with the IMF loan, some of which amounted to a reduction in heating oil and food subsidies.
Egypt's struggles are not amenable to quick and easy fixes. Things seem to go from bad to worse for the country and its population in a geography that has handsomely treated some countries to an abundance of natural resources, while leaving few for their neighbours.
Labels: Economy, Egypt, Social Welfare, Terrorism