Iraq's Ancient Heritage : Modern Devastation
"Troops from the Ninth armed Division liberated Nimrod town completely and raised the Iraqi flag above its buildings."




Joint Operations Command, Iraq





"The only weapons they have left are car bombs and explosives."




"There are so many civilian cars and any one of them could be a bomb."




Maj.-Gen. Sami al-Aridi, Iraqi special forces





"People are coming to us with major trauma injuries, some with exhaustion, some caught in crossfire."




"I'm seeing maybe a dozen children a day now, coming with gunshots, burns, shrapnel wounds."




Iraqi doctor near Mosul
Hospitals located geographically close to Mosul are being overwhelmed. They have been taking in and attempting to treat with whatever means they have at their disposal growing numbers of children who present with gunshot wounds, with burns and mutilations. These are children whose futures will be forever shaped by the travesty of childhood they have been forced to endure, their country for as long as they can recall in their childhood rent by the forces of sectarian disputes, oppression, violation of human rights, entry of foreign terrorists, and broken families.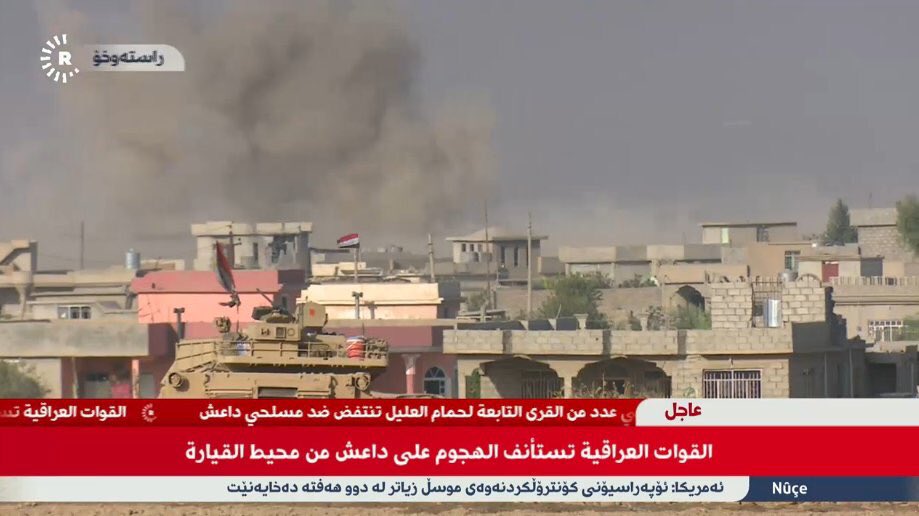 Whatever the outcome of the war that Iraqi forces, the Peshmerga and Shiite militias are prosecuting in freeing Mosul and its myriad of surrounding towns and villages from the murderous talons of the Islamic State of Iraq and the Levant, it will be a long and arduous effort that will threaten the lives of children and their families since the million civilians remaining in Mosul will often find themselves in the direct line of fire between Islamic State and the incoming Iraqi opposition to their years-long rule of occupation and Islamist persecution.
Archive image dated 5th Nov. showing Iraqi security forces during an operation against Islamic State (IS), south of Mosul, Iraq. Iraqi armed forces liberated on Sunday the ancient Assyrian city of Nimrod, located some 30 kilometres (19 m) southeast of Mosul, which in 2014 was plundered, ransacked and demolished with bulldozers by IS Jihadists.
Nimrod, an ancient city seated on the banks of the Tigris river, was finally freed from Islamic State possession. But not before the Islamists had infamously destroyed many of the city's famed archaeological treasures dating back to 1250 BC when it was the capital of the Assyrian empire. At that time the Assyrians had a deserved reputation for implacable warfare, resulting in other ethnic and tribal groups being forced to capitulate to their power and aggressive state of perpetual conflict as they gathered increasing territory and power.
Nimrod has been referred to as the cradle of civilization. By Iraqi Christians at any event, where it is revered as a founding city. The Assyrians of ancient memory were not much fondly viewed by Israelites of the time whose first Temple of Solomon in Jerusalem was destroyed by the Assyrians, and the Israelites forced to relocate elsewhere in Mesopotamia, in the long historical beginnings of the Jewish diaspora, later to be repeated by the Romans when they in turn destroyed the second Temple built over the first, to punish a people refusing to bow to Rome.
Modern-day Nimrod appears one of the symbolic, historical areas where Chaldean Christian Iraqis see their heritage. Outside Mosul, Nimrod represents a cultural, archaeological treasure. It is situated a mere kilometre west of the old city ruins. The town was plundered by explorers from the west beginning in the mid-19th Century forward, just as Egypt's fabled antiquities had been. Some of its irreplaceable treasures were hidden to preserve them for posterity in the region itself.
Archive image dated Dec. 2003 showing a security guard posing in front of a wall carving at the Palace of Nimrod. Iraqi armed forces liberated on Sunday the city of Nimrod, located some 30 kilometres (19 m) southeast of Mosul, within the overall military operations aimed at liberating Mosul, according to Iraqi Special Forces Chief Commander, Brigadier General Abdul Amir Yarallah. In the vicinity of modern-day Nineveh stands the ancient Assyrian city of Nimrod, which in 2014 was plundered, ransacked and demolished with bulldozers by IS Jihadists.
Nimrod had sustained its first modern-day damage during the 2003 U.S.-led invasion of Iraq. ISIL militants attempted to finish the job of entirely demolishing the ancient town and its priceless artifacts in March of 2015 when some of the treasures were sold on the black market to fund ISIL, and whatever couldn't be handily moved onto the black market was set to be destroyed as objects that ISIL considered idolatrous, insulting to Islam, so explosives, bulldozers, blunt-force instruments and drills were used to shatter its religious symbolism.
The Iraqi military and its allies after an initial swift entry to the outskirts of Mosul, find themselves moving forward in a much slower advance for fear of encountering traps set by Islamic State fighters ensconced in the city centre among the civilian population. ISIL's reputation for brutal executions no doubt linger in the minds of those attempting to flush them out of Mosul, each hoping they would never fall into the hands of ISIL fighters to become yet another undocumented victim of an atrociously painful death.