"God is great! Those who pledged allegiance to Muhammad for jihad. God is great!"
"Turkey is under a combined attack by terrorist organizations, especially the divisive terrorist organization."




"We know that these attacks we have endured are not unrelated to happenings in Syria and Iraq, or even our economic fluctuations."




"[Coverage on the explosion has been under blackout to prevent] fear in the public, panic and disorder and which may serve the aims of terrorist organizations."




Turkish President Recep Tayyip Erdogan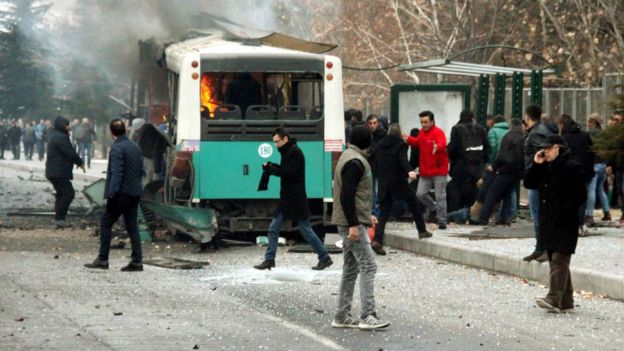 Reuters

--
Perhaps a moratorium on details of the attack serve another purpose; enabling Mr. Erdogan to further defame, without evidence, those he prefers to accuse of having acted once again to target his regime and possibly give Turks reason to question the administration of their country's affairs by the Justice and Development Party. The "divisive" terrorist organization is quite obviously a barbed sling at Kurds whose protracted and enduring wish for a sovereign state of their own lethally rankles the Turkish president.
Yet another suicide car bomb has taken the lives of 13 members of the Turkish military travelling on a public bus from the province of Kayseri on Saturday, in the process wounding another 56 people. A week earlier another car bomb killed 44 mostly riot police, wounding over 150 other people, in Istanbul. Mr. Erdogan must know full well that his own violent actions toward Turkey's Kurds have mobilized these reactions; he is the catalyst that has unleashed this tit-for-tat terror.
The violence that Turkey has been experiencing is not entirely without aid from their own government. Groups who come under constant attack do have a tendency to fight back. Kurds have attempted to use democracy in their goal to achieve an internationally recognized, legal homeland of their own on their very own heritage landbase. Their successful foray into parliamentary representation gave credence to their cause yet duly elected Kurdish parliamentarians have been charged with treason, with terrorist support and arrested along with the mayors of Kurdish cities.
"[The assassination of Russian Ambassador to Turkey, Andrei Karlov, is] clearly a provocation aimed at undermining the improvement and the normalization of Russian-Turkish relations as well as undermining the peace process in Syria."




Russian President Vladimir Putin
No security detail attached to the Russian Ambassador's official duties and appearances? How neglectful, particularly under the circumstances that prevail.
Peace process? the carnage of human life destroyed without cessation!
A man identified as a member of the Turkish police taking his version of justice into his hands through the barrel of a deadly weapon, willing to sacrifice his own life for the position of avenging angel whose vision uppermost in mind is that of the countless thousands of Syrians sacrificed by two men's ambitions in Syria and Aleppo.
Ambitions that also coincide with that of the Islamic Republic of Iran. Also, in the process delivering to President Erdogan additional ammunition with which to bludgeon Islamist Turkish cleric Fethullah Gulen, portraying the murderer of the Russian Ambassador as doing the bidding of Mr. Gulen. Despite the tens of thousands of arrests that Mr. Erdogan has authorized, he happened to overlook one whose intention was to symbolically avenge the Syrians dying in droves from bombs their president has dropped on them.
Of course, the Kurds will not be free of charges relating to this atrocity, too. To Mr. Erdogan all his enemies are terrorists, and they all share an interwoven sinister architecture of attack against Turkish values and respect for human life and democracy, that he so determinedly upholds. News blackouts are one of the manifestations of that respect he holds, along with the detention of reporters and the shuttering of news agencies, for they're his enemies too.
Labels: Civil War, Conflict, Erdogan, Kurds, Russia, Syria, Turkey