China Ruling The Rails
"It is indeed a historic moment, a pride for our nations [Djibouti and Ethiopia] and peoples."




"This line will change the social and economic landscape of our two countries."




Hailemariam Desalegn, Ethiopian Prime Minister





"If you're looking for new markets, Africa is the place to be. But right now, the United States is not leveraging Africa's huge potential."




"By contrast, the Chinese are there, and they are willing to take risks."




Amadou Sy, director, Africa Growth Initiative, Brookings Institution





"For this, we have the Chinese to thank, because they shared with us their money and their technology."




"More than anything we thank them for showing confidence in us."




Daha Ahmed Osman, tech specialist, Djibouti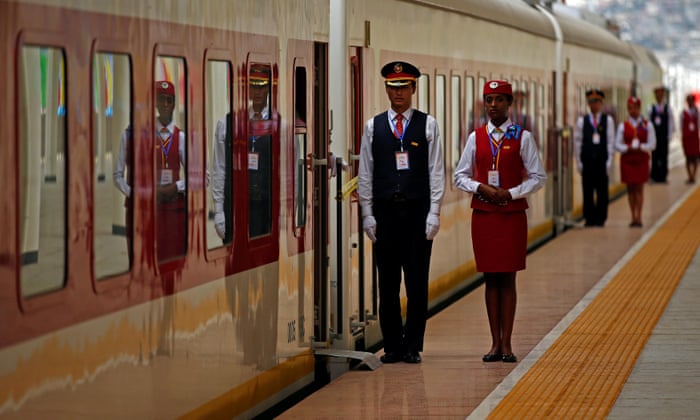 Chinese and local staff during the inauguration of the new train line linking Addis Ababa to the Red Sea state of Djibouti.
Photograph: Tiksa Negeri/Reuters
During the time of colonial rule in Africa, Europeans built a wide network of rail lines. In the years following the European surrender of their former colonies to African self-rule, most of those rail lines fell into a state of disrepair. Now, however, China has come to the rescue. Foreseeing that in enabling Africa to forge into the future, giving it the transportation it so badly requires for the transport of goods and servicing peoples' needs to aid the economy of a bright new future, China knows that it too will benefit from increased trade and movement of goods.
But China is putting its financial backing squarely where its interpretation of future economic prosperity should hit. It has invested over $14-billion in Djibouti, a nation stuck in poverty and unemployment. Projects that China is involved in moving forward include three ports, two airports, and a pipeline to bring water in from Ethiopia. Ethiopia is hugely dependent on Djibouti's ports, accounting for the movement of 90 percent of its foreign trade. All that, aside from the rail lines.
Chairman of Djibouti Ports and Free Zones Authority, Aboubaker Omar Hadi expresses his aspirations for his nation's future with the new railway representing the first portion of a trans-Africa route.
"The train is already a game-changer [envisioning the future rail line expanding from the Indian Ocean to the Atlantic]."
Just the Djibouti portion slices to 12 hours a former three- or four-day truck trip.
While the Western banking system bypassed Djibouti's needs for infrastructure upgrades, China responded wholly to fill that need. It does have a pay-back cost, however, in an enormous debt amounting to 60 percent of the nation's GDP. Shrugged off as inconsequential, given Djibouti's 6.7 percent growth rate, enabling Djibouti, claims Hyas Moussa Dawaleh, its finance minister, to meet its loan obligations with ease.
China designed the rail system, it supplied the trains for the system, and it sent along hundreds of its skilled engineers to do the work, that took six years to build the 750-kilometer line. The route heading from Djibouti to Addis Ababa, Ethiopia's capital, is the first electric transnational railway in Africa. It took $4-billion to see fruition, with Chinese banks accounting for almost all the financing. China has exported its expertise in producing for itself the most modern rail network in the world.
And since it has the expertise, it has struck out boldly to take that experience global. Forget cheaply made knock-offs, providing world markets and bargain-hungry consumers with products out of China. This is a different China, a technologically advanced nation of rail builders prepared to share knowledge and building expertise, throwing in generous loans for good measure. Subway cars built in China are set to appear shortly in Chicago and Boston. A $5-billion high-speed rail line is scheduled for Indonesia.
A rail freight service was recently installed for service between London and Beijing. The 4,000 kilometer Pan-Asia Railway Network is set to link China to Laos, Thailand and Singapore, a dizzying accomplishment in connectedness and trade potential. But it is China's attention to sub-Saharan Africa that holds out huge promise for African advances into the future, where currently, only half of its roads are paved and close to 600 million people have no access to electricity.
Many of the emerging African projects represent part of Beijing's Silk Road initiative reborn, an effort estimated at $1-trillion with intentions of instituting deep ties between China and trading partners in the developing world. To that end, a two-year-old light-rail system built and financed by China in Addis Ababa, another between Nairobi, Kenya and Mombasa is to open late in this year, along with a rail modernization effort in Nigeria, with an urban transit system for Lagos.
This will be China's century; it came, it saw, it conquered.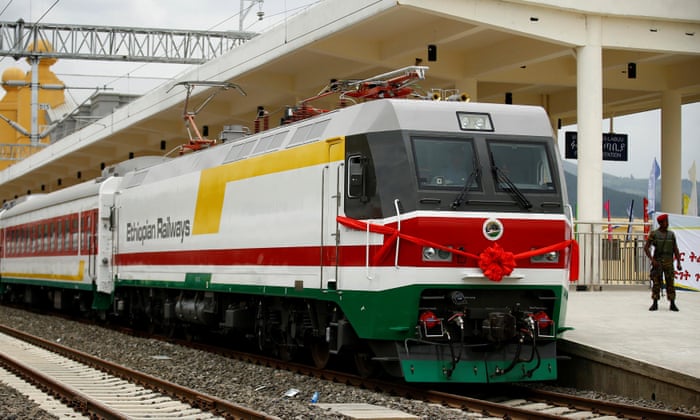 A security guard during the inauguration of the new line.

Photograph: Tiksa Negeri/Reuters