Escaping Retirement in Venezuela
"We want to live in tranquility. The anguish is too strong for us."




"All our life is here, we have our roots, our house, we've lived nicely, we have our family. But a bad government."




Ligia Reyes Castro, 71, Caracas, Venezuela





"I feel like a foreigner in Venezuela now, it's not the Venezuela I know."




"You work toward your golden years, you save, and then everything goes toward survival."




"[There is no alternative, but to leave]. To stay is to die."




Maria Mata, 67, retired government social worker





"Venezuela, for me, is the greatest there is. But at the moment it's impossible."




"There isn't food, there isn't medicine, there isn't anything."




"I don't think [she might one day return]. But I'll keep it [Venezuela] in my heart for the rest of my life."




Maria Abad Cruz, 90, Caracas, Venezuela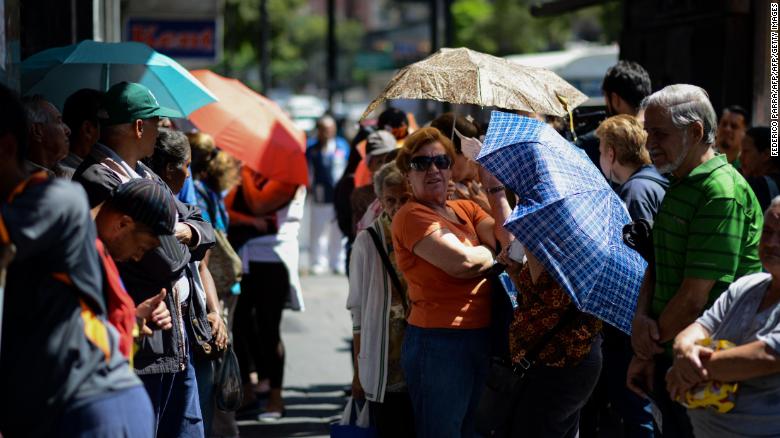 People queue outside a supermarket in Caracas to buy basic foodstuffs and household products on November 10, 2017. In crisis-stricken Venezuela, the cost of the basic basket of goods soared to nearly 2.7 million bolivars in September, the equivalent of six minimum monthly wages.
CNN
People in their youth, in their middle years, people with young children, all of whom see no future for themselves in the country of their birth, where their roots are, their heritage, their memories, can decide to migrate elsewhere in search of employment and stability, to escape the uncertainty that faces them in Venezuela with its shortages of food, its mass unemployment, its dreadful poverty and even worse crime rates, for they have time to build a life for themselves and their dependents elsewhere, in countries where despots haven't ruined the economy and the country's future.
Enterprising and hard-working people anxious to account for themselves, desperate to escape poverty and illness to forge a new life elsewhere, dreading leaving their home, but knowing they must to survive, will endure. Endurance is somewhat more difficult for the elderly who envisioned what people in their advanced age everywhere do, that after a lifetime of work and raising families it is their turn to feel secure and comfortable in their country of birth, having honourably discharged their duty to help build its security and economy.
In Venezuela, that time has long passed. It began with Hugo Chavez's Bolivarian revolution, his socialist movement that would lift the nation's indigenous poor from their static state of poverty, offer them a new life of privilege equal to those who have the means to live well. And what began well, ended badly. In boasting of his success for the indigent, Chavez used his nation's vast oil wealth to generously support neighbouring countries, even boasting he would provide heating oil to poor in dastardly America.
He failed spectacularly to reinvest in his own country's infrastructure, in modernizing and upgrading the very industry that made Venezuela wealthy enough to shower Cuba and Bolivia and other countries with courtesy oil from Venezuela. And he left not only a legacy of failure, but anointed a successor as neglectful and autocratic as he was himself who grew into the presidency charting a course of ongoing waste and corruption, sending the country plunging into economic chaos.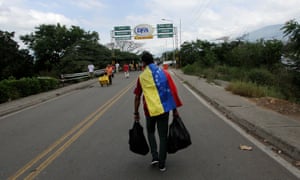 A man crosses the Francisco de Paula Santander international bridge, linking Urena, Venezuela, and Cucuta, Colombia.
Photograph: George Castellanos/AFP/Getty Images
Hundreds of thousands of Venezuelans in the past several decades -- some claim as many as two million -- have left the country in despair, migrating abroad, a migration that is accelerating in lock step with President Nicolas Maduro's increasingly authoritarian regime's excesses of mismanagement. Older Venezuelans have now been forced to contemplate their own migration led by food and medicine scarcity.
Former small businesspeople, now long retired and in failing health are unable to secure the pharmaceuticals they require to maintain a vestige of health. Mrs. Ligia Reyes Castro, retired from the education ministry, was informed that the cancerous lesion on her forehead likely resulted from the hours she waited in the sun to buy food or withdraw money. Inflation soars, the value of pensions diminish, with the elderly finding that medication, if they can find it, costs half their monthly pension.
Elderly people living in comfortable homes in Caracas's suburbs now face selling their homes, ridding themselves of lifelong cherished belongings, in an atmosphere of many places like their own on the market for sale, and few having the wherewithal to purchase them, so they will embark on their new lives elsewhere with little in the way of financial support to see them through the last of their years.
For the younger migrants, as for the older as well, the search for employment is time-consuming and eats into whatever savings they bring with them to stay afloat.
"You have to understand that to be an immigrant means starting from zero"
, said Fernando Galindez, 75, who had sold everything he owned so he and his wife could settle in a Miami suburb where they searched for work to supplement their savings, and though they did find work at their age, it was when their savings had been exhausted.