Penalizing Mass Murderers : Strip Their Citizenship
"[Alexanda Kotey] likely engaged in the group's executions and exceptionally cruel torture methods, including electronic shock and water-boarding."




"Kotey has also acted as an ISIL recruiter and is responsible for recruiting several U.K. nationals to join the terrorist organization."




"[El Shafee] Ellheikh was said to have earned a reputation for waterboarding, mock executions and crucifixions while serving as an ISIS jailer."




U.S. State Department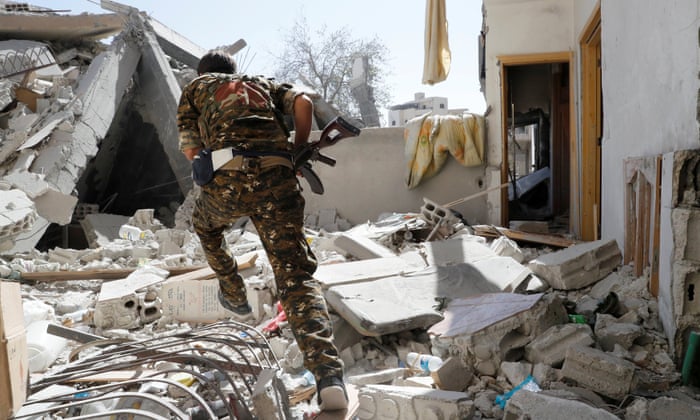 The pair was captured by the American-backed Syrian Democratic Forces, reports said.
Photograph: Erik de Castro/Reuters
"We were scared from the moment we entered Raqqa. We were supposed to go in with the SDF, but we went alone. As soon as we entered, we saw IS fighters with their weapons and suicide belts on." "They booby-trapped our trucks. If something were to go wrong in the deal, they would bomb the entire convoy. Even their children and women had suicide belts on."




Abu Fawzi, driver, 18-wheeler, Raqqa





"We didn't want anyone to leave."




"But this goes to the heart of our strategy, 'by, with and through' local leaders on the ground. It comes down to Syrians – they are the ones fighting and dying, they get to make the decisions regarding operations."




Col. Ryan Dillon, spokesman, Operation Inherent Resolve
When Raqqa was surrounded by the Kurdish-led Syrian Democratic Forces and house-to-house battles in the centre of the besieged Islamic State-held city were unfolding, with terrorists booby-trapping buildings, alleyways, hiding out in tunnels dug under the streets, and the threat of casualties was high, an agreement was made to allow ISIL fighters and their families to leave the city. A convoy of trucks ended up carrying an estimated 2,000 fighters and 3,500 of their family members to safety where they could join ISIL forces elsewhere.
At the time, denial was high that many of the terrorists were being allowed to leave. One of the drivers of the trucks stuffed with fighters and their weapons however, later described the convoy to be six to seven kilometres long and comprised of close to 50 trucks, 13 buses and over a hundred of the ISIL's own vehicles. As for discreet; ISIL fighters with faces masked as usual, sat atop some of the vehicles. The truck drivers say they were threatened and physically abused, that the fighters they were conveying stated their intention to return and restore Sharia.
An agreement to allow the Islamic State evacuees to take with them only their personal hand guns, led to ten of those convoy trucks being loaded with weapons and ammunition, everything that could be moved, weapons that had been cached in some of those underground tunnels, accompanying them to enable them to set up shop once again wherever they arrived, once a suitable lapse of time gave them the opportunity to recoup their strength and their resources.
Among the evacuees appeared fighters from France, Turkey, Azerbaijan, Pakistan, Yemen, Saudi Arabia, China, Tunisia and Egypt. Germany also, of course, and the U.S. and Canada, and needless to say, the United Kingdom.
Most international watchers can cast their minds back several years to the publicized horrors of videos showing the beheading of journalists James Foley and Steven Sotloff, among others who might have pleaded for mercy from their captors to no avail. Four Britons were among those in the halcyon days of the Islamic State caliphate and their proudly terrifying entry into the annals of the world's most barbaric killing techniques that shocked the world with their propaganda.
One of those Britons whose identifying accents merited them the sobriquet the "Beatles", is dead. The notorious and detested "Jihadi John", Mohammed Emwazi, who coldly presided over the videoed beheadings of American and British hostages that brought him to public attention, was killed by an airstrike in 2015 in Syria following a manhunt. Another, Aine Davis was incarcerated on terrorism charges, in Turkey.
Two of the four remaining have now been captured by Kurdish forces; Alexanda Kotey and El Shafee Elsheikh.
They had all lived in West London, one born of Ghanaian and Greek Cypriot heritage, the other born in Sudan, gravitated as a child to Britain. Britain has stripped these outstanding citizens of Islamist jihadi conviction of their citizenship. And both men were designated foreign terrorists by the authority of the United States in recognition of their extreme brutality in Raqqa, Syria, known to have subjected prisoners to beating hostages and other actions identifying them for the brutes they are.
In the process of fighting the last groups of Islamic State terrorists in towns and villages along the Euphrates River to the Iraqi border, the Syrian Democratic Forces captured Kotey, 34, and Elsheikh, 29. They had been, in all likelihood, among the thousands of ISIL fighter evacuated from Raqqa when the SDF finally cleared the captive city identified as the Syrian capital of the Islamic State caliphate. The SDF, suspecting the two were foreign fighters, alerted the U.S. Special Operations forces, giving the Americans the opportunity to confirm their identities.
Because the Kurdish fighters are humanely democratic these men remain alive. The deaths they are responsible for likely number in the hundreds for each of them. Despite which they will be placed on trial to face Western-style justice. There is now a dispute whether the U.S. military should take custody of these barbarians or whether the American Justice Department would seek to prosecute the two.
Captured at the end of January, while in custody, according to a senior U.S. official, the two terrorists had provided information felt to be valuable to the American military interrogators who questioned them about the Islamic State leadership that remains, as well as its support structure, now under pressure from ongoing air and ground attacks. While the Islamic State never hesitated to use torture to acquire information they wanted, the U.S. after its flirtation with waterboarding likely did not, so would any intelligence acquired from these brutes be credible?
Given the likelihood of capital punishment being meted out to these sterling past-citizens of Britain for their spectacular dedication to committing atrocities against other human beings, what possible benefit might they be persuaded might derive from their delivery to American agents of intelligence useful to those that Islamic State view as their enemies?
Labels: Atrocities, Civil War, Conflict, Defence, Islamic State, Kurds, Security, Syria, United States