Justice With a Tormenting Twist
"I had watched ISIL videos with my husband and two daughters and we decided we wanted to go and be part of an Islamic society."




"I did not know it was a war zone. When we arrived, all we saw was Iraqis killing Iraqis, Russians killing Russians, and Turks killing Turks. I did not find Islam here."




"Your honour, I'm just a housewife. I stayed at home with my daughters the whole time."




"I am old, I have diabetes and my health is deteriorating. I am not a threat to anyone. I can't do 20 years in here."




Anisa Waheed Mohammed, 53, from Trinidad and Tobago, Central Criminal Court, Baghdad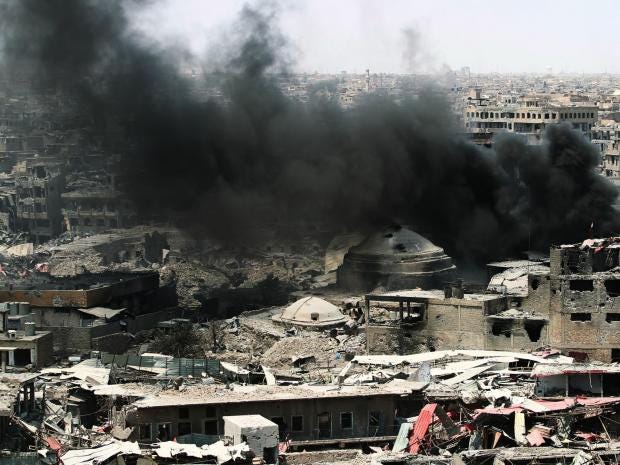 The women were arrested in Isis strongholds, including Mosul, where smoke is seen billowing here after a US airstrike last July before the city was re-captured from the militants
"I don't know what he [her husband] did. I just know he carried an AK47 and brought home a $50 salary. He's dead now, killed in Tel Afar [former ISIL stronghold near Mosul] in a coalition air strike."
Leila Adeel Hamid, 27, from Turkey, mother of two infants

"You do not need much evidence in the cases of the foreign women, because it is clear they entered [Iraq] without permission and because they were caught in Daesh areas."
"These hearings need to be short, otherwise we would be trying these people for decades to come."
Judge Suhail, presiding judge, Central Criminal Court, Baghdad
The young woman holding her baby daughter, with another child silently standing at her skirt, told the judge that although she believes in the ideology espoused by the Islamic State of Iraq and the Levant, she never did officially join the jihadist group, merely followed her husband when he moved to become a member of ISIL, a warrior for Islam. And since their culture and their religion mandate that the woman be a wife to her husband whatever his enterprise, she followed him.
Her testimony satisfied the judge, and he banged his gavel and announced
"enough evidence"
, returning her and her children to their prison cell. The older woman was anxious to convince the judge that she had no part in anything done by ISIL, she was a housewife who obeyed Islam's instructions that free will was her husband's masculine entitlement, not hers for as a woman she was free only to follow him, never to initiate anything on her own of her own devising.
Irrespective of her efforts, she had said enough to convince the judge he had sufficient evidence to convict and sentence her, as well.
She too was returned to the holding cell and it was then the turn of women from Turkey, Russia, Uzbekistan and other central Asian countries to line up for the opportunity given them -- a brief seven minutes each -- to make their case for themselves. They had lawyers assigned to their cases, each being paid a standard $30 for their legal assistance, each mimicking precisely what the women said in each instance, for their work did not include interviewing their 'clients' and were given no case files.
These are the hundreds of wives and widows of Islamic State fighters whose cause was lost to Iraqi and primarily Kurdish troops in last summer's military confrontations to retake territory from the ISIL caliphate. The Central Criminal Court of Baghdad has been busy, turning out convictions for terrorism charges, about a dozen daily in a concerted effort to break the logjam of the backlog of cases of women under arrest, all of them foreigners.
Up to 20,000 people have been detained by Iraqi authorities since mid-2017. Of that number 560 are foreign women, and 600 are their children. The presence of men are few, owing the fact that
"most of the men were killed on the battlefield"
, helpfully explained Judge Suhail. As for the foreign women, they stand accused of entering Iraq illegally, joining a terrorist organization and no details are needed in their defence as women who had no option but to follow their husbands.
That is, for the most part, setting apart those women who travelled on their own through their own initiative to glory in ISIL.
Iraq had a duty, emphasized Judge Suhail, to try these suspects. It would, however, be useful should their countries of origin repatriate them and house them in their own prisons, rather than strain Baghdad's prison system. An observation unlikely to turn into a reality since the countries of which he speaks really have no interest whatever of embracing their citizens who chose to illegally leave and join the terrorist group.
As for the sentences meted out, they average at the shortest, 20 years, and the most extensive, life imprisonment. These are, it should be noted, women who kept house, cooked meals, cared for their children, while their menfolk went out to terrorize, imprison, torture, rape, and slaughter. The women were concerned that their menfolk be paid so living could be resumed with food on the table, rents paid, children schooled.
For their roles 3,000 cases have been heard in nine months with the conviction rate of a robust 97 to 98 percent.
The womenfolk in essence were sharing the severity of sentences meted out to rapists and mass murderers. Mohammed, for example, given 20 years in prison which she will in all likelihood never leave alive. The thought that her two daughters were also sentenced to 20 years imprisonment will be of no comfort to her whatever, though she may give a thought to her husband Daoud, arrested near Mosul, facing his own trial shortly.
A foreign wife of an ISIL fighter holds her child at Hammam al-Alil camp south of Mosul in September 2017 [Azad Lashkari/Reuters]